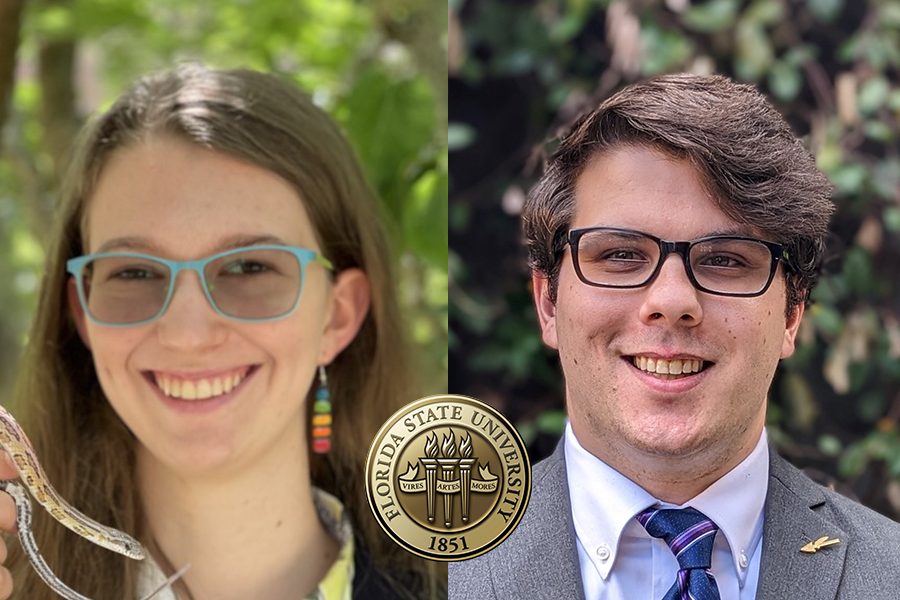 A pair of Florida State University students have been awarded Barry Goldwater Scholarships. The nationally coveted award goes to outstanding science, mathematics and engineering sophomores and juniors for their research experiences and potential. 
Jack Lyons, a fourth-year dual major in physics and music from Jacksonville, Florida, and Nicole Povelikin, a sophomore biology major from New York City, will receive up to $7,500 for their next two academic years from the Barry Goldwater Scholarship and Excellence in Education Foundation to be put toward tuition, fees, books and room and board.  
It's the second consecutive year that FSU has had two winners of the scholarship. 
"It's a bit of a shock because I came in as a music major and I am also earning my degree in brass performance," Lyons said, before noting that he found his love of condensed-matter physics at FSU. "From the technology in our phones and laptops to solar cells and gaming consoles, condensed-matter physics really drives our society." 
Lyons has completed an internship focused on quantum computing and is working toward a minor in computer science. He said the Goldwater is an affirmation that he's on the right track.  
"I am very, very thankful for this opportunity and for the advisers that just said, 'Go for it,'" he said. "I never would have guessed I'd be named a finalist, much less win. But this reaffirms for me that, yes, I can be a physicist and have a successful career in physics research." 
Povelikin said the Goldwater will help her continue to explore interests that began as a child when she loved to catch lizards — and any other critters she could get her hands on.
"I knew from about age five I wanted to study lizards and that I was interested in herpetology," she said. Her love was nurtured in part by regular visits to New York's American Museum of Natural History. That interest in lizards sparked deeper curiosities.  
"I questioned 'How did they come to be?' and then 'How did we come to be where we are now?'" she said. "The answer to that of course resides in evolutionary biology. It kind of gives you a new perspective on life to unravel these questions."   
Herpetology is a field without many women, and with that in mind, Povelikin said the Goldwater Scholarship is a reminder to continue following her curiosity no matter the perceived obstacles. It's also an occasion to say thanks.  
"It's a big reminder for how thankful I am to everyone in the research community and all the professors here who have been so incredible to me," she said. "I am incredibly passionate about what I do. It's what I devote most of my life to." 
Jesse Wieland, associate director of the Office of National Fellowships at FSU, called this year's Goldwater application cycle exceptionally competitive and said Lyons and Povelikin are among only 413 students selected for the award nationally.  
"Their maturity, commitment to academic excellence and the clarity with which they detailed their academic futures is what, I believe, set their applications apart," he said. "We could not continue our success with the Goldwater without the amazing faculty we have here at FSU, from those who volunteer on our Goldwater Faculty Committee, to all those who have mentored our applicants over the years, provided feedback on their research or written a recommendation letter." 
For more information on national awards and fellowships, visit the Office of National Fellowships website at onf.fsu.edu. For more information about the Goldwater Scholarship, visit goldwater.scholarsapply.org.