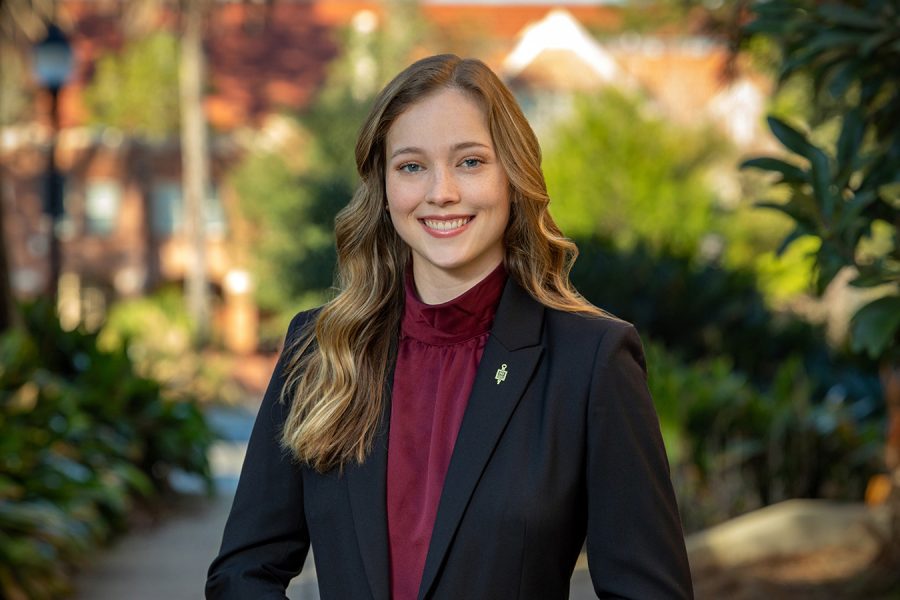 "Upon coming to Florida State for my undergraduate career, I gained an invaluable education, lifelong friendships, leadership and research opportunities and pushed myself more than I ever thought possible."
Fast Facts
Global involvement: Taught English to students in Jalgaon, India
Best study spot: The College of Medicine courtyard
Upcoming adventures: Summiting Mt. Kilimanjaro in Tanzania
Leadership recognition: Becoming a Garnet and Gold Key member
Outside of class, I...: Researched phone snubbing with Marissa Moseley
Tallahassee native Morgan Ling was already familiar with Florida State University's school spirit and traditions before deciding to enroll. Becoming an FSU student meant she could explore her passions for medicine and philanthropy while staying involved in her community.
"Coming to college at Florida State was a difficult choice because it was home, but easy because it felt like home," she said.
As a freshman, Ling pursued FSU's Undergraduate Research Opportunity Program, or UROP, to explore chromosome missegregation as it pertained to cancer genetics at a biomedical research lab in the FSU College of Medicine.
"My experience with UROP not only strengthened my knowledge of biology and genetics but introduced me to the power of mentorship," Ling said.
Ling began volunteering at Tallahassee Memorial HealthCare, or TMH, in high school and became a colleague when she enrolled at Florida State. As an aspiring physician and an active member of her community, Ling now works in the TMH Bixler Emergency Room.
Ling was inducted into the Torchbearer 100 for her leadership and commitment to giving back to her local community.
She has held various leadership positions in the Alpha Delta Pi sorority and recently served on the 2022 Executive Committee as the director of philanthropy, where she coordinated four events to support the Ronald McDonald House Charities of Tallahassee.
"As a native of Tallahassee, my initial goal was to bridge the gap between Florida State and the local community," she said. "Many FSU students lack interaction with the local community beyond campus."
To address this, Ling created "Moonlight Market," an event that raised more than $14,000 for the Ronald McDonald House Charities of Tallahassee and featured local businesses. Within her sorority, she also helped start "Diamond Meals," a program to donate leftover meals from the sorority house to Grace Mission and the Kearney Center, two local resources for the homeless population in Tallahassee.
Ling's passion for service extends into her career aspirations. Currently, she serves as an FSU UROP leader for the biological and medical sciences, where she mentors students at the Undergraduate Research Symposium.
Through FSU's Interdisciplinary Medical Sciences Student Ambassador Program, Ling peer mentors lower-level IMS students to help them achieve academic success.
"The coursework and extracurricular opportunities provided by the IMS program have allowed me to grow as an academic and researcher in combination with my clinical experience," she said.
In the future, Ling plans to attend medical school to further develop the leadership skills she discovered at FSU to become a physician. Her commitment to philanthropy will extend beyond her sorority as Ling intends to run a global nonprofit focused on the health of underdeveloped communities.
---
What inspired you to further pursue the Undergraduate Research Opportunity Program as a program leader?
During my time as a student in UROP, I learned invaluable skills such as critical thinking, collaboration and perseverance. I had an incredible UROP leader who helped shape my undergraduate experience and served as a role model both personally and academically. As a teacher of a K-12 public speaking course and through my service as an FSU Interdisciplinary Medical Sciences ambassador, my passion for mentorship emerged. I enjoyed working with students of varying ages and found it fulfilling to provide insight or guidance in terms of their skills and academic experience.
What FSU resources helped support your educational and leadership success?
I attribute much of my educational and leadership success to my peers — specifically, individuals in the Alpha Delta Pi sorority and the Garnet and Gold Key leadership honor society who inspired me with their ambition and intellect. The continued support and mentorship motivated me to make my time at FSU as meaningful as possible and to prepare for life after college.
As the former director of philanthropy for the Alpha Delta Pi sorority, what legacy do you want to leave for future members of the sorority?
I hope to leave a legacy of innovation and passion for philanthropy and service. I hope the following directors of philanthropy will be encouraged and inspired by the new events created and held during my term. I hope that my work inspires chapter women to continue immersing themselves in the Tallahassee community through service, small business support and leadership involvement.
How have your experiences outside the classroom complemented your clinical professions curriculum?
Within the IMS major, students complete a capstone research project on an issue in health care. With my experience at TMH, I was able to identify my capstone topic, which focuses on the prevalence and significance of Intensive Care Unit (ICU) nurse burnout during the COVID-19 pandemic. In turn, I can conduct research on a topic I am passionate about and contribute data to an evolving concern in health care.
What does Florida State University mean to you?
Florida State has been my home since I was born. I grew up surrounded by the Friday night Downtown Getdowns, home football games and events at Ruby Diamond Auditorium. Upon coming to Florida State for my undergraduate career, I gained an invaluable education, lifelong friendships, leadership and research opportunities and pushed myself more than I ever thought possible. I intend to carry my relationship with FSU forward for life because it's my home. I know the students I mentor through the IMS Ambassador Program and my UROP class will be my legacy at Florida State. In the future, I plan on becoming a ProfessioNole mentor for undergraduate women in STEM and a Fairy Pi Mother to girls in the incoming Alpha Classes of the Alpha Delta Pi sorority.