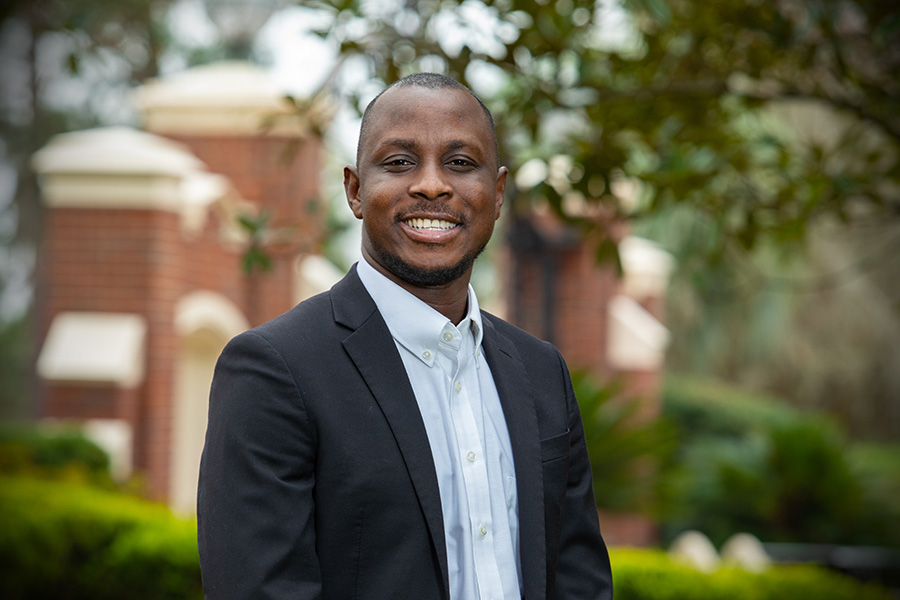 "Seeing the positive impacts from my projects in my community made me realize the significant role education could play in improving individuals' everyday lives."
Fast Facts
Favorite FSU pastime: Going to International Coffee Hour at The Globe on Fridays
Family: Youngest of seventeen children
Favorite FSU Sport Team: The Florida State Seminoles women's basketball team
FSU Accomplishment: Awarded the Barrie B. and Ralph R. Gonzalez International Travel Scholarship worth $5000
Favorite Nigerian Food: Poundo yam and okra soup
Florida State University doctoral student Bodunrin Akinrinmade's passion for educational policy, led him from his home country of Nigeria to Tallahassee, where he is expanding his knowledge of how to improve basic education in developing countries, specifically in Sub-Saharan Africa.
"If you want to make a difference, you have to start from your home country, and that's what I am doing," Akinrinmade said.
Inspired by the United Nations Millenium Development Goals, which outline measurable objectives to improve the lives of the world's poorest people, Akinrinmade's mission is to strengthen communities in developing countries by advancing their education systems.
During his time at FSU, Akinrinmade's professors in the Department of Educational Leadership and Policy Studies have prepared him academically and taught him how to be a respected leader in his field.
Akinrinmade credits FSU's Learning Systems Institute (LSI) for providing him with hands-on experience conducting and analyzing research data. For example, his collaboration with LSI researchers at the Nigeria Centre for Reading Research and Development (NCRRD) in Kano State, Nigeria, culminated in a research project that helped primary school teachers improve teaching practices to increase early-grade reading outcomes.
Akinrinmade continued his research experience through the 2022 College of Education International Travel Scholarship, a scholarship that provides students with cultural experiences to enhance their degree in the College of Education. He traveled to Nigeria to collect interview data regarding the academic impact of private tutors on children, which he is now using to finalize his dissertation.
While at FSU, he has also met with international students from The Center for Global Engagement and the African Student Association (ASA), which has been instrumental in helping him find a supportive community on campus and transition from Nigeria to the United States.
As a doctoral candidate in education policy and evaluation, Akinrinmade hopes that through his research, policies and programs, he will improve educational access, learning outcomes and school completion rates for children regardless of demographic classification.
---
How has Florida State University prepared you to help improve education systems worldwide?
Florida State has prepared me to be an outstanding policy analyst, program evaluator and educational researcher to provide evidence-based solutions to educational issues in the K-12 education systems around the world. My professors at Florida State University and my experience as a graduate researcher taught me how to conduct and analyze data from research studies. I will utilize these research skills to design evidence-based policies and programs to improve children's access to education and foundational learning skills worldwide. 
How has the Learning Systems Institute provided you with valuable experience as a graduate research assistant?
I worked with LSI researchers to train NCRRD faculty members for six months at Florida State on the science of reading research. When they returned to Nigeria, they were able to conduct independent reading research to improve the teaching of early-grade reading. I have been able to collaborate with LSI on such impactful projects, and I look forward to doing more to improve the foundational skills of children and the teaching of reading not only in Nigeria but around the whole world. 
How do you feel Florida State supports international students?
FSU values international students and provides a lot of scholarships and funding to help students transition to the United States. One major factor that affected my decision to attend FSU was that they gave me full funding. This shows how much Florida State supports international students and how they want them to progress and make a difference not only in their home country but in their immediate environment in the U.S. 
How have your professors assisted in your transition to FSU?
My professors have been very supportive during my time at FSU and always checked in on me to make sure I was adapting to the lifestyle of the U.S. To be honest, when I first started, I was very overwhelmed by my readings. When I talked to Stephanie Zuilkowski, a professor of international and multicultural education in the Department of Educational Leadership and Policy Studies, she encouraged me to keep working hard and, through time, I was able to adapt. Professor Zuilkowski continues to inspire me to be a hardworking and committed educational researcher. Overall, my professors were very accommodating, ready to listen to my problems and sincerely wanted to support me. 
What programs at FSU have been beneficial to your transition from life in Nigeria to the United States?
Along with my professors, I found support at FSU through The Center for Global Engagement and the African Student Association. The Center for Global Engagement allowed me to interact with other international students, which made it easier for me to adapt to life in the United States. The ASA allowed me to get to know students whose backgrounds are similar to mine, which has created a sense of community for me on the FSU campus. Programs like these make sure we, as African students, come together to have fun — because everything is not just about education! 
What did you do to take advantage of your 2022 College of Education International Travel Scholarship?
I had the opportunity to interview parents from low, middle and high economic status on why they invested in private tutors for their children. Specifically, I gathered data on how parents perceive the academic impacts of private tutors assisting their children and why, despite the financial burden it creates, parents continue to hire private tutors to guide their children. I appreciate that the scholarship allowed me to conduct my own primary research and to hear opinions and views from the parents. I am working on finalizing my discussion of findings and conclusion to complete my dissertation.