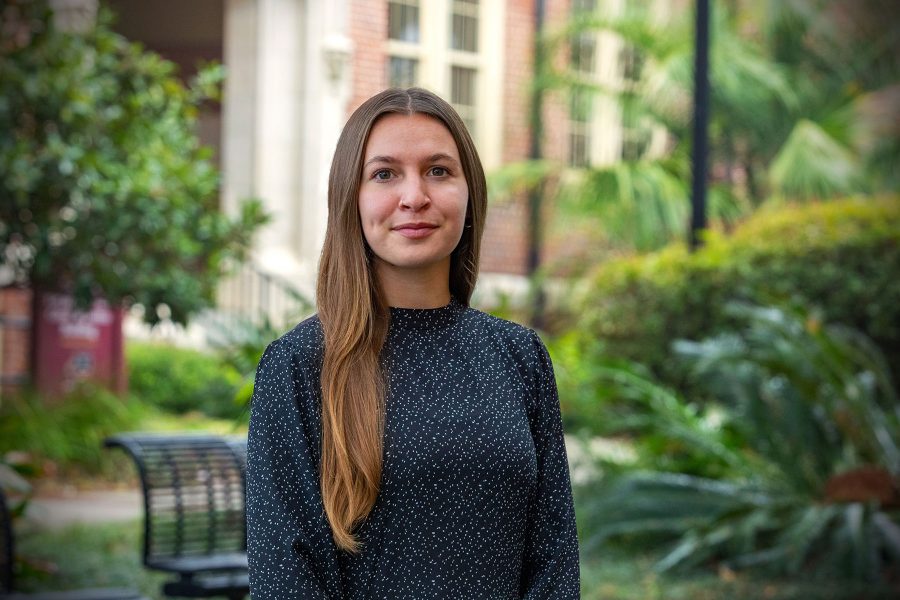 "Outside the classroom, FSU has provided opportunities for me to be in leadership positions that have given me the space to practice and refine my leadership skills on a smaller scale."
Fast Facts
Favorite Study Spot: Honors, Scholars and Fellows House
Travel: Has lived in four U.S. States and one U.S. Territory (the Virgin Islands)
Favorite Pastime: Loves going to coffee hour at The Globe on Fridays
Fitness: Has been a certified yoga teacher since age 15
As a child, Elena Villamagna knew she wanted to pursue a career in maternal care and all it encompassed. Now, as a junior at Florida State University, she has taken advantage of FSU's programs to fine-tune exactly what that means to her.
"I want to make an impact on every level in the maternal health sphere," she said.
FSU's Gap Year Fellows Program, which offers students funding to support their gap year, was the deciding factor for Villamagna's enrollment at Florida State. This allowed her to obtain a doula certification, attend births and shadow professionals before attending full-time classes at FSU.
"I knew I wanted to be learning outside of the classroom just as much as I was learning inside the classroom," Villamagna said. "Starting with a gap year was exactly what I was looking for."
While at FSU, Villamagna hopes to conduct an Honors in the Major project with the help of the FSU Social Science Scholar Program to develop her leadership skills and further research ways to assist mothers in their pregnancy, birth and postpartum journeys. She plans on building her research skills through the Undergraduate Research Opportunity Program (UROP) with Jessica Bahorski, assistant professor in the College of Nursing.
Through her participation in FSU's Women's Leadership Institute and senior position in the Omicron Delta Kappa (ODK) Honor Society, Villamagna developed the skills required to be an effective leader. Specifically, her experiences taught her how to navigate administrative spaces as a woman.
"To become a leader in the causes I care about — including positive birthing experiences for all women, animal rights and environmental justice — I know that I first must develop good leadership skills," she said.
Villamagna has used her time at FSU to explore her interests outside of the classroom as well. Her participation in the Global Citizenship Certificate Program (GCC) developed her passion for learning about and connecting with global cultures through intercultural events on campus, such as International Coffee Hour. Her experience in the GCC ultimately inspired her to take part in FSU's Global Exchange Program, through which she traveled to New Zealand to learn about traditional birthing practices from the Māori, indigenous Polynesian people of mainland New Zealand.
"The exchange has been the highlight of my time in college thus far," Villamagna said. "Between having the opportunity to learn about one of my passions and making friends from around the world, I feel like it was the experience of a lifetime."
---
What are some personal experiences that helped you discover your love for midwifery and researching ways to assist new mothers?
Maternal health and babies have been a passion of mine since I was four years old. I remember attending my mother's midwife appointments when she was pregnant with my little brother and, as a kid, I loved being included in that process. I was a sponge absorbing every word I could from those appointments. A few years later, my father completed his medical residency, which continued my curiosity and fueled my passion for this field. Soon, revolutionary midwife Ina May Gaskin and innovative OB-GYN Dr. Aviva Romm became two of my biggest role models. 
How did the Gap Year Fellows Program assist you in your transition to life as a college student?
The Gap Year Fellows Program was the deciding factor for my enrollment at Florida State. Florida State is one of the only universities in the U.S. that not only openly encourages students to take a gap year but also offers funding for students to take one. Throughout my gap year, I gained a great amount of independence, which made moving to Tallahassee and starting new seem much less daunting. During my gap year, I began working on my doula certification and was able to shadow my very first birth — it was the most magical experience I have ever had. The United States has the worst maternal and infant outcomes of any developed country. I knew I wanted to change this. To do so would require researching the best birth practices and how to implement them effectively into the U.S. medical system. I plan to continue my passion for researching ways to assist mothers in their pregnancy, birth and postpartum journeys by conducting an Honors in the Major project with the help of the Social Science Scholar Program.
How has your time at FSU allowed you to grow as a leader in the causes you represent?
FSU has many tools to help students grow as leaders. During my first semester on campus, I participated in the Women's Leadership Institute, which helped me develop my core identity as a woman and integrate it into the leadership space. I also took a course on gender and leadership to further expand my understanding of the ways gender influences the leadership process. Outside the classroom, FSU has provided opportunities for me to be in leadership positions, such as the vice president of programming in the ODK leadership honors society. Positions like that have given me the space to practice and refine my leadership skills on a smaller scale. Currently, I am taking the Social Science Scholars leadership course, which will help me develop my leadership style and will help me implement it in a way that is meaningful and impactful to my goals.
What valuable lessons did you learn from participating in Global Exchange Program and your experience with the Māori tribe?
Florida State has many different opportunities to help students become more involved on campus as well as funding opportunities to help students explore their passions off campus. The Global Exchange Program gave me the opportunity to spend a semester in New Zealand to learn about traditional birthing practices from the Māori and spend more time in nature. I learned that the Māori were stripped of many of their traditions, including birth traditions, when the English settled in New Zealand; however, they are now trying to revitalize their culture. One birthing custom I found particularly interesting is the muka tie, a rope made from natural plant fibers that is used to tie the umbilical cord and differs from the plastic clip typically used in hospitals. It has been found that babies who had the muka tie experienced a shorter healing time than babies exposed to the plastic clip due to the medicinal properties in the plant fibers. 
What impact do you hope to have on maternal care in the U.S.?
My dream is to spend years working as a midwife to gain firsthand insight on the local and personal issues women experience during their pregnancy, labor and postpartum periods. Simultaneously, I plan on researching natural birthing practices around the world, focusing on what works in places with the best perinatal experience. My goal is to then pursue a career in public health at the national level, where I can implement my findings at the local and international level on a large scale and positively impact maternal care in the U.S.