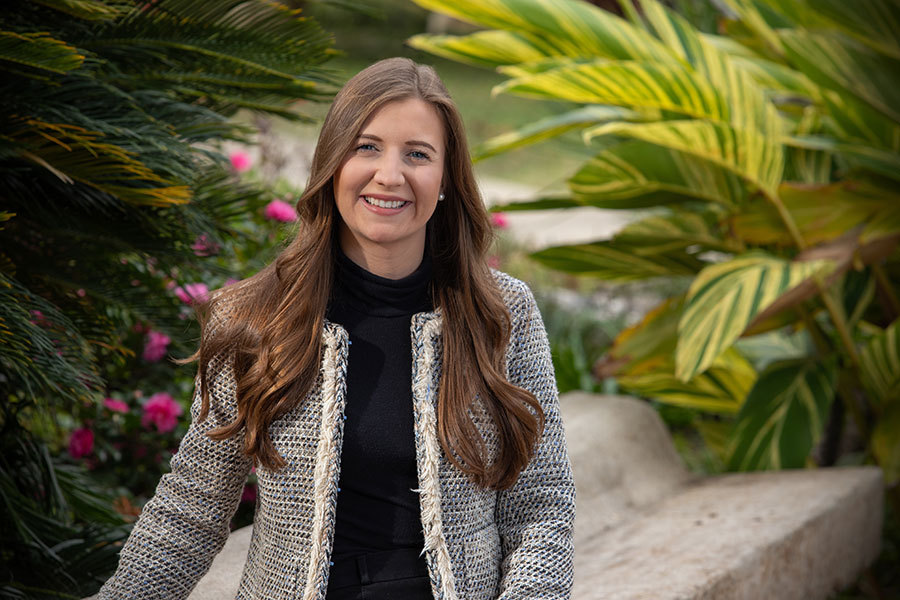 "I am proud to be a Florida State Seminole and extremely thankful for everything this university has given me. My hope is that I have left a mark on it just as it has left a mark on me."
Fast Facts
Globally Involved: Fluent in German and has traveled to over 25 countries
Favorite Sport: Has played golf since age 5
Favorite Study Spot: 2nd floor of the Strozier Library
Favorite FSU memory: Cheering on the Noles from the President's box
Favorite FSU activity: Going on walks around campus with friends and enjoying our beautiful campus 
When Sarah Johnson stepped foot on Florida State University's campus, she instantly felt inspired and welcome.
While at FSU, Johnson was recognized for numerous academic achievements, including making the dean's and president's lists multiple times and being a Garnet and Gold Key (GGK) Leadership Honorary member.
She has made impactful contributions at FSU by organizing the 20th anniversary 9/11 flag display and commemoration ceremony, the first annual Battle of the Bands at Cascade Park and the Veteran of the Month parking spot. These initiatives have engaged student veterans, the student body, and the greater Tallahassee community.
Leadership comes naturally to Johnson.
"I leverage my leadership positions on campus to share information with my organizations about issues and events going on in other sectors of campus to further spread the valued diversity of Garnet and Gold Key," she said.
In addition to these achievements, Johnson has played a crucial part in making the FSU campus a welcoming atmosphere for veterans and honoring them and their sacrifices.
She serves as the director of the Veterans Student Union (VSU). She is responsible for the development, implementation and interpretation of policies as well as representing the interests of more than 300 student veterans at Florida State University.
"I constantly strive to make our campus a welcoming atmosphere for veterans and give back for all they have done," she said. "I was recently able to do this by donating my entire stipend from serving as the VSU director to create an Army Reserve Officers' Training Corps (ROTC) scholarship. I hope I have made a small impact in someone's life and on this campus."
According to Billy Francis, director of the Florida State University Student Veterans Center (SVC), Johnson's actions are an example for all FSU students, faculty and staff.
"It is not the title of Veterans Student Union director that has given her influence and respect with the people that drive campus success, but rather her eagerness to leave this campus better than she found it," Francis said.
While not directly involved in research, Johnson worked with FSU's researchers through her role in FSU's Office of Research and University Communications offices, where she worked on initiatives to amplify existing research centers and target donors that could partner in their work.
"I am incredibly grateful to Billy Francis and the entire Student Veterans Center staff, as well as Kathleen Haughney and the Office of Research and University Communications staff," Johnson said. "Their mentorship and constant support have greatly contributed to my success."
As a marketing senior double minoring in German and computational science entrepreneurship, Johnson hopes to pursue a Master of Business Administration and "redefine what it means to be a businesswoman in the current landscape and be able to make an impact on the business world at large, my community and FSU."
"I am proud to be a Florida State Seminole and extremely thankful for everything this university has given me," she said. "I hope I have left a mark on it just as it has left a mark on me."
What FSU resources helped you thrive as a student and an organization leader?
The Student Veterans Center and veteran community here at FSU has profoundly impacted my student experience. The SVC has provided support, guidance, and what I believe has been one of my true purposes and callings on this campus. Billy Francis and his team work tirelessly for the veterans on this campus and continue to keep us as one of the most veteran-friendly universities in the nation. As I prepare to graduate and start a new chapter, I will forever cherish what this community and the Student Veterans Center have provided. My father reminds me, "to whom much is given, much is expected." Much has been given to me by the student veterans center, and I hope that one day I can give back even a fraction of what I have been given. 
What do you hope to give back to FSU through your position as the Veterans Student Union director?
I hope to cultivate and sustain relationships between veterans and the FSU community by providing tangible resources and activities designed to foster veterans' sense of connectedness to the university. These events allow us to ease the transition from military service to campus life, foster a community of past, present and future veterans, and support student veterans through graduation and into rewarding careers and graduate education programs. 
What inspired you to create the Army ROTC scholarship?
When I learned that my role with the Veterans Student Union came with a stipend, I knew I wanted to pay it forward. I grew up as a military dependent. My father, Lt. Col. (retired) Brion Johnson, spent 29 years in the Army, deploying six times, to Afghanistan, Iraq, Kuwait, Qatar and Bahrain. He started in Army ROTC at the University of Iowa, and for him, it was the start of a successful and honorable military career. Throughout my years as a military dependent, I have always felt great support from those around me. Coming to Florida State, I wanted to give back and ensure that veterans on this campus feel the same support I felt growing up. I have tried to do that with my role in the Veterans Student Union and this scholarship. I feel incredibly touched to be able to give back to this university in my dad's honor. 
How has being a Garnet and Gold Key leadership honorary member shaped how you approach leadership in your other positions?
My fellow Garnet and Gold Key leadership honorary members inspire me every day to be a better leader. Their work on campus and in the community is truly inspiring, and I feel honored to work alongside them. Whether we are bouncing ideas off each other or hosting partnership events, the GGK community has been a driving force for my leadership development. I can take what I learn from these leaders and apply it to my various roles on campus to better the community and student body. 
In what ways has your experience with FSU's Office of Research and University Communications contributed to your marketing education?
The experience I gained from FSU's Office of Research and University Communications has been invaluable to my marketing education and work experience. I worked firsthand on projects and initiatives that supported grant acquisitions resulting in tens of millions of dollars in grants awarded to FSU researchers. I used what I learned as a marketing major to write FSU news articles, press releases and media advisories promoting faculty research and targeting donors that could partner in their work. During my time, I was also able to write speeches for some of President McCullough's various events. Being a part of the university's direct communications line gave me insight into the value of successful marketing. Just as with any other venture, research is a business. I was able to learn many business lessons through the means of communication. 
How has your time at FSU shaped your plans after graduation?
FSU has greatly impacted how I view my education and what I plan to do with it after. The tremendous support from faculty and staff, coupled with the academic excellence the College of Business provides, has encouraged and enabled me to pursue my goal of earning an MBA and entering the consulting or fintech space. Coming to FSU, I had a clear path to earn a business degree. As I get ready to graduate and reflect upon my time here, FSU has shaped what my business degree means to me and how I view where my skills can best contribute to the business market. I see analytics and data as a method for storytelling. I hope to develop my analytic skills to share my future organization's stories to our stakeholders, co-workers and the market at large.