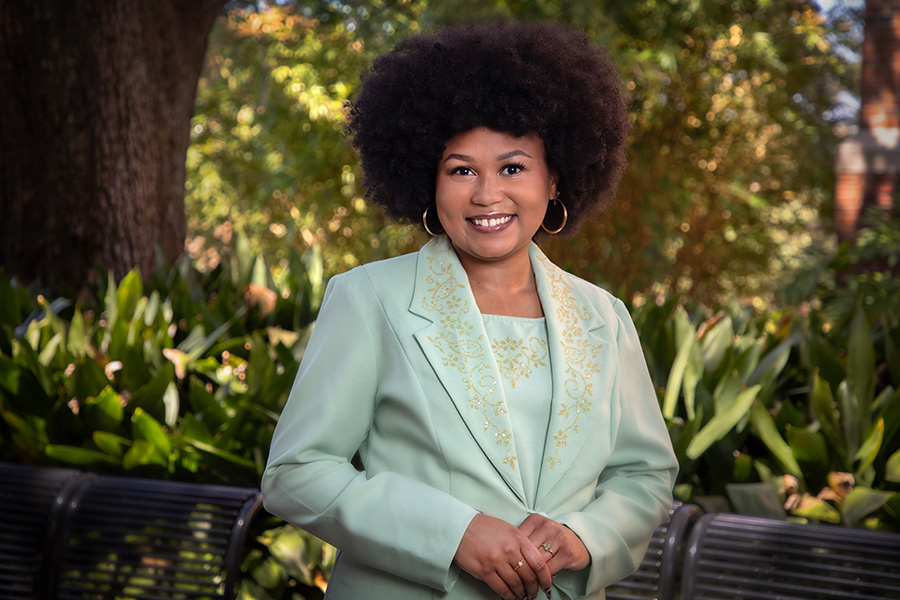 "Finding FSU professors who aided my development as a student and teacher has encouraged me to pursue academia and create safe spaces for all students."
Fast Facts
Around the Globe: Born in Germany and has lived in six different states
Favorite Instrument: Violin (played it for 10 years)
Campus Pastimes: Hammocking on the Mina Jo Powell Green
School Spirit: Watching FSU's women's soccer games
Favorite Study Spot: Tables outside of Strozier Library
Campus Resource: SAFE connection is "underrated and really helpful for going back to my dorm at night"
Florida State University senior Michelle Evangelista chose FSU for its stellar study abroad program. With the guidance of FSU's College Life Coaching Program, she narrowed her major to international affairs.
As she approaches graduation, Evangelista regards the university's undergraduate research opportunities and community service as the pillars of her academic success — with research a vessel for her passion to emphasize the experiences of people who share her Latin American roots.
During her Undergraduate Research Opportunity Program (UROP) project, Evangelista researched the effects on Indigenous people of the extraction of natural resources in Veracruz, Mexico, with her mentor, Samuel Holley-Kline, a postdoctoral scholar in the Department of History. The experience led her to pursue an Honors in the Major thesis to share the stories of members of the El Salto and Juanacatlán communities along the Santiago River.
Outside of class, Evangelista maintains a small business, Empowerment by M.E., which began as an initiative to honor the victims of police brutality and creates resin art to raise awareness for social injustice, including for victims of such brutality. She donates 20% of her profits every quarter to a unique organization that works on behalf of marginalized communities.
"I've been able to bring light to my community, by using my artistic talents to showcase the beauty and perseverance of the Black community," she said.
Evangelista says FSU has done more than support her academic success. Through Kappa Delta Chi (KDChi), a Latina-founded service sorority, and her UROP project, she discovered a newfound pride in her Hispanic and Latin American heritage.
Evangelista credits her research mentors with instilling confidence in her Spanish-language proficiency, and as a senior, she now serves as a social media coordinator and academic officer for KDChi. She joined the sorority to become involved with community service and immersion into Hispanic and Latin culture.
"With the support of the FSU community, personal connections and self-validation, I am confident and proud of my identity as an Afro-Latina," she said.
How does your honors research differ from other studies of the Santiago River?
My research focuses on the Santiago River as a case of environmental injustice. The Santiago River, "the power of nine rivers" in the Nahuatl language, is one of the most polluted rivers in Mexico that winds through the towns of El Salto and Juanacatlán in Guadalajara. While researching this case, I found that many academic articles observed the river through a scientific lens. So, I decided to focus on what the community thought about the Santiago River's pollution and governance through document analysis and interviews. Ultimately, I want to give the people of El Salto and Juanacatlán a more personal and intimate narrative within academia. I want to remind the academic community that these communities are comprised of people who deserve to have their stories shared and respected by others, to be seen as who they are: people with ambitions, passions and livelihoods. Through my thesis, more is understood on how the people have taken back their power to achieve environmental justice through self-determination and reveal if one day, the power of the nine rivers can be restored to the Santiago River. 
What inspired you to establish a small business?
I have always loved creating art. In 2020, I saw photos of resin art coincide with news of police brutality against Black people on my social media feed. For me, violence against Black people and how to avoid it was always a focus in my life. I decided to use my artistic talents to raise awareness about police brutality. To signify the growth and perseverance of the Black community, I created resin art of the raised fist symbol with flowers. As I expanded the collection, I selected my pink glitter pin as a donation pin where all of the sale profits are donated to Breonna Taylor's family GoFundMe. That summer I donated 30% of my profits to the Black Lives Matter Organization. To continue raising awareness for different social issues, I pick an organization each quarter to donate 20% of my profits to. When I become frustrated with my business, I remember my work is for Breonna, Eric, Tamir, Ahmaud, Aiyana, Trayvon, Elijah and others. I think of how my art is to honor them, to remember the parts of them that contributed to the joy of the world. 
How has your time at FSU shaped your plans after graduation?
I'll always be grateful for my role models and experiences. My first sociology professor, Jesse Klein, inspired my curiosity for the world. During my first semester, I was unsure of what to do with my academic career, but I was excited to learn. I found Klein's research on the sociological themes in DC comic books interesting because it pushed me to think more critically about everyday items, like comic books. She inspired me to be curious about the world and to explore this curiosity, even if it is intimidating. It can be discouraging to pursue research or a Ph.D. if you've never done it or feel as if there is no space for you, but my mentors have proven otherwise. There are professors who make an active effort to decolonize academia and support students of different identities and backgrounds. Finding FSU professors who aided my development as a student and teacher has encouraged me to pursue academia and create safe spaces for all students. 
Which resources at FSU have supported your career goals?
Advising First, the Center for Undergraduate Research and Academic Engagement and FSU Libraries are all resources that supported my career goals. I was admitted into The College Life Coaching Program in Advising First as an out-of-state student during my first year at FSU. Throughout my first semester, I talked to my life coach about my academic and personal life and narrowed down my interests to major in International Affairs. Meetings with my College Life Coach gave me optimism and hope about my future at Florida State, which helped me find my best friends my first semester. Through the CRE's UROP program, I first became exposed to research which motivated me to pursue future research projects. The IDEA Grant allowed me to work on my Honors in the Major thesis research with financial support and inspired me to pursue academia as a career. Lastly, FSU Libraries' software workshops helped me understand GIS for my UROP research assistantship and my interview data for my honors thesis.