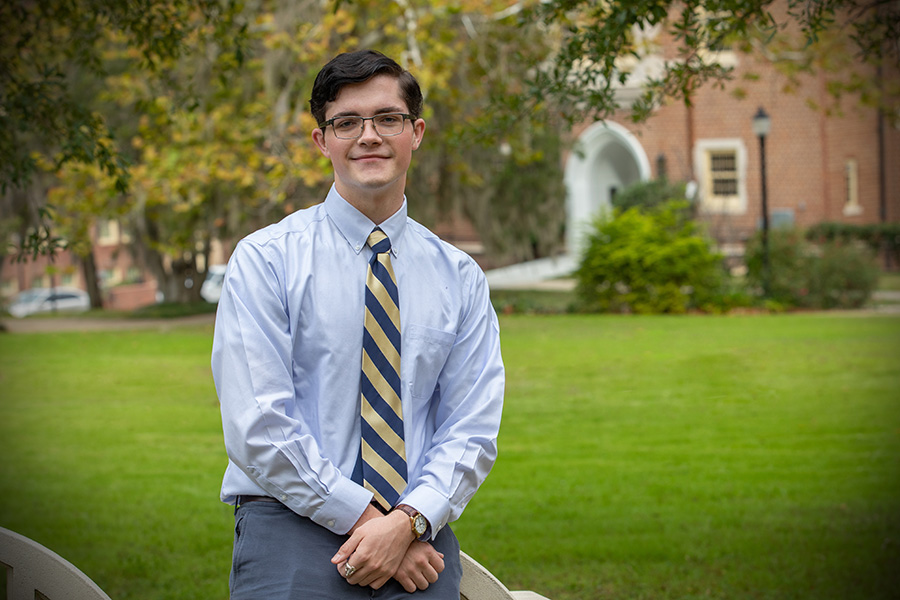 "My time at FSU has — above all other things — shown me the absolute necessity of surrounding yourself with good, motivated people."
Fast Facts
Extracurriculars: Wrote a play, "Under Review," produced by White Mouse Productions.
Achievement: Earned the Eagle Scout award in 2019 with Troop 475 from Palm Harbor, Fla.
Research: Worked as a lab assistant at Boston's Dana-Farber Cancer Institute.
FSU Involvement: Read sections of Dante's "Inferno" at the annual marathon reading hosted by the Italian Honor Society for the past two years.
Harrison Betz has always felt a natural longing to experience the world firsthand. Florida State University provided unique opportunities for him to explore his curiosity and interests through the Department of International Affairs and FSU's Undergraduate Research Opportunity Program (UROP).
Betz, a Spanish and international affairs double major, chose Florida State to pursue academic and personal growth.
He approaches the world with great curiosity and interest in a broad spectrum of topics and feels FSU has provided opportunities to hone his focus and explore those interests.
Inspired by assistant professor Beth Coggeshall's "Dante's Inferno" course, Betz researched Latin American adaptations of "Inferno" to explore the relationship between Latin American and Italian literature and culture.
He received the Center for Undergraduate Research and Academic Engagement's IDEA grant for his research, and he presented at the UROP Symposium, the South Atlantic Modern Language Association annual conference (SAMLA) and Florida Undergraduate Research Conference (FURC).
"The research grants I received allowed me to represent FSU at numerous professional conferences and support myself financially as I continue my higher education," Betz said.
Though still determining his exact career path, Betz hopes to continue exploring his vast global interests, especially mentoring students after graduation. Through his UROP experience, he learned the value of good mentorship for young researchers and students and hopes to provide similar guidance in the future.
---
What inspired you to attend Florida State?
I felt the university would provide a community focused on academic and personal growth. Touring campus and attending information sessions during my senior year of high school made it clear that student development was important to the university on multiple levels. I was also impressed by programs like UROP and study abroad that offer unique chances to get firsthand experience and professional skills in a variety of disciplines. In short, I felt FSU would be a place in which I could grow not just as a student, but as a person.
What resources at FSU have helped you achieve your research goals?
One of the resources I use almost daily is the library catalogs offered by University Libraries. The information held within them has been indispensable to my coursework and extracurricular research. Another essential part of my experience has been the numerous research funding opportunities — made possible by allocations from the university and donors. The grants I received allowed me to represent FSU at numerous professional conferences and support myself financially as I continue my higher education. The university's demonstrated commitment to undergraduate research has allowed me to explore my interests and make the most of my time in college. I think the university also fosters strong faculty-student relationships through the course structure and extracurricular programming. Those relationships have been indispensable to my success at the university so far and have the potential to benefit any student. I'm fortunate to attend an institution where that kind of dynamic is not only welcomed but actively encouraged.
What are some personal experiences that inspired you to pursue studying international affairs, and how has FSU helped solidify your passions?
I chose to major in International Affairs after considering my interests and what I knew I wanted to do – which was, above all, to see the world. As I thought about what my higher education would look like, I realized I had always desired to travel and live abroad for extended periods to learn about the world firsthand. My International Affairs major has presented me with the opportunity to explore the complexities of global politics and culture, hopefully setting me up for a career within a field that will allow me to travel as part of my job. Furthermore, my time at FSU has reaffirmed my interests and given me the chance to learn about a wide array of subjects that will be of indubitable use as I prepare for my travels. Among them has been my Spanish degree. In double majoring, I have solidified the linguistic skills I have been building for the past seven years and put those capabilities into much-needed practice.
What inspired you to begin researching the adaptation of Dante's "Inferno" in Latin America, and how did you incorporate this research into your IDEA grant?
I was first inspired to do some work with Dante's "Inferno" after taking Dr. Elizabeth Coggeshall's class by the same name in the fall of my first year. My focus on Latin America came after discussing with Dr. Coggeshall how I might expand the work I was doing for her through UROP and was the natural product of my Spanish major and interest in Latin American literature. I started by scouring archives to find Latin American adaptations of Dante's "Inferno," then conducted additional research to narrow down which archives would be viable for a final paper. I also searched for secondary information that could shed insight into the relationship between Latin American and Italian literature and culture. Ultimately, my work with these adaptations is meant as a partial response to an ongoing debate within Dante studies regarding the classification of Dante's "Divine Comedy" as a piece of world literature. Understanding how Latin American authors respond to a work like Dante's (i.e., one central to the canon of European literature) can reveal the manifest ways in which culture may be tied to conquest and some of the lasting impacts of European colonialism.
In what ways has your work with UROP influenced the mark you want to make in your intended field?
My time in UROP demonstrated the importance of good mentorship for the success of young students and researchers. Although I do not quite know where my future will take me, I hope that — wherever I am — I will have the opportunity to become a mentor for others. Growth cannot happen in a vacuum, and having a support system of knowledge and experience is essential. UROP also demonstrated the diversity of research opportunities that exist. There is so much more out there; I hope I get the chance to experience just a little bit more of it someday soon.