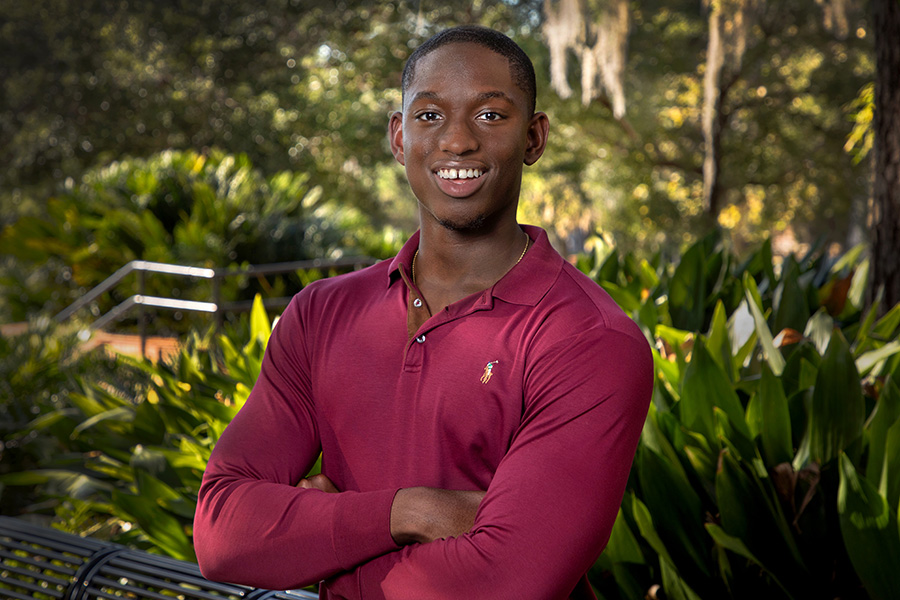 "Like everyone, my passions and aspirations first developed as an idea. In attending FSU and remaining faithful, I have been able to transform my ambitious ideas into a destined reality."
Fast Facts
Campus leadership: Founding member and acting president of the African Student Association
Favorite spots on campus: The Innovation Hub and Thagard Building
Hobbies: Avid gymgoer and lover of dance
FSU involvement: Undergraduate Research Opportunity Program instructor
Heritage: Nigerian American
With a passion for research and advocacy, first-generation college student Kehinde Sogbesan chose to attend Florida State University to pursue work that would ensure privacy, promote sexual health and lead to faster intervention for college students, disenfranchised communities, LGBTQ+ and other underrepresented populations.
Sogbesan always dreamed of going to college, but he and his parents knew little of the process. Then he learned about FSU's Center for Academic Retention & Enhancement, or CARE, which operates to provide equity and access to individuals with identities typically underrepresented in higher education.
"The CARE program taught me how to graciously and triumphantly combat imposter syndrome, which refers to psychologically doubting yourself, accomplishments or worth," he said. "Many first-generation students across the country undergo the same feelings, yet we still feel alone."
Sogbesan capitalized on FSU's many undergraduate research programs and grant opportunities. In the summer of 2021, he served as the head research assistant at the Mayo Clinic, where, through saliva testing, he researched methods of detecting SARS-CoV-2 and aims to find solutions to combat disproportionate minority deaths in disenfranchised communities.
"Working at the Mayo Clinic immediately ignited my flame for advocacy," he said. "If we could apply each of our findings to empathetically bettering our society, thousands of lives could be saved."
His work received a boost in 2022 when he received an IDEA grant for scientific and entrepreneurial research on creating a rapid affordable STD test to help combat the nation's rising rates.
As a Nigerian American, he also has aimed to make a difference outside of the lab and classroom. Last year, he brought back the African Student Association — which had disbanded years before his arrival — as an officially recognized student organization at FSU. The one thing the university lacked, he said, was a place for African students to gather and form a community.
"As the new founding president, my joy comes from meeting excited students that are longing to be a part of our organization," he said. "This feeling reminds me of my purpose, the pursuit of fellowship and empathy."
Through the ASA, Sogbesan continues to pursue his passions, advocate for fellow students and promote a sense of community.
"ASA is back, and like the phoenix, we rise — we rise to spread our good cheer, love and strength across campus," he said.
What are some personal experiences that have helped you discover your love for research and advocacy?
After graduating high school in the beginning of the pandemic, I learned disparaging news of the rise of sexually transmitted diseases in the United States. Unknowingly, I began to engross myself in this issue as it relates to my race and sexuality. Every search shocked my young inquiring mind as many articles and scholarly papers lacked solutions. I remember journaling about a story I read on Reddit, about a Nigerian American who was sexually assaulted and was too afraid to get an STD test. The anonymous story has since been deleted, but I recall him detailing his fear of scrutiny and shame. I resonated with his story and became inspired to advocate for solutions that will ensure privacy, promote sexual health and lead to faster intervention.  
How has your experience at FSU helped you to develop your passions?
FSU has a multitude of resources to enrich and cultivate students' passions. I began research at FSU through the Undergraduate Research Opportunity Program (UROP). The program taught me the skills necessary to manage my studies while engaging in research. The Jim Moran College of Entrepreneurship inspired me to innovate and create the impact I long to perpetuate in the world. Having met Jeff Whalen, a member of the teaching faculty within the Jim Moran College, in his Survey to STEM, we learned of current societal issues and brainstormed entrepreneurial innovations to solve them. Prior to entering his class, I had a venture idea that I believed would aid in solving the STD epidemic in our country. Throughout the semester I used every assignment to tailor my venture. The IDEA Grant propelled me forward to seeing my venture idea actualized. In winning the IDEA Grant, I conducted laboratory research, market validation experiments and in-to-market strategies. Like everyone, my passions and aspirations first developed as an idea.  
In what ways has your service involvement within Florida State's UROP influenced the kind of mark you hope to make in your intended field?
After the completion of my UROP project, I chose to help fundraise to install an electronic health record in rural Honduras alongside the FSU College of Medicine. Growing up in a Nigerian American household, I learned of the health disparities and challenges that plagued Nigeria. We would often seek medical counsel here for relatives back in Nigeria; send vitamins, medical advice and a myriad of resources that would aid in their well-being. During my UROP project, I learned of the advantages that an electronic health record has in improving a population's overall health by providing services such as organizing medical data and issuing prescriptions.   
How has FSU aided you in your efforts to reestablish the African Student Association, and through these efforts, what impact do you hope to have on the culture and community at FSU?
Growing up in Jacksonville, I was not exposed to many young Africans. When I began my college search, I wanted a community that would cater to my needs and culturally enriches my bourgeoning spirit. FSU no longer had an African Student Association, but I was adamant about cementing our space on this beautiful campus. The FSU community is extremely receptive and engaged in learning about African culture and heritage. The Global Multicultural Center and the Black Student Union house have served as great venues for our general body meeting. Most notably, we held an Afro beats dance class in the Leach (Recreation Center) open to all FSU students, and it was a surreal moment to see students come out, embrace African culture and simply enjoy themselves. ASA would not exist without the community and fellowship that exists at FSU. I want FSU students to learn about the diverse and unique culture that exists in Africa. To represent an entire continent is impossible, but to expose students to the African love and fellowship we share is surely worthwhile. ASA is a testament to resiliency and community; one should not be discouraged if their space does not exist, but rather become motivated to create it. 
In what ways did the CARE program at FSU help in your transition to becoming a first-generation college student?
"Remember the son of who you are" is a proverb my Nigerian father would often repeat to my twin brother and I, and as I mature, the proverb has served as motivation for my development as a man. This same proverb circulates through the spirit of the CARE program at FSU.  
When my dad proclaims the monumental words, it is used to remind us of our family, the legacy we strive to create and the good works one must impart in their community. The CARE program embodies this in its students with the various advisers, resources and programs present. Through workshops and advising, my survival at FSU became a succeeding mentality, and I learned that working to earn my degree and remaining my unapologetic self is an accomplishment.