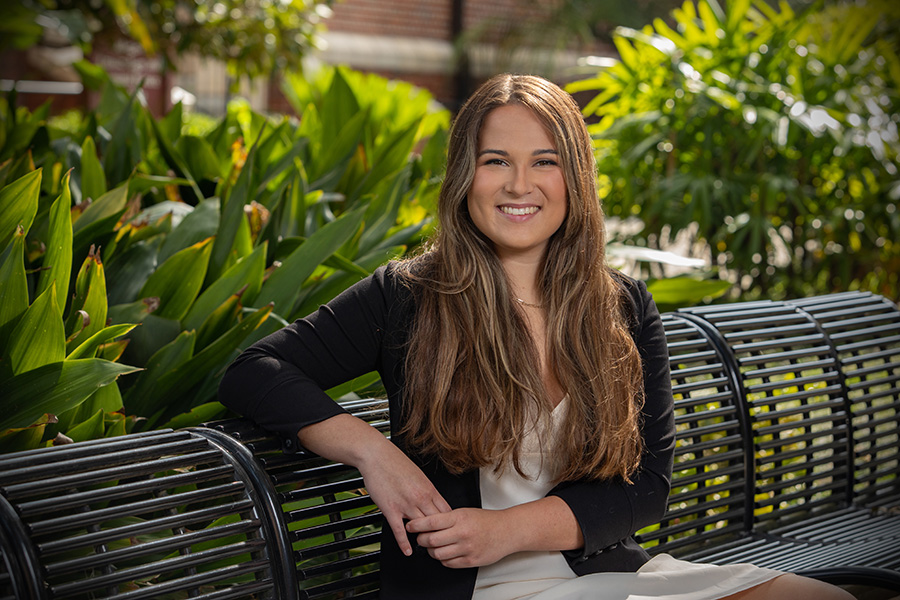 "At FSU your experience is truly what you make it, with opportunities on the entire academic to social spectrum that allow for a well-balanced and well-rounded college experience."
Fast Facts
Greek life: Member of the Delta Zeta sorority
Favorite FSU memory: Playing intramural sand volleyball with friends her freshman year
Accomplishment: Has made the Dean's List each semester at FSU
Favorite FSU study spot: Dirac Science Library, especially the second floor near the windows
Favorite weekend activity: Hiking and spending time outdoors, especially kayaking on the Wacissa River
A Tallahassee native, Katherine Henning decided to attend Florida State due to its quality of education, strength of its Department of Earth, Ocean and Atmospheric Science and strong undercurrent of engagement and social activities.
"While many of the schools I considered had good academics and opportunities for involvement, I found that at FSU, I not only felt like I would be able to get a great education but also make lifelong friends and connections," she said.
During her sophomore year, Henning participated in FSU's Undergraduate Research Opportunity Program as an undergraduate research assistant for Dr. Jeroen Ingels at the FSU Coastal and Marine Laboratory. The project focused on the ecological quality of Taylor County's badly polluted Fenholloway River and the river's surrounding estuary and coastal area.
FSU recently awarded Henning, a participant in the FSU Honors Program, an IDEA grant to create a new branch of the Fenholloway River research project that will focus on collecting sediment samples from the river this summer. The project also will include a community outreach initiative.
How have your personal experiences impacted your passion for environmental science? 
Ever since I was a kid, I wanted to do something with my career that would help others. I've always had a passion for nature and wildlife as well. As I got older and began to take more specialized classes in high school, I had the most amazing environmental science teacher. She helped me realize that with environmental science I could not only restore and preserve natural environments, but I could also help a lot of people indirectly. Having a healthy natural environment is hugely beneficial for those who may live in or around that environment. Armed with the information I learned in her class, I was able to come to FSU and get involved in organizations such as Sustainable Campus, where I became even more interested in environmental issues.
How has your experience with the FSU Honors Program helped you grow?
The Honors Program has been hugely influential on the level of success I've had here at FSU. I took a variety of honors-specific electives, such as Social (In)Equalities, Green Infrastructure and Health and Environmental Justice that opened my eyes to a variety of topics that I had never considered. These electives were immersive and intellectually stimulating and made me a better member of our campus community. The Honors Program has also allowed me to participate in honors gen-ed courses, with smaller class sizes and professors that are some of the best at our university. The level of outreach that the Honors Program has for its members is also excellent — from my days as a resident of Landis Hall until now I have been able to stay up to date about opportunities and current events on campus.
What's the community impact of your research project on the Fenholloway River?
It will have a big impact on the community of Perry and other communities in the area. It will continue decades of research on the Fenholloway River and its health and help us determine how we should proceed in the future as the Fenholloway continues to be rehabilitated after decades of pollution. The community outreach events we are hosting will open new channels of communication and help to bridge the gap between the scientific community and the local community. By coming directly to those who are most affected by the issue of pollution in the Fenholloway, we are offering the community a unique opportunity to learn about scientific research in a way that is easily accessible and understood.
How has your research project helped solidify your intended career path?
Through this research project, I've realized that scientific research is my passion. I want to continue to be a researcher at a university in my professional life. Without this project I never would've realized the importance that academic research holds.   
Do you have plans after graduation?
I plan to attend graduate school and either get a master's in marine biology or environmental sociology. I would also like to get a Ph.D. after completing graduate school and continue working in a university conducting research on pollution and other environmental issues.