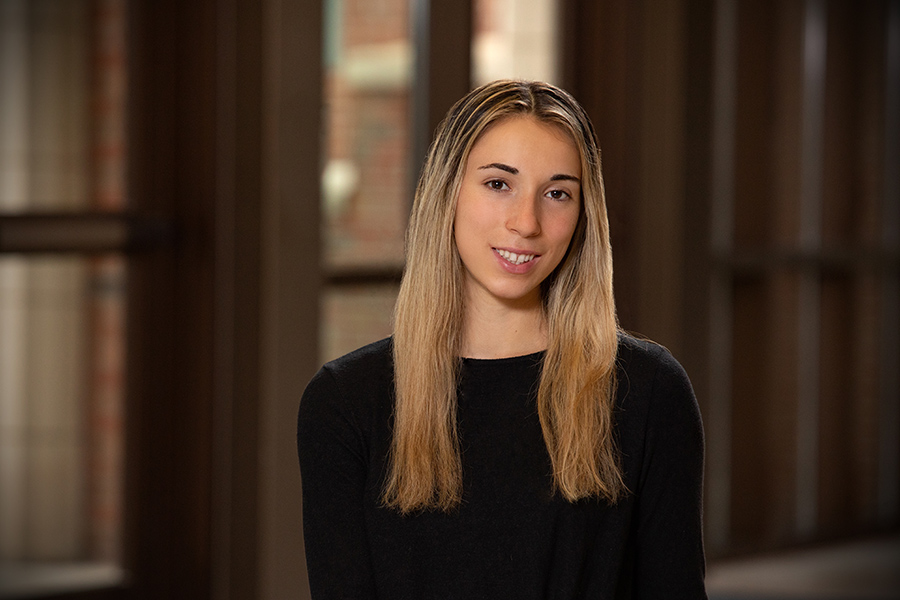 "I love being at FSU. Coming here from Michigan, FSU is a long way from home, but as soon as I visited the campus, I realized that FSU offered opportunities and an environment that no other school has."
Fast Facts
Almost a Panther: David was set to play soccer at Georgia State University before deciding on FSU.
Fleet Feet: Runs the 1,500-meter event for FSU's track and field team and also runs cross country.
Favorite Haunts: When not in class or running, David can be found at coffee shops around Tallahassee. Lucky Goat, Paper Fox and Serenity are a few of her favorites.
Thanks goes to: "I'm so grateful to all the teachers who helped me these past two years; faculty members Scott Thourson, Daniel Hallinan, Yan Li and Stephen Arce, in particular."
Ashley David recalls her first visit to Florida State University: The architecture, exotic plants and massive oak trees lining red brick paths made an immediate impression.
But she most remembers a student engineering project that tipped the scale in favor of attending FSU.
"The day I toured, I remember that engineering students had a boat made of cement on display," she said. "Seeing projects at the College of Engineering, built by students here, inspired me, and I wanted to be at a school that wants students to go beyond their classrooms."
She added: "Cement canoes floating — that really opened my eyes to what students could do at FSU."
David is a member of the FSU track and field and cross country teams, and while she enjoys competing, she's just as passionate about her research, for which she has earned an FSU IDEA Grant.
Her current work involves exploration of the Soret Effect on thermogalvanic cells. The work eventually could help pave the way for advances including improved energy efficiencies in industrial processes and improved battery technology.
David expressed appreciation for teachers who she said have been generous with their time and expertise. She also said she intends to make the most of her final year at FSU before pursuing a doctoral degree in biomedical engineering.
"I want to make sure I get the most out of my research and take advantage of the opportunities that FSU has given me," she said. "I've attended a lot of office hours, and I'm so grateful to the teachers who have helped me."
---
What other factors pulled you, as an aspiring engineer, to FSU?
I have also loved the many activities that are offered to students. Living on Landis Green my freshman year, I definitely was not disappointed by the concerts, "Market Wednesdays," "Days on the Rez," FSU rec classes and many clubs that are all easily accessible to students. Last, being a runner, after viewing the Mike Long track, I knew that I wanted the opportunity to race and train there, along with all the other world-renowned weightlifting and athletic facilities.
What do you take from the experience of running track at FSU?
Through the FSU track team, I have had the opportunity to engage with many high school runners throughout meets held at FSU's home course, Apalachee Regional Park. Being from Michigan, I did not know anyone from the area, and through volunteering at both cross country and track meets, I have met various students from around Florida, not only Tallahassee. Doing this, I have connected with many younger athletes and have talked to them regarding my experiences in college athletics and as a female engineer. Talking to younger students about these realities, and encouraging them to pursue their passions, I believe will allow for more women in engineering. Additionally, balancing Division I athletics and school is a daunting task for many, so seeing examples of people and doing this, I believe encourages these athletes to pursue the same. 
Tell us about your community service.
While at FSU, some of my community service has included participating in events through the FSU athletic department. One organization, Boys Town, provides care to children and families around the Tallahassee area. Through this organization, during Halloween in particular, many athletes visit the home and play games as well as donate to the kids. Being an athlete at FSU means much more than just competing and running races, but it also extends to representing FSU as a person. Many kids look up to athletes, and knowing this means a lot, and it is nice to be able to interact with children and donate items, as well as raise money — hopefully making a positive impact on their life. Other opportunities for community service have included running and hosting 5Ks on FSU's campus and volunteering for high school meets and state championship meets at FSU's cross-country course and home track.
How did you come to choose biomedical engineering?
Coming into college, my sights were set on it. That's since grown to include chemical engineering. The COE emphasized its encouragement of undergraduates pursuing research and the opportunities available for students willing to reach out and be involved.
What's next for you after FSU?
I'll be pursuing my Ph.D. in biomedical engineering. I have a lot of interests right now, so I'm trying to narrow it down. But I'd like to go to school in California and UC Berkeley in particular. Schools in California are my top choices because of the startup culture, and there's a lot of biotech companies there.