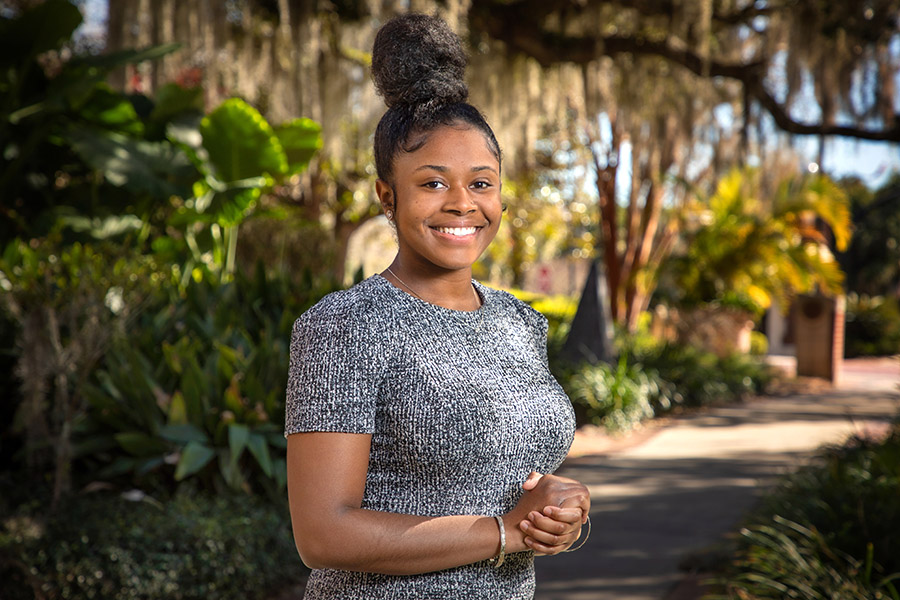 "Through my multicultural marketing communications studies, I discovered a passion for studying culture and developing strategies, in addition to learning the power of storytelling to communicate effectively."
Fast Facts
Accomplishment: Featured on a New York City Times Square billboard for 2021 Most Promising Multicultural student by The American Advertising Federation.
Favorite sport: played competitive soccer from age 9 through high school.
FSU memory: meeting the first Black FSU Homecoming Princess, Doby Flowers.
FSU special spot: Integration Statue
Favorite weekend activity: going to Doak Campbell Stadium for football games.
Motivated by her passion for servant leadership, Florida State University senior Ni'A Landon's college career has centered on making campus a more inclusive and equitable environment for students of color.
A public relations major with a minor in business and multicultural marketing communications, Landon has used her education and professional experience within the advertising industry to lead diversity panels within FSU's School of Communication to help students overcome structural barriers.
Although Landon has amassed an extensive collection of scholarships and awards, she has remained steadfast in her dedication to helping other students of color achieve the same success.
---
How has your major helped you find what you are most passionate about?
My professors and other faculty have greatly helped me enjoy what I am learning and find what I am most passionate about. As a public relations major, I found that making a difference at the intersections of community, culture and storytelling is one of my greatest passions. Through my multicultural marketing communications studies, I discovered a passion for studying culture and developing strategies and have learned the power of storytelling to communicate effectively.
In what ways has your service involvement within the FSU and Tallahassee community influenced the kind of mark you hope to make in your intended field?
My service involvement has taught me the value of community, intentional relationships and servant leadership. The term "community" refers to a group of people moving together as one; it serves as a space where culture can flourish and where cultural power that's both empowering and influential can be uplifted. In the marketing and advertising industry, it's important to know how to connect with consumers by pinpointing their cultural experiences, particularly for Black and Indigenous people of color.
I would like to have an impact on how people of color connect with brands and how brands develop intentional relationships with their customers in order to build a community around a product, service and lifestyle. I hope to expand my current and past contributions to the community by creating a scholarship and pre-collegiate program for Black women interested in business communications, marketing and corporate public relations. My goal is to provide scholarships and professional development opportunities for women who want to obtain a degree in a field that systematically holds a lot of power.
What impact do you hope your thesis project has on the culture and community at FSU?
My thesis, "Where do we go from here? The Social and Cultural Power of Black Twitter in 2020," examines the presence of Black Twitter and its power to facilitate worldwide social and cultural discussions around the Black experience. My project aims to teach FSU's diverse student population that by working together, we can create a community that thrives on authentic interactions and relationships. I hope that this project will raise awareness about the importance of community, as well as how it is established through accountability, protection and joy amongst individuals. I hope my thesis conveys the importance of being in control of your own voice and experiences in order to have an impact on others around you. In addition, as diversity, equity and inclusion (DEI) conversations continue to spark around campus, I hope my thesis illuminates a digital community that is relevant and influential in today's social, political and popular culture.
How has FSU aided you in your efforts to make the advertising and communication industry more inclusive and equitable for students of color?
Even though FSU has a diverse student body on campus, there is still space for improvement in terms of DEI. When I was a second-year student, I met other students and alumni of color who encouraged me to apply to programs like the Multicultural Advertising Internship Program and the AAF Most Promising Multicultural Program. These programs not only prepared me for a future in advertising and communications and taught me how to self-advocate, but they also demonstrated the importance of helping other students of color achieve their goals. As a result, I was able to recommend and introduce additional students of color to these incredible pipeline programs. Additionally, I have helped the advertising and communication industry become more inclusive and equitable for students of color by organizing and participating in DEI panels for the School of Communication to express my concern about its lack of diversity amongst students, faculty and staff. Lastly, as the director's ambassador for the School of Communication, I have had the opportunity to write and publish articles on DEI issues such as multicultural identities.
As the only student from FSU to be selected as a 2021 Executive Leadership Council Scholar, what advice do you have for undergraduate students on campus?
My advice to undergraduate students is to take full advantage of the many resources on campus and to strive to succeed academically, professionally and personally. Building relationships with your peers is also very important, so I encourage you to develop a strong community where you build each other up and share resources and pathways readily available. Lastly, advocate for yourself and use your most powerful asset, your voice. Only you are in control of your journey.
---