---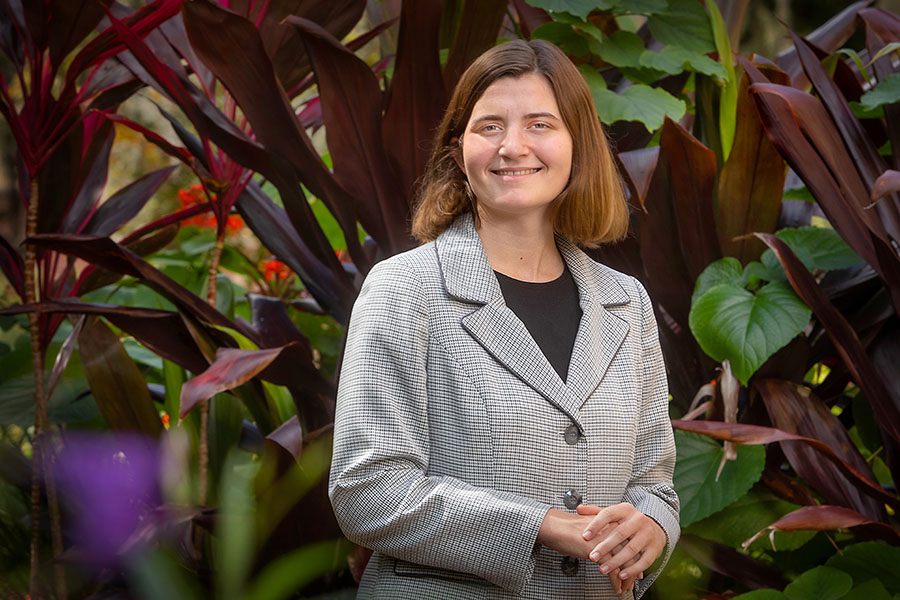 "I endeavor at making FSU a university that is inclusive and accessible to students with disabilities so that people with disabilities will want to come here. By doing that, we hope to be a model for other schools."
College of Music senior finds passion for student advocacy
Major: Music String Performance
Graduation: Spring 2022
---
Most first-year college students face challenges adjusting to new academic demands and campus life. These challenges can be even more daunting for students on the autism spectrum.
Carly Fulcher, a Florida State University College of Music senior, who is on the spectrum, knows firsthand what it's like to face these adversities. Although Fulcher found a strong support system within the College of Music, she took on the challenge to bring about progress for other students with disabilities.
When Fulcher was a senior in high school, attending FSU was not at the forefront of her mind. Fulcher ultimately reconsidered FSU after learning more about the College of Music and its esteemed programs.
"My focus was on attending the best possible music school that could help me along towards my professional goals as a cellist and musician," Fulcher said. "It turned out that FSU was that place."
For the past 10 years, Fulcher has played the cello. Investing her time and talent in music has withstood the years and Fulcher is grateful for its significant impact on her life.
"I think music is one of the best methods we have to create empathy in a manner that defies words in any way we can really explain," Fulcher said. "As a performer, I strive to enrich people's lives through a connection with music. I try to be trustworthy, reliable, a good listener and an inspiration to others."
While Fulcher has made strides in her music abilities during her four years at FSU, she has accomplished much more than in her chosen field of music.
For the past two years, Fulcher has worked as a research assistant with the College Autism Network on research projects involving college students on the autism spectrum and the resources that exist or are needed to help them.
Fulcher is also president of the University of Choice, a student-led disability advocacy group that attempts to create a sense of unity on campus for students with disabilities. As president, she spearheads different outreach events to create more awareness and understanding of disabilities on campus.
"I endeavor at making FSU a university that is inclusive and accessible to students with disabilities so that people with disabilities will want to come here," Fulcher said. "By doing that, we hope to be a model for other schools."
Through her participation with different autism groups, Fulcher feels a sense of fulfillment she would not have otherwise experienced if it had not been for her hard work and dedication.
"I am a more confident person, more confident in what I want and am capable of, and hopeful that I will be able to create my own future," Fulcher said.
Fulcher recently received an IDEA grant to learn more about community and audience engagement. She is currently working on this performance initiative and will continue to do so over the summer.
As a long-term project, Fulcher and a professor from Duquesne are working together to develop training for string and orchestra teachers on working with students on the autism spectrum. Fulcher hopes to bring this project to the Tallahassee community after she presents it at the American String Teacher's Association in March.
"There is not really anything in most college education programs that discusses how to best equip students with disabilities," Fulcher said. "I am not a person who is happy with the bare minimum, and in the case of dealing with students on the spectrum, there is not enough being done."
Fulcher hopes to combine her love of music with her passion for disability advocacy and turn that into a career one day.
"There is an influx of students on the spectrum entering college and the orchestra, so it's my hope that I can help them," Fulcher said. "Through a career in educational advocacy, my goal is to educate teachers so they can work effectively with students to help them succeed."
Upon graduation, she hopes to attend a Master of Music Performance program with the aim of forming a professional chamber group.
"With that group, my goal is to become experts in presenting educational outreach concerts so we can share classical chamber music with diverse audiences and find new ways to serve the community through music," Fulcher said. "I intend to show my fellow musicians, as part of that, that the pursuit of excellence does not preclude us from listening to and serving the needs of our community."
While Fulcher admits that college can still seem overwhelming at times, she credits the College of Music and the friends she has made as being the driving force behind her continued success and resilience.
For students afraid of going to college, Fulcher hopes that they will find confidence within themselves the same way she did at FSU.
"I hope that anyone who is worried about attending school, whether because of disability, adversity, afraid that they don't have what it takes, or that music is a dying field, will find the drive that I have in themselves and try anyway," Fulcher said. "You have the power to create your own future."