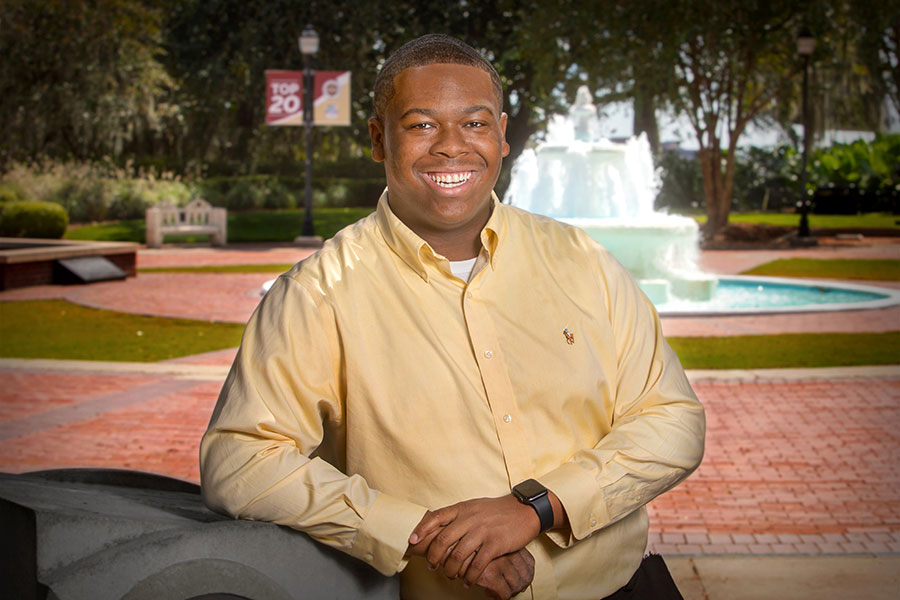 "I chose to attend FSU because I wanted a chance to join the CARE department with mentors who understand my struggles as a first-generation student and how to assist me through my journey."
Senior Derrick Woodard began his journey at Florida State University after a friend suggested he learn more about the FSU Center for Academic Retention and Enhancement (CARE). CARE's Summer Bridge Program provided the perfect opportunity for him to start his journey at FSU on a strong note.
"CARE produces alumni that continuously help to innovate and improve our Florida communities," Woodard said. "I chose to attend FSU because I wanted a chance to join the CARE department with mentors who understand my struggles as a first-generation student and how to assist me through my journey."
In his first year, Woodard joined FSU DREAM, a community service organization for minorities that provides service opportunities to students. He also was the first FSU freshman to join Class III of the Renegade Leadership Honor Society, a Black leadership honor society which aims to provide a network of support and resources for members.
"It was important to me, as a first-generation student, to surround myself with leaders who taught leadership skills," Woodard said. "I feel like I am a totally different person after these experiences. I know how to better assert myself in a room and make sure my presence is known."
Woodard also took advantage of participating in FSU's Undergraduate Research Opportunity Program (UROP), where he found a research project that he connected with.
"I wanted to join a group of high-achieving first-generation students, such as myself, and pursue different opportunities FSU has to offer such as UROP," he said.
Woodard worked on the study "First-Generation Student Satisfaction with Academic Advising Methods," under the direction of Dawn Matthews, associate director of Advising First, and Cassandra Kepple, doctoral student in the higher education program at FSU.
The research project allowed Woodard to meet other first-generation students and learn about their individual experiences with advising. He went on to present this study at the Florida Undergraduate Research Conference.
"From this project, I was able to discover a passion for student satisfaction, and I learned how to vocalize other first-generation students' concerns," Woodard said.
Woodard recently received the Scott & Ina McNichols Undergraduate Research Award, which enabled him to produce his research project "Black College Student Experiences at a Predominantly White Institution" over the summer. Woodard will present his findings at the President's Showcase of Undergraduate Research in October.
"I had the pleasure of hosting multiple focus groups to engage in discussion with Black students from FSU with the help of my research mentors, Dr. Dawn Matthews and Dr. Jesse Ford," Woodard said. "There, I was able to understand and even relate to some of their experiences."
Woodard is also involved in organizations beyond his research. Recently, he gained admittance to FSU's College of Medicine's pre-medical program called U-SSTRIDE. This program allows him access to resources that will aid in his coursework as well as his medical school applications.
"One of my biggest successes has been my acceptance into U-SSTRIDE," he said. "This program requires a GPA of 3.3 or better to join before receiving some of the best resources that can aid my pre-medical journey."
Woodard is also involved in the organization Black Men in Medicine (BMM), where he currently serves as membership chair and has worked with local organizations such as One Drive and Project Annie to serve the Tallahassee community.
"While here at FSU, I have learned that quiet mouths go unfed," Woodard said. "I have learned to stand up for myself and what I believe in, while making sure that my presence goes noticed in a room. Finally, I have gained courage and feel more confident in advocating for others."
Woodard maintained his involvement with CARE throughout his time at FSU. Currently, he is employed as a work-study student in CARE's pre-collegiate program where he mentors other first-generation students while they apply for college.
"I hope other Black, first-generation students can look at my story as inspiration," he said. "I want better for future generations. To me, that means looking at my achievements and observing how they too can leave a lasting impact here at FSU."
Looking ahead to graduation this spring, Woodard hopes to work as a Certified Clinical Medical Assistant while he prepares to apply for medical school.