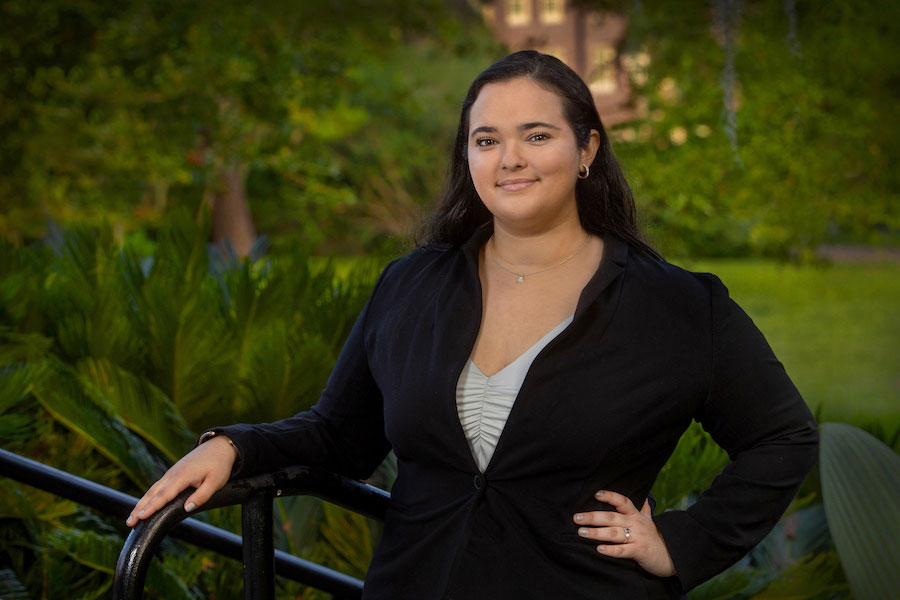 ""I have done so many things at Florida State that I didn't know I was capable of.""
When Rocio Diaz was considering where she'd go to college, a couple of key factors guided her: she wanted to stay in state and she wanted a school that felt like home where her new community could help her get to medical school.  Two years before graduating high school, the Miami native knew she'd found her place when she visited Florida State University's campus in Tallahassee.
"Growing up in Miami, it's so different here from where I grew up; I wanted different weather, four seasons, and I'm Cuban-American, so I wanted a place that Hispanic students could thrive," Diaz said. "When I came to Florida State on a college tour trip, I fell in love with the campus and the people. I knew I found what I was looking for. This campus is beautiful but it feels like a home. It's a big, open campus, but it's also small and connected."
Diaz said that those connections are made in part by the myriad groups and organizations available to FSU students. 
"FSU has so many opportunities socially and academically," she said. "By taking those opportunities and doing those things, I feel like you can really thrive."
In particular, Diaz said it was FSU's capacity to help the mental health of its students that helped make up her mind.
"I felt that FSU truly cared about its students' success and well-being," she said. "FSU offers a vast array of mental health resources and provides students the opportunity to communicate and learn from people of all walks of life. FSU also has world-class research laboratories and a great emphasis on conducting research, which appealed to me as a student pursuing a career in healthcare."
Diaz, who is set to graduate with her degree in clinical professions this fall, is steeping her FSU experience in health-related research. Her interest in healthcare in general has spurred her pursuits, including earning an IDEA Grant this year.
"With the IDEA Grant, I am able to expand my resources and further my research regarding preventable diseases and improved sanitation practices in the community of Gracias a Dios, Honduras," she said.
Diaz said that the most significant research project she's been a part of while at FSU is the Global Health Collaborative Project led by Dr. Charles Fleischer at the FSU College of Medicine in conjunction with FAMU's College of Pharmacy.
"Through this research project, I have been able to grow as a student and a leader," she said. "I am one of the primary authors of a literature review that is set to be published by the end of the summer, and I am also the co-manager of the hand-and-oral-hygiene research team in the project."
While her work at Florida State has affirmed her belief that her future lies in healthcare, Diaz's work off campus during the pandemic has cemented it. That work includes more than 200 hours of community service experience as a counselor for the national Crisis Text Line.
"Volunteering for Crisis Text Line throughout the pandemic has allowed me to learn about the importance of mental health and what communities can do to help," she said.
Diaz also has served as a tutor in subjects such as math, English, science, and social studies for underprivileged children in the Tallahassee community through Grace Mission Tallahassee.
"This was a significant community service contribution because it helped students in the Tallahassee community succeed in school when there were no in-person classes," Diaz said.
From a personal perspective, Diaz said her research work has helped her grow in ways she didn't foresee.
"This work has allowed me to gain confidence as a public speaker since I have presented at three different research conferences, including FSU's College of Medicine's 17th Annual Research Fair, and acted as one of the lead translators when communicating with our Honduran counterparts," she said. "I also presented at the 2021 American Medical Association Medical Student Section Region 4 Poster Symposium and our poster won 3rd place."
Given her keen interest in mental health, Diaz said when she thinks back to that trip to Tallahassee that convinced her she wanted to be a Seminole, she knows she made the right choice. 
"A lot of students move away from home and are homesick or they might be dealing with depression or anxiety or just the stress of living on their own for the first time and college classes are not like anything you experience before college," she said. "I've been so happy to see FSU support its students."
That experience is one she said has changed her forever. 
"Being a Seminole means being part of a family that truly cares about success in life, who you are as a person," she said. "Everyone here — the professional staff, the faculty, fellow students — they want you to thrive and grow."