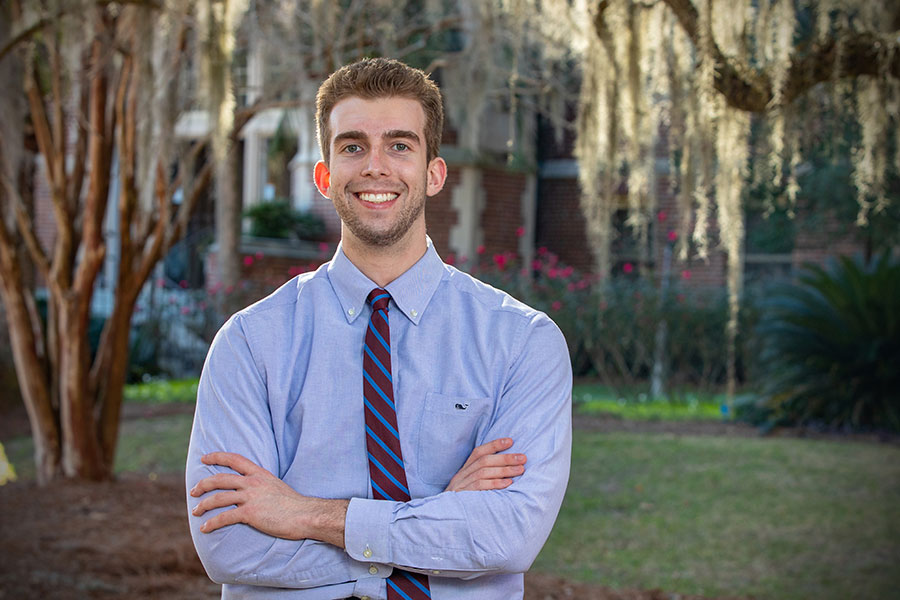 "FSU has allowed me to meet great peers and learn beneficial career skills in my courses," Sutor said. "I've met many of my great friends through my major and learned invaluable skills from my phenomenal professors in the department."
John Sutor was a junior in high school when he first visited Florida State University as a participant in the Young Scholars Program, a six-week residential science and mathematics summer program for Florida high school students with significant potential for careers in science, technology, engineering and mathematics (STEM).
Captivated by the beautiful campus and intrigued by the people he met, it was then that he decided to attend FSU.
"I was immediately enamored by the beauty of the campus, as well as the fantastic people I met," Sutor said. "To this day, I continue to meet peers and professors who are eager to assist me in unlocking all of my potential."
Sutor is now in the second semester of his junior year at FSU, pursuing a degree in Computational Science with a double-major in Scientific Computing and Applied Mathematics. A native of Palm Beach, Florida, Sutor has maintained a 3.97 GPA throughout his undergraduate studies.
Once at FSU, Sutor found several opportunities for research. He became a member of the Student Council for Undergraduate Research and Creativity (SCURC), a bureau of FSU SGA dedicated to helping undergraduates get involved with research. His membership with SCURC gave him the opportunity to attend the Florida Undergraduate Research Leadership Summit, an intercollegiate summit for leaders involved in undergraduate research, where he was able to learn about research initiatives taking place all around the state.
Sutor also participated in the Undergraduate Research Opportunity Program (UROP), a unique program at FSU that offers undergraduate students the chance to participate in the research process. The first paper that he wrote for the program was published, and he was able to present this project at a virtual conference.
Sutor's participation in UROP eventually led to him and the rest of the research group to secure the Steve Madden Undergraduate Research Award, an IDEA grant worth $6,000.
"I'm involved in a phenomenal research group under the supervision of Dr. Jonathan Adams," Sutor said. "We've been working primarily with the different applications of neural networks, particularly convolutional neural networks, to different practical use cases."
The project, titled "Using AI to Count Sea Turtles", started by examining the practicality of deploying a real-time object detection neural network from drones that's trained to identify sea turtles. The IDEA grant allowed Sutor and his group to spend a summer researching synthetic data for training neural networks to detect objects where data is thin.
"We were able to publish two papers with the funding, and we're continuing our research to explore complex topics and applying for publishing with competitive research conferences," Sutor said.
Outside of the classroom, Sutor has used his experience and knowledge to create SciTeen, an online platform that connects traditionally marginalized and underserved high school students with STEM mentors.
"Unfortunately, many students don't have the resources necessary to explore their STEM passions," Sutor said. "This was the most evident at the regional science fair, where I spoke to peers who had ambitious goals for projects but didn't have the right resources to pursue those phenomenal ideas."
This observation prompted Sutor and friends to collaboratively create SciTeens in an effort to open resources to all high school students regardless of their socioeconomic status.
"My creation of this platform has allowed me to hone my skills as a coder outside the classroom, while simultaneously creating something that serves for the common good," Sutor said.
Although he's always had in interest in STEM fields, Sutor said that his research and experiences at FSU have helped him to find his niche in the field of computer science.
"FSU has allowed me to meet great peers and learn beneficial career skills in my courses," Sutor said. "I've met many of my great friends through my major and learned invaluable skills from my phenomenal professors in the department."
After graduation in Spring 2022, Sutor plans to pursue a graduate degree in computer science and conduct further research in the still-nascent field of artificial intelligence.
"Once I'm established in the tech industry, I hope to support the FSU alumni network to help other Noles passionate about tech get into the industry," Sutor said.