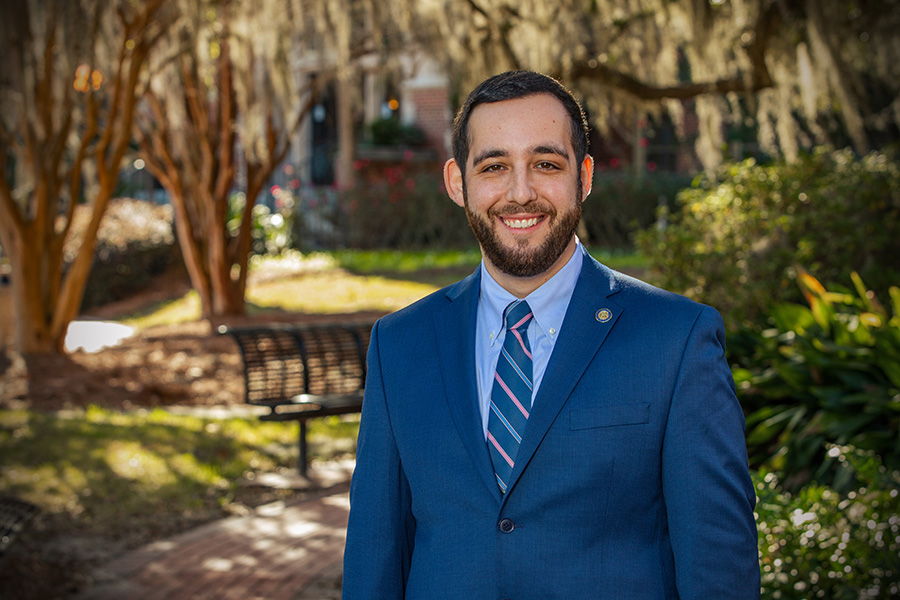 "Florida State has given me the opportunity to enrich both myself as a scholar and a professional. I was able to earn real-world experience in public policy while simultaneously earning a degree from a top political science program."
Graduate student Matthew Singer always knew serving others would be his mission in life. Florida State University's College of Social Sciences and Public Policy is helping pave the way for him to be the advocate he is destined to become.
The FSU campus landscape was love at first sight for Singer. From the patterned brick buildings to the canopy trees on his first visit, he was ecstatic to call this place home.
"Florida State has given me the opportunity to enrich both myself as a scholar and a professional," Singer said. "I was able to earn real-world experience in public policy while simultaneously earning a degree from a top political science program."
Upon arriving at FSU, Singer knew he wanted to pursue a degree in political science and soon found his passion was public policy thanks to both the 2016 presidential and 2018 midterm elections.
"I value the impact that public policy can make in people's lives," he said. "My passion is to be able to serve those who need it most, and in Florida's political climate, increased advocacy is certainly necessary."
Singer started his undergraduate degree with much ambition. Heavily involved with organizations both on and off FSU's campus, one of the greatest experiences for him was being a Freshman Interest Group (FIG) Leader. FIG leaders' goals are to teach first-year students about the major that best helps them pursue their passions.
"Being able to instruct students in their first semester allowed me to convey the importance of getting a strong start to an undergraduate career," he said. "While teaching this course I shared some of the best practices I have learned during my time as an undergraduate and formed mentorships with younger students."
While COVID-19 has been a significant hurdle for many Florida State students, Singer has made the most of his experience with his own students through the FIG program.
"I created lesson plans on transitioning to college, involvement, professionalization, the paths in political science and much more," he said. "I hope these lessons continue to serve as resources for my students and assist them in making a difference."
As a sophomore, Singer joined the Research Intensive Bachelor's Certificate (RIBC) Program working with high level quantitative analysis programs that taught him how to comprehend high level statistics. Through this program, he completed two capstone research studies which allowed him to gain experience in legislative research.
Douglas Ahler, assistant professor of political science, witnessed Singer take on tasks in and out of the classroom that will lead him into a career in politics and social change. Singer has worked alongside Ahler on high-level policy analysis and was tasked with compiling a list of 1,400 pieces of legislation from the U.S. Senate's 2019 Session. This dataset would be used to analyze the type of legislation the most moderate/extreme members of each party are sponsoring.
"Matt's projects in the RIBC program were thoughtful, highly focused analyses on the quality of representation that citizens receive from the legislators they elect," Ahler said. "He has been my most outstanding undergraduate research assistant to this point in my time at Florida State."
In December 2020, Singer was named the Outstanding Student of the Month by the Department of Political Science. Singer began his undergraduate journey earning a spot on the Dean's list, an achievement he's accomplished in each semester. As a senior, he earned a spot on the President's List, receiving an 'A' in his final 40 credits of undergraduate coursework.
Singer, who graduated with his bachelor's degree in Political Science December 2020, is now pursuing a master's degree in Applied American Politics and Policy. While he has had many opportunities on campus, Singer has also been able to dive into hands-on legislative work within the Florida Legislature.
As an undergraduate student, Singer worked in the Florida Senate while also taking a master's course on the Florida Legislative Process taught by two legislative veterans: FSU's Athletics Director David Coburn, a former Chief of Staff to the Florida Speaker of the House, and Richard Herring, a 25-plus year legislative legend among staff.
"Learning from the subject matter experts themselves has really afforded me a new way to approach real-world policy situations," Singer said. "While I thoroughly enjoyed my time in the theory driven undergraduate political science program, I am loving my coursework in this application-based master's program."
As graduation neared, he was able to transition out of his role as the executive secretary to Florida Sen. Gary Farmer with an offer to become a full-time legislative assistant. This allows Singer to enrich both his professional and academic careers at the same time.
"We're helping people break down the walls that they think are there and get the help they deserve," Singer said.
His work on the college's Student Leadership Council to promote his peers, as well as his current endeavors to tackle food insecurity, are central to Singer's overall mission to advocate for the less fortunate.
By helping constituents navigate the unemployment system for Senate District 34, Singer has been able to assist hundreds of people get dire relief needed during such a trying time.
Singer hopes to make strides in the policy arena, advancing important causes like environmental conservation and resiliency, addressing systemic inequalities and making real reforms to the criminal justice system.