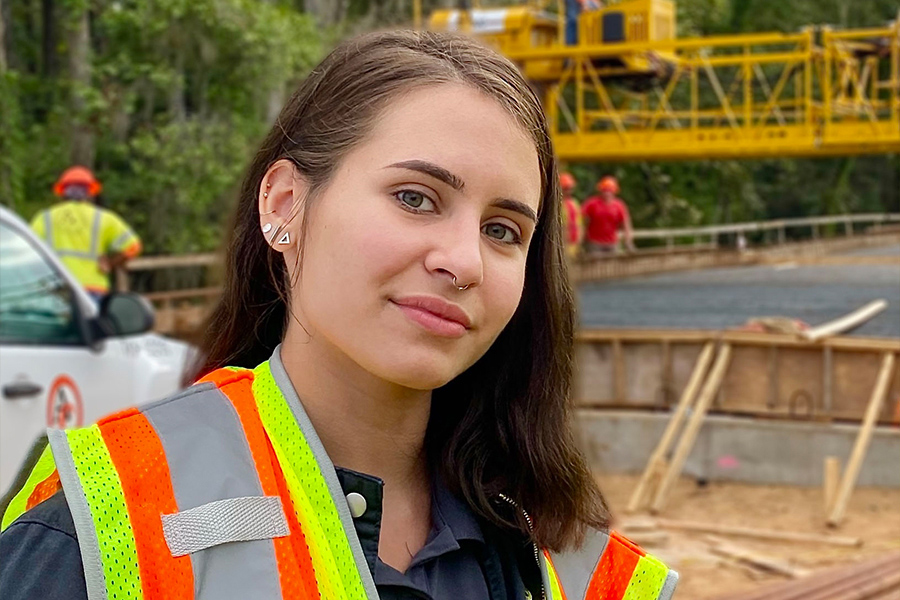 "I stand by the FSU values to be a leader in innovation through performing research, developing and participating in projects that enrich the knowledge of the civil engineering profession."
When considering a college to pursue a civil engineering degree, Michelle Grand knew exactly what she was looking for, and she found it at Florida State University.
A small-school feel, inclusive environment, a diverse student body and bountiful opportunities outside the classroom were at the top of Grand's list as she considered what school she'd be attending after transferring from Miami-Dade College.
"The FAMU-FSU College of Engineering's separate campus and small student-faculty ratio seemed ideal to form close-knit relationships with peers and professors," said Grand, who will graduate with honors this fall. "Diversity was important to me because, as a female Hispanic in the engineering profession, I desired an inclusive academic environment. These characteristics were relevant as I was seeking a smooth transition between institutions."
Success followed Grand from Miami as she promptly landed on the President's list for her academic achievement, and recently, she earned the Alexander Rochell Opportunity Scholarship in Engineering, awarded to FSU engineering students who are the first in their families to attend college.
This summer, Grand is completing her Honors in the Major project through an independent study under the supervision of College of Engineering Assistant Professor Qian Zhang. She earned an IDEA grant to support her research, which focuses on sustainability, design and structural engineering.
Grand's project examines the conversion of type 2 recycled plastics — commonly found in bulk in the waste stream as milk jugs, shampoo bottles and other forms — into a 3-D printed filament to produce fully designed and optimized lattice structures. Those structures will be analyzed to determine their potential as structural elements or any other applications in the construction industry.
This research focus is just one of many opportunities Grand said she's been able to pursue at FSU.
"Through this opportunity, I have been able to discover fascinating topics that interest me, expanding my view in the kind of research I'd like to pursue in graduate school," she said. "I am also grateful for the faculty connections I have made along the way and the support I have received from them, especially from my thesis director, Dr. Qian Zhang, and Dr. Lisa Spainhour, the department chair, who first encouraged me to be part of Honors in the Major. Dr. Zhang has been a great mentor and made the whole experience fun and interesting."
Grand is also an active member of the American Society of Civil Engineers and has served in multiple roles with the group, including as marketing chair of the FSU chapter. She's worked to create graphic media such as flyers, posters and T-shirts to promote club activities, increase student involvement and fundraising, and to positively represent the university and the organization.
"I was involved in many of the event planning activities and acted as a representative during parent-chapter events," she said. "I was involved in the ASCE national student conference teams, the Concrete Canoe as a hull designer and structural engineer, and as a team leader and designer of a modular bus stop for the Sustainable Solutions competition."
Grand also served as the secretary of both the Society of Women Engineers and the Civil Engineering Honor Society and volunteered for AmeriCorps, providing math and science tutoring to underserved students and teaching them and promoting STEM professions along the way.
"I believe my work outside the classroom has contributed to the overall representation of the university, in front of the community and student and professional conferences," Grand said. "I stand by the FSU values to be a leader in innovation through performing research, developing and participating in projects that enrich the knowledge of the civil engineering profession."
Grand plans to enroll in a structural engineering master's program after earning her bachelor's degree this fall.
"I want to increase my knowledge on the subject and employment opportunities as a structural engineer and advance toward the acquisition of professional engineering licensure," she said. "As a structural engineer, I strive to become a leader in the innovation of sustainable and architecturally complex structures."
As she prepares to take this next step, Grand says she will look back on her time at FSU fondly.
"It was the right choice for me," she said. "I like my professors, and I made great, new friends. I decided to attend FSU because I was influenced by my AmeriCorps supervisor and my chemistry professor, both who are FSU alumni. I'm glad they encouraged me to attend."