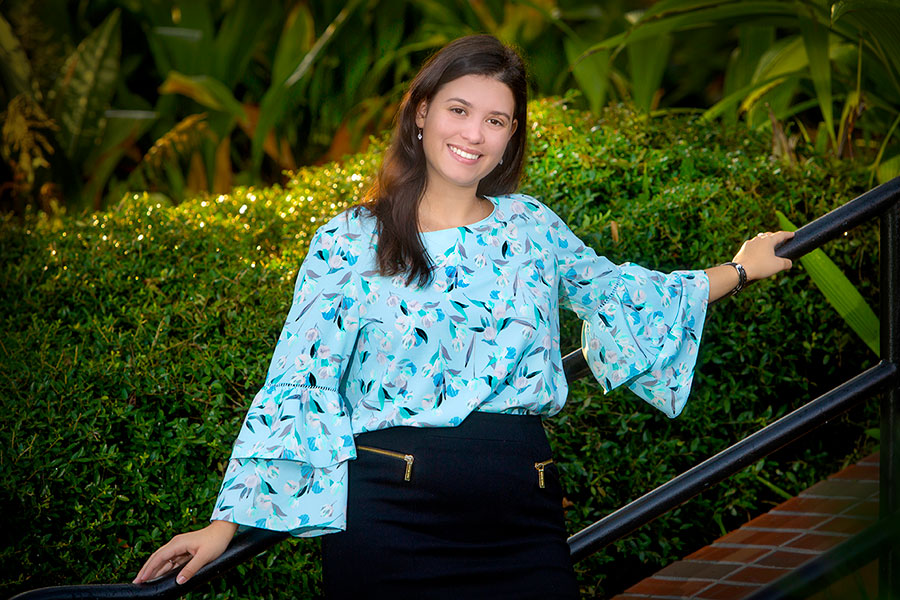 "Being a first-generation college student, my parents weren't able to help guide me through the process. I also did not know how I was going to pay for college. I had to find all of my resources on my own."
Cuban immigrant and first-generation college student Sabrina Mato arrived at Florida State University with a breadth of opportunities awaiting her, and she's taken full advantage of those experiences during her collegiate career.
Born in Cuba, Mato immigrated to the United States when she was eight years old. After living in Miami for some time, she and her family moved to Naples, where she attended Gulf Coast High School. When the time came for Mato to start applying to colleges, she  faced new challenges.
"Being a first-generation college student, my parents weren't able to help guide me through the process," Mato said. "I also did not know how I was going to pay for college. I had to find all of my resources on my own. FSU's CARE Program ended up being the best thing that has ever happened to me."
FSU's Center for Academic Retention and Enhancement (CARE) offers disadvantaged first-generation students the resources and services they need to succeed. Now in her senior year at FSU, Mato is grateful for the opportunities the CARE Program and the university offer her both locally and internationally as she pursues her dream of working in immigration law.
She's conducted research through Undergraduate Research Opportunity Program (UROP), as well as through the Gilman Scholarship and the Global Scholars Program, where she became the first FSU student to research rural life in India and the impact of education on the Garbhanga people.
This summer, Mato researched the Catalonian Independence Movement for her honors thesis. Catalonia is a region in northeastern Spain that declared its independence in 2017. However, the movement was declared illegal by the Spanish government soon after.
"The media portrayed the movement as a very explosive and triggering topic for many local people," Mato said. "In my research I wanted to see what the people who lived there really thought."
After receiving an IDEA grant for her thesis, she traveled around Spain, visiting Valencia, Barcelona and Catalonia to conduct more than 40 interviews with locals about their opinions on the secession. Mato finished out her summer in Madrid, Spain with the Lex Fellowship as a Social Science Scholar interning at several international law firms.
Mato's also found several opportunities to develop her professional career in Tallahassee.
She worked at the State Capitol as an external affairs representative for the lobbyist of the PACE Center for Girls. In that role, she attended committee meetings and public hearings to write weekly reports on relevant legislation. She also helped coordinate the annual PACE day at the Capitol where all of the girls in every PACE center in Florida gather.
"This was my favorite part of this experience," she said. "I loved it because I finally got to see all of the girls that we had been working so hard for."
In 2018, Mato participated in the Donald J. Weidner Summer for Undergraduates Law Program at FSU's College of Law before studying abroad in London that fall.
"This program was a great experience for me, and I would highly recommend it to anyone who is thinking about attending law school," she said.
While very different in nature, these experiences have only confirmed Mato's interest in the law, and this year, she is gaining firsthand knowledge of the criminal justice system while working in the Second Circuit Public Defender's office.
"I never thought I would want to do criminal law, but the more I am getting into it the more I am enjoying it," she said.
However, Mato still feels called toward immigration law.
"Because of my background, I have seen how immigration can impact both individuals and families," she said. "It is something that is very personal to me. Working with immigration attorneys and seeing the impact you can have on somebody's life forever really encourages me to be able to have that power to do the same for somebody else."
Mato enjoys sharing her extensive knowledge of law with students through Freshman Interest Groups (FIG). She has led a FIG course for first-year students in pre-law social science majors since January 2018.
She knows these opportunities offered through FSU and the CARE Program have provided an excellent foundation for the next step in her life.
"I am really grateful and humbled to be at FSU in the first place," she said. "The fact that I have been given so many opportunities, and I've been able to receive so many grants and scholarships to go abroad has been amazing and beyond what I would have ever expected anywhere. I'm just really grateful to have had this experience."
Mato will graduate this spring with a bachelor's degree in social science, international affairs and political science. She hopes to go abroad as a Fulbright Scholar to teach in Argentina for a year, and she plans to attend law school and pursue a career in international or immigration law.