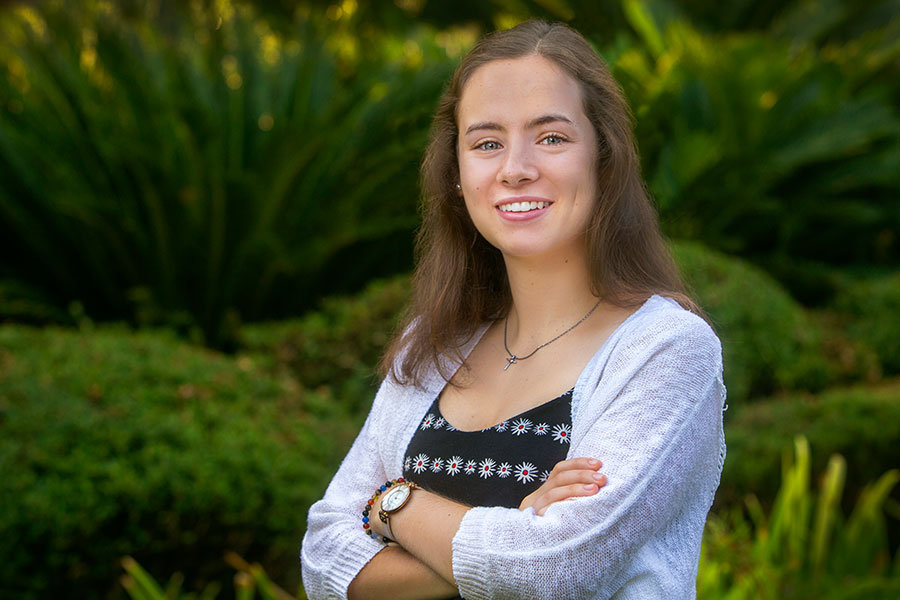 "I feel like education changes the world and I want to be a part of that, but I also want to be a part of science, which I believe understands the world."
Florida State University honors student Ashley Moses boasts some impressive accomplishments, but she's not just looking to check off boxes or fill up her resume during her collegiate career.
Moses, a senior from Orlando, first visited FSU for a high school cross country meet and said the campus "immediately felt like home." When she returned during her senior year of high school for the Presidential Scholar Interview Weekend, she knew FSU was where she wanted to be.
"One of the directors said 'We are here to make your dreams bigger and support you in your dreams,'" Moses said. "When he said that I thought this is a community that's going to help me grow so much as a person and as a scholar — and the opportunities were just tremendous."
That's why Moses chose Florida State — for the breadth of experiences she would have as a Presidential Scholar, FSU's premier undergraduate scholarship program.
Moses is taking full advantage of those opportunities. She's involved in the Undergraduate Research Opportunity Program (UROP) as both a student and leader, she's successfully defended her Honors Thesis, and she's held various leadership roles in multiple organizations.
"It's incredible the way that they support you and want you to be awesome," Moses said. "I wouldn't say that Presidential Scholars is all that I am, and I don't think that's what they want. They want you to use it as a platform to be a better student, scholar and person."
Fueled by her love for both behavioral neuroscience and teaching, Moses is double majoring in psychology and biology. Through intense research experiences and engagement in some amazing summer opportunities, Moses discovered how to live out her dream of becoming a neuroscience professor.
Moses emphasized the importance of her summer experiences and how they influenced the direction and entirety of her college experience.
"It's a complete culmination of everything, which is really awesome," she said.
After her freshman year, Moses spent a month this summer in Thailand and Laos as an elementary school student mentor and ESL teacher through a program called GIVE. She said the experience prompted her to "fall in love with teaching all over again."
That love of teaching led Moses to hold three teaching positions at one point in her undergraduate career — working as a UROP leader, a biology teaching assistant and a private tutor.
"It's work, but it's not work because it fuels my life," she said.
The summer after her sophomore year, Moses spent 10 weeks at the Center for Molecular Neurobiology in Hamburg, Germany, thanks to funding by the Presidential Scholar program. She started by shadowing the researchers and was eventually given the ability to run her own experiments and take the lead on her own projects.
At FSU, Moses has worked for nearly two years as a researcher in the lab of Assistant Professor of Psychology & Neuroscience Elizabeth Hammock. Moses is head behavioral experimenter in Hammock's lab, where she trains graduate and undergraduate students and helps to advance the lab's work in better understanding the oxytocin system and its implications for social disorders.
This past summer, Moses completed and successfully defended her Honors Thesis using research she conducted in Hammock's lab. The work was partially funded by a $1,000 Undergraduate Research Award from the Florida State chapter of Phi Eta Sigma, of which Moses is an active member.
Hammock describes Moses as "a very hard-working member of our team."
"One of my favorite qualities is her enthusiasm for knowledge," Hammock said. "She is curious about everything and works constantly to make connections between ideas."
While Moses knows what she learns in the classroom is valuable, she is also grateful for her experiences outside of the classroom at FSU. She plays the drums and has learned to play the guitar, completed a full marathon and won an intramural kickball championship.
"I've learned so much about people," Moses said. "Whether it's my roommates or the people I volunteer with, my best friends or even strangers — I always learn something about myself in the process."
Moses is currently president of the Neuroscience Undergraduate Student Association and also has served the organization as events coordinator and vice president. She also is the former treasurer and current vice president of the Nu Rho Psi Neuroscience Honor Society.
Moses said that the support Florida State has given her has allowed her to pursue her passions freely. And because of those multiple formative experiences, she feels confident in the next step of obtaining a doctorate in neuroscience after she graduates in Spring 2020.
"I feel like education changes the world, and I want to be a part of that," Moses said. "But I also want to be a part of science, which I believe understands the world. So, it's just a little bit of both. And, when I become a professor with a Ph.D., my kids can call me Dr. Mom. It's a profession that I think fits everything I'm passionate about."