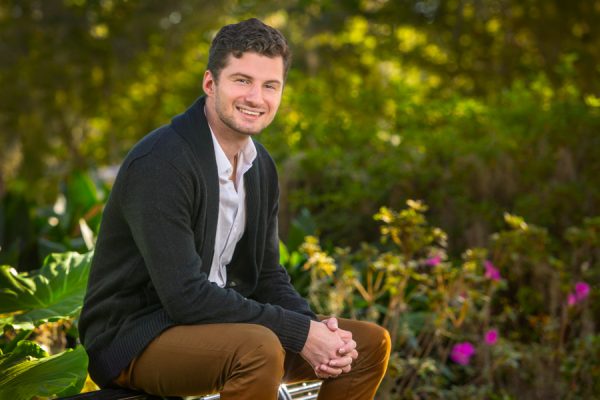 "FSU gave me opportunities to succeed in anything that I wanted to do."
Florida State University senior Collin Goldstein is studying Interdisciplinary Medical Sciences with a desire to help his community and a dream to become a doctor.
Born and raised in Palm City, Florida, Goldstein got his first taste of Florida State as a high school student when he attended the College of Medicine's summer medical institute.
The program gives high school students an opportunity to stay on FSU's campus and get a preview of medical school. They tour clinical settings, receive tips on preparing for the ACT and SAT and connect with current medical students serving as mentors.
"You live on campus in the dorms, you hang out with the medical students for a week, and you do a research project," Goldstein said. "I fell in love with the beautiful campus, what they're striving to achieve and the whole community here."
After spending a week at the medical school, Goldstein could see himself thriving at Florida State no matter what path he chose.
"There are so many opportunities for you to excel and exceed in anything that you choose, whether it's research, or academia, or any kind of extracurricular activity — you get it all," he said.
Goldstein's instinct to offer help where it's needed prompted him to volunteer at the Kearney Center, a homeless shelter in Tallahassee. He has served as the group's community outreach chair, brought food for residents and played basketball with them. He said he hopes to lift their spirits.
"They really enjoy it and by spending time with them, you get to build these relationships and make friends," Goldstein said.
In addition, Goldstein has volunteered at the mobility clinic at Tallahassee Memorial Hospital (TMH). He helps patients stay physically active during their hospital stays.
"The mobility clinic program aims to get patients up and walking," Goldstein said. "They need that stimulation of muscles and bones so they can come out of there healthier than when they came in, and so they don't suffer more health consequences."
Part of the rehabilitation process includes socializing with other patients, and Goldstein has helped lead those efforts. He is the president of the group No-le Heart Left Behind, which organizes events such as trivia, bingo, and arts and crafts to encourage patients to connect with each other.
"It's our job to get them out, care about their emotional health and support them so they can enjoy their time here instead of being lonely," he said.
These opportunities have provided Goldstein a firsthand look at life in the medical field and given him the chance to help those who need it most.
On campus, Goldstein has served as a leader and tutor in the Undergraduate Research Opportunity Program (UROP).
The program provides first- and second-year undergraduate students with the chance to conduct research under the guidance of an FSU professor in a field of their choice. UROP leaders teach a biweekly class and introduce students to the research process.
Goldstein's initial experience in UROP motivated him to become a program leader as a junior. He wanted other students to have a great research experience as well, and he hoped they would think about research differently as a result.
"I want to show everybody that research is not only about chemistry and biology labs," Goldstein said. "It's similar in that you learn basic concepts, but it's more than that. You get to conduct your own project and experience what real research is all about. I was passionate about telling people that FSU offers these research opportunities and positions, and everyone should go out and experience them."
Goldstein's time as a UROP leader sparked his interest in teaching, so he joined a tutoring center to help other students excel in their classes.
"Collin is an exemplary student, and he displays an enthusiasm for learning that is often unparalleled in the classroom," said Nancy Sanguiliano, adjunct instructor in the College of Medicine's Interdisciplinary Medical Sciences program. "His caring and inquisitive nature, coupled with his detail-oriented focus and extraordinary work ethic, will translate to a lifetime of providing excellent patient-centered care as a physician."
Goldstein's experiences at FSU have prepared him for his future in medicine, and he plans to begin medical school in fall 2019. Currently, he is considering pursuing anesthesiology or surgery and is also interested in teaching one day.
"As I go more into medicine, I'd like to come back and teach classes or teach other medical students," Goldstein said. "That's something I've just really grown to love, to master the materials so I can help peers in anything they need."
Goldstein said the time he has spent at Florida State has been essential to his personal development, and it has helped him investigate his interests to achieve his goals.
"I feel like I'm a completely different person than when I came in here," Goldstein said. "FSU gave me opportunities to succeed in anything that I wanted to do and helped me get to my goals. Before, I was really in my own shell, but FSU brought me out and made me who I am now. The culture here inspires you to pursue your next level and accomplish whatever you put your mind to."