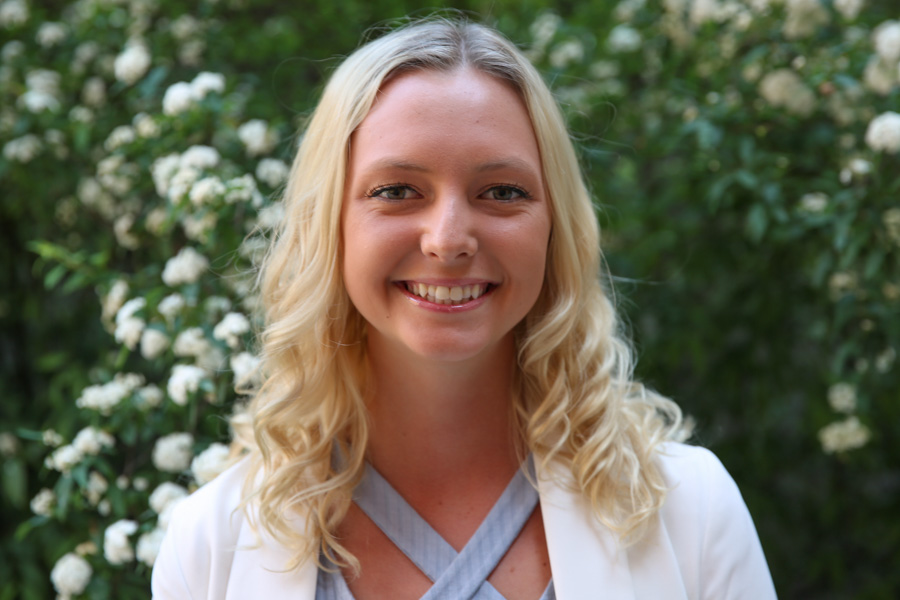 "Getting involved in research was the best use of my time at FSU."
Senior Ashley Dawdy has taken huge strides in developing her love for marine biology during her time at Florida State University, including taking advantage of hands-on opportunities to conduct shark surveys in the Gulf of Mexico.
That kind of field work was made possible after Dawdy completed the requirements at FSU to become a certified diver. That accomplishment opened up new opportunities for her, such as meeting and collaborating with professional marine biologists and conducting research.
"When I was trying to decide which college to attend, I visited the FSU Coastal and Marine Laboratory and learned about the different labs there," said Dawdy, who always had a strong interest in animals and marine life when she was growing up in Atlanta. "That's why I chose Florida State. I really liked the research that was going on."
As a freshman, Dawdy was admitted to FSU's Undergraduate Research Opportunity Program (UROP) and began her research journey.
"One of my first research projects allowed me to work in a lab and study how ecology affects evolution," she said. "I was looking at guppies and how their body shape changed over time."
UROP helped Dawdy learn the foundations of research, which motivated her to pursue more experiential opportunities, such as her work at the Coastal and Marine Laboratory.
The Coastal and Marine Lab is located in Alligator Harbor Aquatic Preserve in St. Teresa, less than an hour from Tallahassee. The lab's mission is to conduct innovative and interdisciplinary research on coastal and marine ecosystems to address important local and global issues. Faculty, graduate and undergraduate students conduct marine research there.
Dawdy pursued a key research opportunity and volunteered to work with faculty member Dean Grubbs, associate director of research at the Coastal and Marine Laboratory.
There, she accompanied researchers to perform biodiversity surveys and shark tracking in the Apalachicola Bay and Big Bend areas of the Gulf.
After two years of volunteering, Dawdy decided to complete a directed individual study in her junior year. She began her honors-in-the-major thesis before her senior year. With the help of a 2018 IDEA grant, Dawdy began her thesis and funded her own shark-tracking project.
"Ashley has been part of my lab for about three years, initially as a volunteer and now as an FSU marine biology honors-in-the-major student," Grubbs said. "She is one of the best undergraduate students I have ever had in the lab and has become an integral part of my research team."
Dawdy's honors thesis aims to answer questions about the movement patterns of sharks in Apalachicola Bay and what external factors, such as tidal cycle and river input, influence sharks' movements.
"I spent the summer doing surveys, actively and passively tracking bull sharks and bonnet heads," she said.
Dawdy tracked sharks with two kinds of tags to obtain as much data as possible.
"The active tracking is where we tag them with a transmitter and then follow them for 52 hours by boat," Dawdy said. "Every 10 minutes, we check GPS to see where they are. In passive tracking, we have receivers in Apalachicola Bay, and if sharks get within a certain radius the receivers can spot them. That will give us more long-term data."
As an American Academy of Underwater Sciences certified diver, Dawdy is qualified to conduct diving research. That expertise came in handy when the marine lab had to physically retrieve data from receivers in the bay. Dawdy spent much of last summer diving in Apalachicola Bay, battling heat and rough waters, to get the necessary data.
"I worked with doctoral students Cheston Peterson and Bryan Keller during all of the tracking," she said. "We spent more than 50 days on the water doing research."
After a summer at sea, Dawdy compiled her data and presented her IDEA grant research at the President's Showcase for Undergraduate Research Excellence. Her positive research experiences have prompted her to serve as a UROP leader, hoping to encourage undergraduate students to pursue their own research interests.
When she's not diving for sharks, Dawdy enjoys diving for fun and serves as a safety officer for FSU's scuba club. She's been a member of the club since her freshman year and takes trips with fellow divers to explore nearby springs and rivers.
After graduation, Dawdy hopes to take a year off and gain more field experience before earning a master's degree.
"I want a research-oriented career, but I don't necessarily want to go into academia," she said. "I could see myself working for the government or for an NGO."
Dawdy's passion for research was not something she always recognized, but her Florida State experiences helped clarify her goals for the future.
"I knew I wanted to do marine biology, but I didn't know exactly what I wanted to do," Dawdy said. "Getting involved in research was the best use of my time at FSU because the experiences showed me what I actually wanted to do with my life. Things would be completely different for me if I'd gone to college anywhere else."