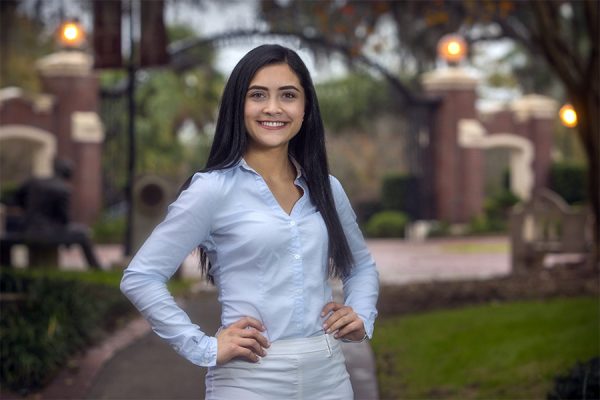 "FSU was where I saw myself making the most impact because of all the opportunities offered."
While on the path to law school, 20-year-old Florida State University graduate Mariapia Rueda left behind a legacy — serving underprivileged and disenfranchised communities.
In high school, the native of Dallas, Texas, was a member of the elite International Baccalaureate program. When it came time to choose a college, she explored universities across the nation, searching for one where she could make an impact while pursuing her love of communications and international affairs.
"I applied to schools in Washington D.C., California and Florida, and FSU was where I saw myself making the most impact because of all the opportunities offered," Rueda said. "It was the perfect fit due to its proximity to the state's capitol and rich political scene and because of the opportunity for involvement on and off campus."
Once on campus, the honor student quickly took advantage of all that opportunity. As a freshman, she was accepted into the Center for Leadership & Social Change's Service Scholars Program. Through the program, she received a $3,000 scholarship each year and became part of a global and public affairs living and learning community.
As a Service Scholar, Rueda volunteered at the FSU Center for the Advancement of Human Rights, where she also held an internship before graduating.
"I was able to begin doing work that I want to do as my career, like immigration, translation and advocacy for women during my first year; it was incredible," Rueda said. "My involvement with the Center for Leadership & Social Change and the Center for the Advancement of Human Rights allowed me to maximize my impact and expand it across the Florida State community from the start."
As a Service Scholar, Rueda aided members of the vulnerable and underserved immigrant community. She translated documents from Spanish to English, got donations to fund tutoring for refugee clients and helped create a directory of human trafficking service providers to provide to the victims of trafficking across the state of Florida.
As a prominent leader within the Center for Leadership & Social Change, she facilitated a program called the Service Leadership Seminar (SLS), which helps teach 49 incoming freshmen the history of social issues, so they can gain skills to better serve the community.
"By challenging my SLS participants to perform an analysis of the systematic roots of social issues, I played a crucial role in creating aware servant leaders with the skills to address the needs of the community," Rueda said. "It was the most effective way for me to serve both my university and the Tallahassee community while directly influencing the education of future generations of students."
For her dedicated efforts, Rueda was selected as the College of Social Sciences & Public Policy Student Leadership Council's service chair, where she served as a liaison between students and faculty to help create more service opportunities for students.
In 2017, Rueda got involved in research and participated in the Undergraduate Research Opportunity Program (UROP) through the College of Communication and Information. She worked under the direction of communications professor Stephen McDowell for almost two years in UROP, classes and on her undergraduate Honors in the Major thesis.
"In each of these projects, Ms. Rueda demonstrated a consistently high level of academic performance and research engagement, as well as a commitment to public service and social change," McDowell said. "Her commitment and determination have served her well in her studies and distinguishes her as she moves forward to address important social issues in her career."
Rueda's research focused on the Indian media portrayal of women in the different sectors of politics, education, science and sexual assault. Rueda wanted to better understand how Indian society has socially progressed for women.
During her research, she found the U.N. Gender Inequality Index ranked Pakistan higher than the U.S. when it came to women's political representation. She found this statistic interesting and wanted to explore the truth of the western belief that the U.S. is superior to a country like Pakistan when it comes to gender equality.
She began researching this new topic and completed her Honors in the Major thesis comparing women's political representation in American media versus Pakistani media, specifically, why the United States' media portrays American women to have more representation in politics than South Asian countries.
Rueda's decision to go to law school was solidified in the summer of 2017 when she was selected to participate in FSU College of Law's highly selective Donald J. Weidner Summer for Undergraduates Program.
"Through the program, I cultivated relationships with like-minded, career-oriented individuals while learning from practicing attorneys who are successful in the field," Rueda said. "Though I was discouraged by the weight of law school at the beginning, I collaborated with other individuals to persevere and ended up receiving the only All-Star award at the end of the program."
Now that she has graduated, Rueda is interning at the Feminist Majority Foundation in Beverly Hills, California, this summer with a grant from the Social Science Scholar Program. She plans to pursue a master's degree in public policy or sociology after, possibly followed by either a Ph.D. or J.D.
"I aspire toward a J.D. degree with a specialization in international law and an area of focus in gender studies," Rueda said. "I ultimately aspire to further female education and empowerment through policy."
---
By Sam Antoury, University Communications Intern
Produced by the offices of Information Technology Services, the Provost, Student Affairs, Undergraduate Studies and University Communications.