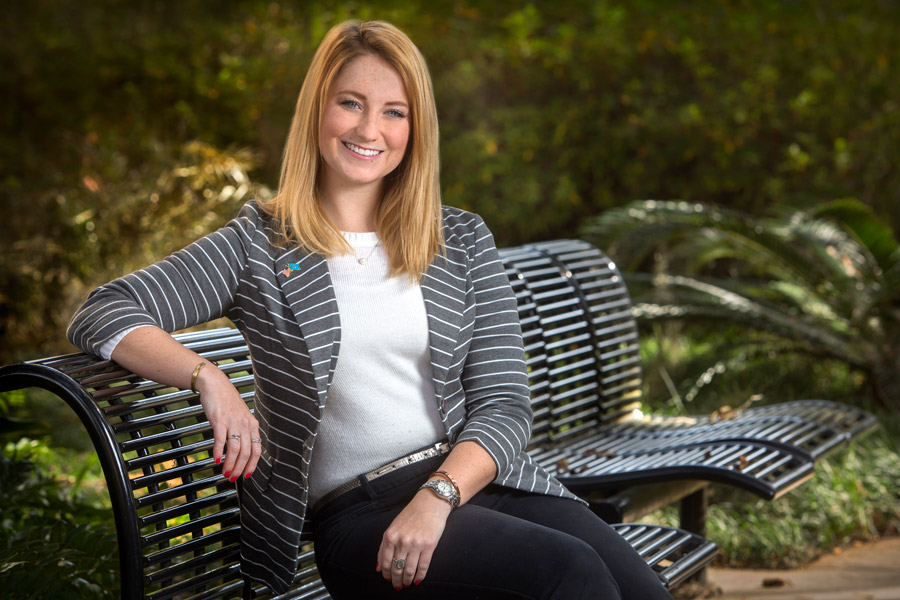 "My future career will only be aided by my experiences and the diverse network I have established at FSU."
Senior Savannah Grant's natural passion for following politics and global events has driven her to accomplish goals and impact others during a trailblazing career at Florida State University.
The Naples, Florida, native has garnet and gold in her blood. Her father was a student-athlete at Florida State, and Grant remembers going to FSU football games with him as a child. When it came time to choose a college, she followed in her father's footsteps.
Grant was drawn to Florida State's political science program and its strong international offerings. She was also interested in the university's research opportunities, as well as its legacy of excellence.
"As a Seminole, I realized I would be immersed into such a diverse, yet traditional community that would offer unmatched growth experiences for me as a student," Grant said. "With such a rich history of scholars, athletes and true leaders, Florida State has allowed me to follow the time-honored path of alumni, while also making new trails for those who come after me."
The honor student double majored in political science and international affairs because of her strong interest in seeing the world and its many different people and cultures. She attributes that fascination to memorable childhood family vacations and her enthusiasm for reading the newspaper's international section.
"Learning from diverse populations and seeing there is no one-size-fits-all solution to social issues facing today's world sparked my interests in the crossroads between international affairs and political science," Grant said. "I want to build a globally responsible and conscious perspective to be able to consult political leaders on international affairs and policies one day, addressing some of the biggest issues facing the political workings of the world in a sustainable way."
Grant has completed a variety of research projects at Florida State. During her freshman year, she participated in FSU's Undergraduate Research Opportunities Program (UROP). That led to an opportunity to study the effectiveness of women legislators with guidance from Professor Carol Weissert in the Department of Political Science.
Grant worked 10 hours a week documenting the number of women, as well as male minorities, serving in state legislatures around the country.
"This research was intriguing to me as a young woman who would possibly like to serve in a legislature and would likely have some barriers to break down to do so," Grant said. "Research is an experience that enables me to acquire practical skills that augment my priorities for knowledge and innovation."
UROP kick-started her research journey at FSU. She participated in five national conferences and two self-led initiatives in policy research over the past three years.
Grant was awarded an IDEA Grant to continue her research. The funding allowed her to spend the summer of 2017 in Peru and complete a project about the role nongovernmental organizations play in sustainable agriculture. She presented her findings at the 2017 FSU President's Showcase.
Grant is also part of the FSU Research Intensive Bachelor's Certificate Program (RIBC) for political science, a small-group educational experience for students who wish to gain high-caliber research skills and practical experience in an academic research environment.
She is a member of the Honors Legal Scholars Program at Florida State, a competitive, professional-track program that allows a small number of honor students to get a head start on law school through volunteer events, observation hours and connections at the FSU College of Law.
In addition to her research and academic endeavors, Grant has logged 550 community service hours since coming to Florida State in various efforts with on-campus organizations, such as Dance Marathon, Honors Student Association, Global Scholars and Make-A-Wish Foundation. She has also volunteered with Second Harvest, made trips to Westminster Oaks Retirement Home and enjoyed playing with children at the Big Bend Coalition.
This summer, she is working with the Veterans Legal Clinic in Tallahassee in the Moellership Program. As part of the experience, Grant will develop a prelaw pro-bono internship program that offers free legal advice to veterans, as well as incorporates student-veterans into the legal clinic.
Grant's busy schedule has not stopped her from getting involved in Florida State campus life. During her time as an undergraduate, she co-founded the United Nations Association Chapter at FSU to educate and inspire students to support the vital work of the United Nations.
She also serves as a chair on the executive board of the Honors Student Association, where she helps new honor students get acquainted with FSU's campus. Her status as a Garnet and Gold Guide allows her to host prospective athletes and their families considering attending FSU.
As a member of the UNITE Student Government Party, she joins constructive conversations about campus politics. The experiences, she said, demonstrate how to be a good leader and a member of a productive team.
"My experiences on and off campus at FSU have taught me that keeping an open frame of mind has and will only continue to enhance my desire for adventure and knowledge," Grant said. "As a student, I value the opportunities that have provided and continually provide access to a variety of resources and diverse opinions that shape me into a better learner, leader and member of society."
She also holds a 3.96 GPA and has made President's List every semester of her college career.
After graduation, she plans to attend law school in either Washington, D.C., California or Florida and pursue a career in political consulting. She would like to work for a consulting firm on a politician's campaign team.
"My future career will only be aided by my experiences and the diverse network I have established at FSU," Grant said. "I am forever indebted to the Garnet and the Gold."
---
By Brooks Lockett, University Communications Intern
Produced by the offices of Information Technology Services, the Provost, Student Affairs, Undergraduate Studies and University Communications.