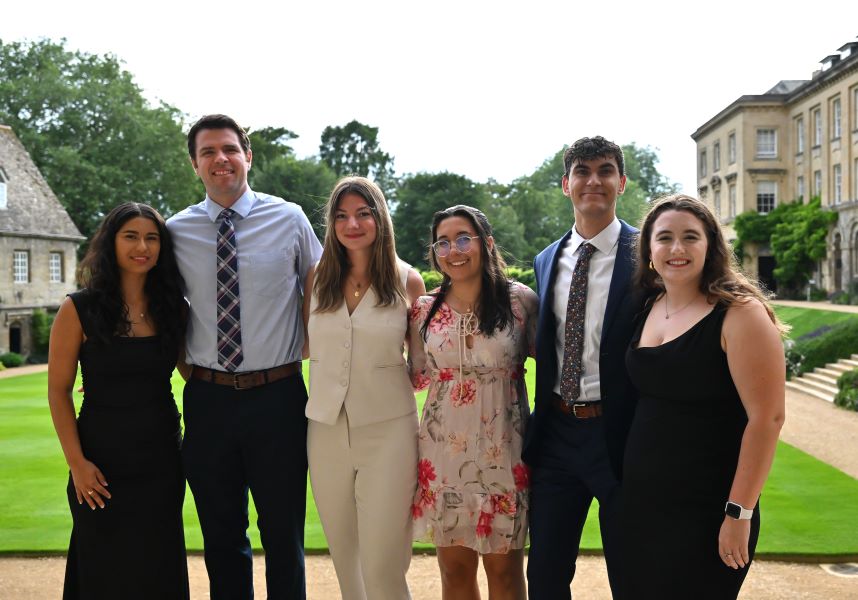 Over the summer, five students in Florida State University's Honors Program participated in a workshop at the University of Oxford in England addressing the impact of technology on human rights.  
During the Human Rights and New Technology workshop, hosted by the Oxford Consortium for Human Rights July 4-8, students attended lectures and spoke with leading scholars from an array of fields including artificial intelligence, media, law, and philosophy.  
The FSU contingent included Ross Moret, a faculty member in FSU's Honors Program, and honors students Caroline Owen, Zach Helms, Kayla McLoone, Nadia Rassech and Delaney Williams. This was the second cohort of FSU Honors students to attend a summer workshop hosted by the Oxford Consortium for Human Rights. 
The trip was sponsored by FSU's Honors Program, with additional student support provided by FSU's Center for the Advancement of Human Rights.  
The FSU Honors Program is invested in providing enriching experiences that empower student-scholars who want to develop as campus influencers, thought-leaders, and informed global citizens. In addition to offering a slate of interdisciplinary human rights courses at FSU, the Center provides pro bono legal services for immigrants and refugees, and it partners with non-governmental organizations to advance human rights around the world. 
"Oxford Consortium for Human Rights workshops are among the best educational experiences I have ever been a part of," Moret said. "Traveling abroad, learning from and conversing with globally recognized scholars, forming a community with students from around the world, and developing and presenting a research project in that context is profoundly transformative. I'm deeply grateful that the Honors Program and the Center for the Advancement of Human Rights made this opportunity possible for our students."  
Students studied technological revolutions and their effect on traditional human rights such as health, privacy, free speech, and free association. They also offered a research presentation focused on new technology and human rights in Florida.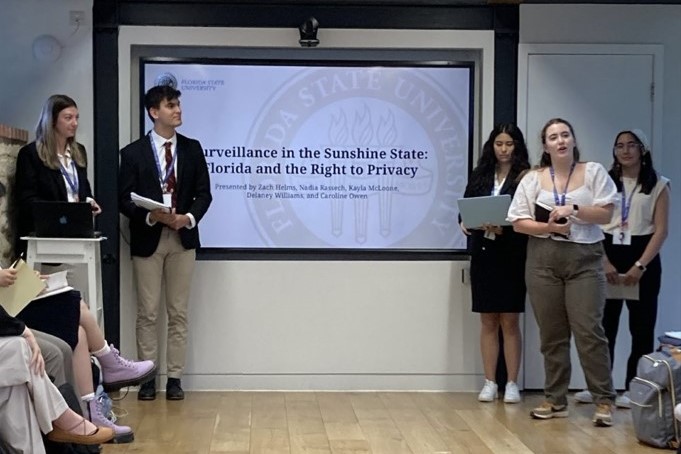 "I felt motivated to be part of the Oxford Workshop because it offered a learning experience that was almost completely different from what I had been taught in my classes," said Helms, who's double majoring in psychology and criminology. "Being able to learn about human rights from people currently working to improve them across the world is an opportunity you just can't ignore." 
While all student participants were enriched by the experience, they each took away something different. 
"I found the consortium to be personally rewarding," said McLoone, a senior majoring in international affairs and Middle Eastern studies. "I was not only able to apply what I've learned at FSU, but also my lived experiences with all the layers of my identity — as a woman, being Filipino-American and so much more. I now feel more empowered by my identity and life experiences to inform how I make a difference."
Students also enjoyed a tour of Oxford's captivating campus and the surrounding areas.  
"My favorite part of the trip was the day that we spent at Ditchley Park, an old English estate in Oxfordshire that has been converted into an international think tank," said Williams, a senior who is pursuing a degree in international affairs and political science. "During World War II, this is where Winston Churchill would meet American officials to discuss our involvement in the conflict and it remains a place for friends from other countries to get together and discuss issues." 
The focus on the intersection of human rights and technology was a highlight for Rassech, an aspiring international refugee law professional currently double majoring in international affairs and Middle Eastern studies.    
"The technological revolutions' impact on the human rights field makes this workshop a necessity for developing a new generation of human rights advocates," she said.  
The 2023 cohort aims to continue the dialogue on FSU's campus and will host a talk by Professor Sujata Gadkar-Wilcox, chair of the Department of Justice and Law at Quinnipiac University and executive director of the Oxford Consortium for Human Rights.  
The talk will begin at 4:30 p.m. on Thursday, Oct. 26, in the Great Hall (fourth floor) of the Honors, Scholars, and Fellow's building. Professor Gadkar-Wilcox will discuss the life and work of Dr. B.R. Ambedkar, a pivotal figure in the drafting of the Indian Constitution and in enshrining its provisions for ensuring both civil/political and social/economic rights. The entire FSU campus community is welcome to attend. For more information, visit calendar.fsu.edu.
To learn more about the FSU Honors Program, visit honors.fsu.edu. For more information about the Center for the Advancement of Human Rights, visit cahr.fsu.edu.