---
Nearly 600 Florida State University undergraduate researchers showcased their original research and creative works at the 23rd annual Undergraduate Research Symposium, one of the largest university-based symposia in the country.
In FSU's only all-campus interdisciplinary undergraduate research showcase, hundreds of students from the Garnet and Gold Scholar Society, Honors in the Major Program, the Undergraduate Research Opportunity Program (UROP) and more, showcased posters and delivered creative presentations in the new Student Union Ballrooms. It was the first in the university's history where all posters were displayed at once.
"This symposium demonstrates the unique and remarkable opportunity for undergraduate students at FSU to work side-by-side with faculty and other mentors on groundbreaking research," said Alicia Batailles, senior associate director of the Center for Undergraduate Research and Academic Engagement. "The chance to participate in such important work makes a fundamental difference in a student's education and helps sharpen their focus on what they may want to do in the future."
This year's research projects represented a sprawling range of disciplines, including biology, business, dance, music, medicine, history, physics, art, mathematics and many more. The Nourishing Creativity hour featured scholarship and demonstrations of guitar building, opera singing, animation and fiction writing.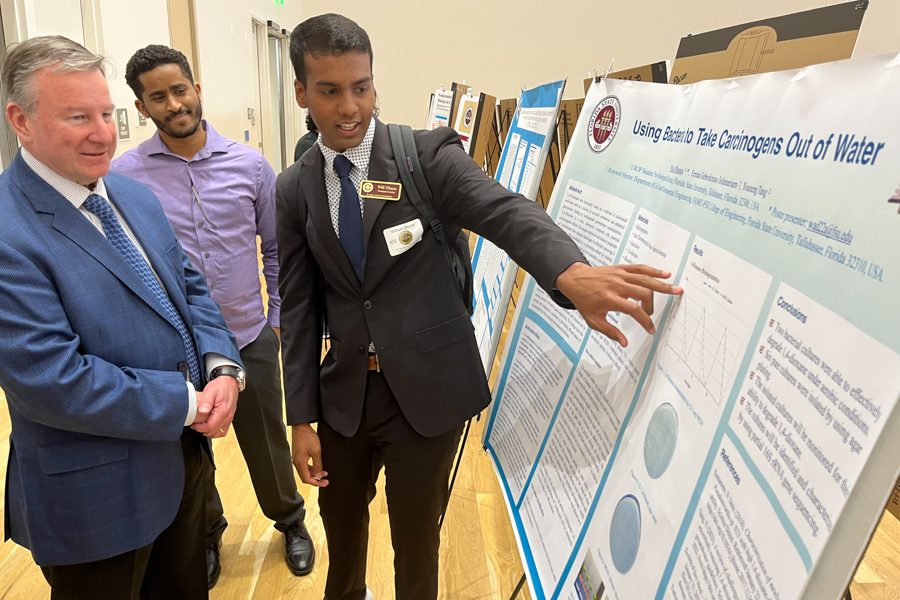 Many of the participants at the symposium were first-year, second-year and transfer students, primarily from the UROP, which supports students who participate in cutting-edge research mentored by faculty and graduate students while also learning about conducting research in their disciplines during a yearlong peer-led colloquium with other emerging undergraduate researchers.
A national leader in undergraduate research, recognized for its research-supportive environment and significant growth in undergraduate research participation, FSU was awarded the 2019 Campus-wide Award for Undergraduate Research Accomplishments by the Council for Undergraduate Research.
Undergraduate students and their research mentors presented at the symposium on topics such as interfaith couples in Nazi Germany, the representation of women in Bollywood films, the ups and downs of U.S.-Japan relations in the 20th and 21st-centuries, and the optical detection of magnetic resonance.
Students' projects sought answers about reducing knee pain in older adults, engaging children with autism through reading, developing robots that can perform jobs too dangerous for humans, and using bacteria to remove carcinogens from water. They also analyzed global issues, such as how to combat dermatological diseases in rural Honduras, and more local ones, such as the response to natural disasters and public health emergencies in the Florida Panhandle.
"This incredible learning experience is possible because of the dedicated faculty and other research mentors and their commitment to providing a world-class education to our students so early in their careers," said Joe O'Shea, associate provost and dean of Undergraduate Studies. "The chance to learn through research has empowered thousands of FSU students with the skills to analyze complex problems, develop solutions and answers, and translate those complex topics to a variety of audiences."
Anthony Benn, a biological sciences major, worked with graduate student and mentor Benton Jaco to help assess new methods of studying the harmful algal blooms known as red tide, a pressing concern for much of coastal Florida.
"I had an amazing research mentor and learned a lot," Benn said. "I could see myself going into research now."
Jaco was himself once an undergraduate student at FSU who fell in love with marine biology and studied seagrass meadow ecosystems through an Undergraduate Research Opportunity Program IDEA Grant and the University Honors Program.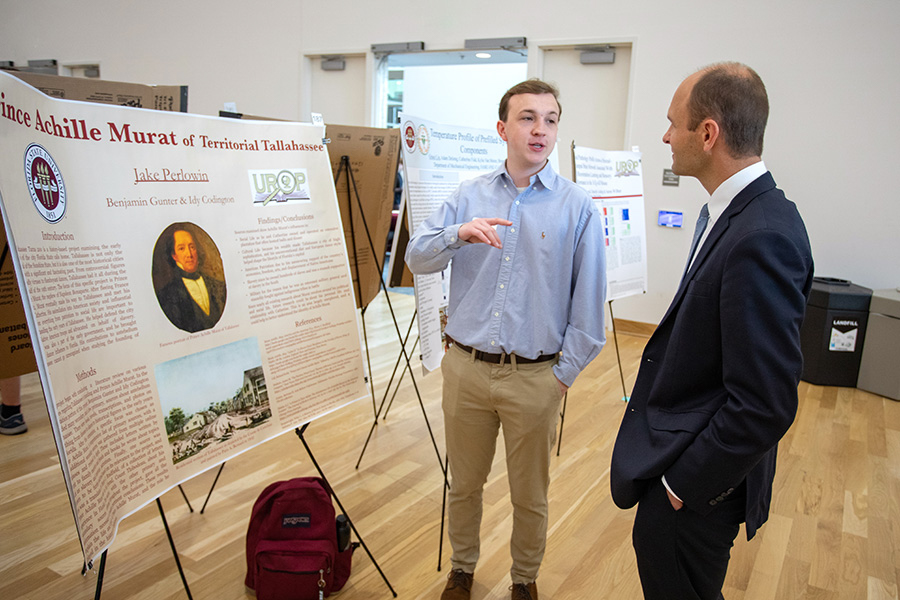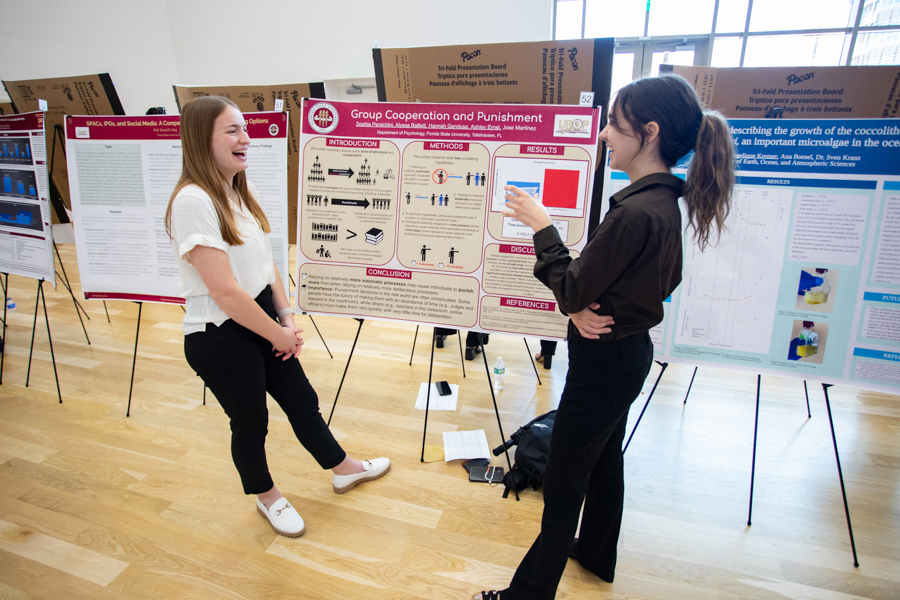 Organizers said this year's program was unique, not only as the first to take place in the new Student Union, with all posters displayed at once, but also as an example of the cycle of mentorship that takes place at FSU. Four of this year's projects were guided by research mentors who themselves participated in research when they were undergraduate students at the university.
Jose Martinez, a third-year doctoral student in the social psychology program who also conducted research as an undergraduate student at FSU, served as the research mentor to the four students working on the "Group Cooperation and Punishment" presentation, about how people punish selfish behavior in others.
"The reason I got into research and eventually grad school is that I had mentors who took a lot of time to teach me the ropes about research and who really cared about my professional development, and I wanted to pay it back by being a mentor to other students as well," Martinez said. "I think everyone should be involved in research if they want to because there are many opportunities."
For more information, visit cre.fsu.edu.