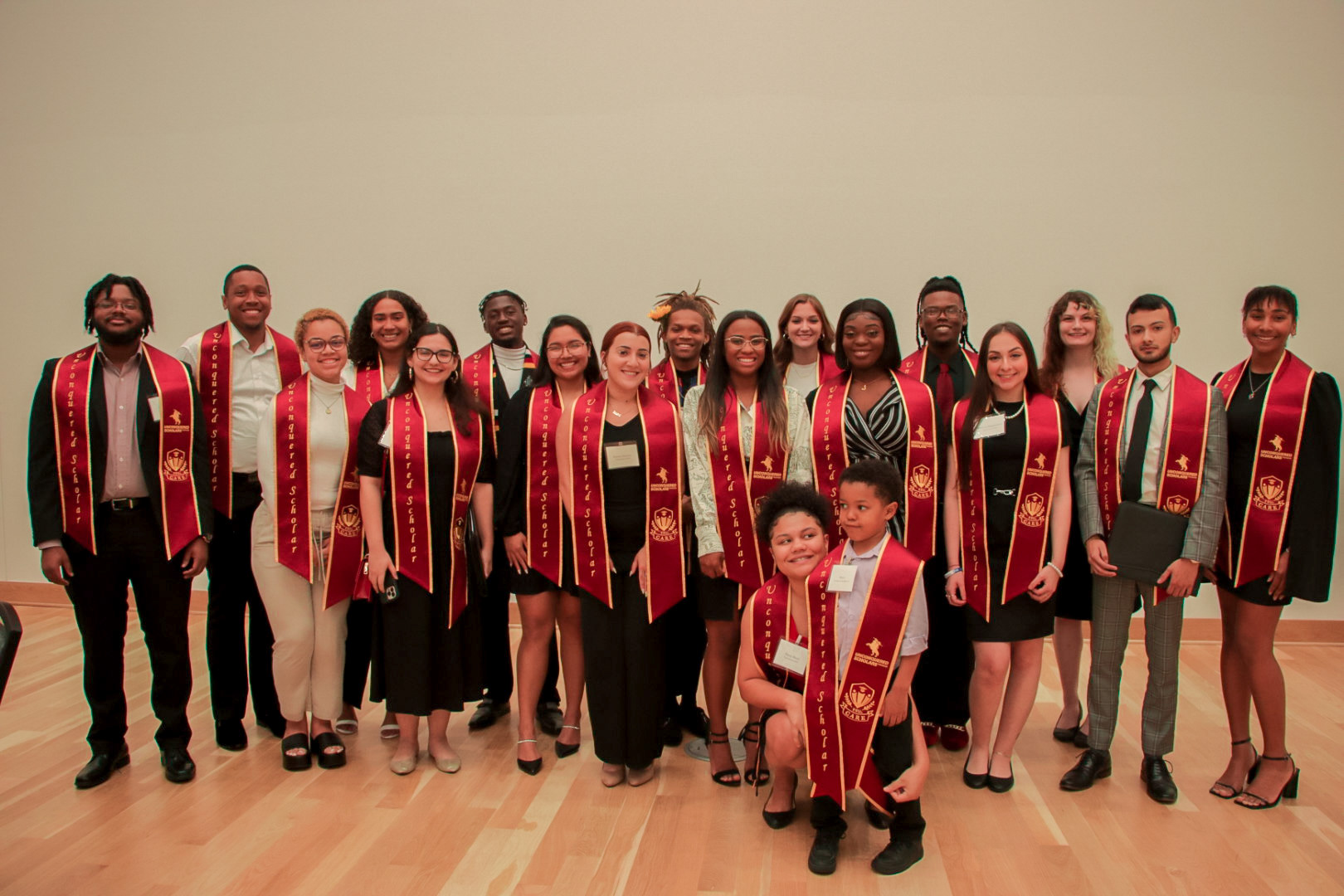 Florida State University hosted a celebration banquet for students and others from the Unconquered Scholars Program, which serves those who have experienced homelessness, foster care, relative care or ward of the State status.
The annual banquet, held last week in a Student Union ballroom, honored the upcoming graduating class of 38 Unconquered Scholars and featured two keynote speakers who reflected on how the program helped them find community and a support system essential to their success.
"We love the chance to celebrate the hard work, resiliency and talents of this special group of FSU students," said Lisa Jackson, senior program director. "Unconquered Scholars come to FSU after experiencing challenging life circumstances, and our job is to ensure they thrive while they're here and graduate well-prepared to reach their future dreams and goals."
Keynote speaker Marcus Williams, a graduating senior majoring in interdisciplinary social sciences with concentrations in sociology and history, described some difficult experiences from childhood, such as multiple moves and the brief absence of a close family member, and contrasted that time with the comfort and stability of the FSU college experience.
"College was the chapter that I felt free – free from poverty, homelessness, pain," said Williams, who serves as the Pride Student Union Center director and Golden Torch Lecture Series vice chair. "Unconquered was the home away from home because they supported me through any and everything."
The Unconquered Scholars Program has served more than 300 students since its inception in 2012 and operates as a unit within the Center for Academic Retention & Enhancement, or CARE. CARE provides opportunity and access to those with identities traditionally underrepresented in higher education, such as Pell Grant recipients and first-generation college students.
About 150 students, staff, faculty members and donors attended the banquet, which included a dinner buffet and tables decorated with fresh flowers and handmade paper leaves and trees, symbolizing this year's theme of "family."
Keynote speaker Rebekka Behr, a 2020 graduate who now works as a human resource specialist for the Florida Department of Health and advocates on multiple boards and councils for various child welfare initiatives, spoke about how the Unconquered Scholars Program gave her a "chosen family" and helped her fulfill her dream of pursuing higher education after experiencing homelessness and foster care.
"Unconquered truly opened my eyes to the reality that I could not only go to college but that I would have support when I arrived," she said.
She fondly recalled Disney trips, road trips, barbecues and an annual mac and cheese cookoff with her found family at FSU, and she shared memories of her good friend and fellow Unconquered graduate Stevenson Guerrier, who passed away suddenly in 2022 and is remembered at the university with an endowed scholarship in his name.
FSU is nationally recognized for its work to close demographic gaps in graduation rates, winning the prestigious Degree Completion Award from the Association of Public Land-Grant Universities in 2021.
The six-year graduation rate of Unconquered Scholars often meets or exceeds the university-wide graduation rate, which hit a record 85% last year.
"The Unconquered Scholars Program is a testament to our deep commitment to our students and the special community of FSU, where we all work together to help students reach their full potential," said Joe O'Shea, associate provost and dean of the Division of Undergraduate Studies. "Students in Unconquered enrich the university in so many ways, and we're grateful to have them here."
For more information, visit care.fsu.edu/UnconqueredScholars.