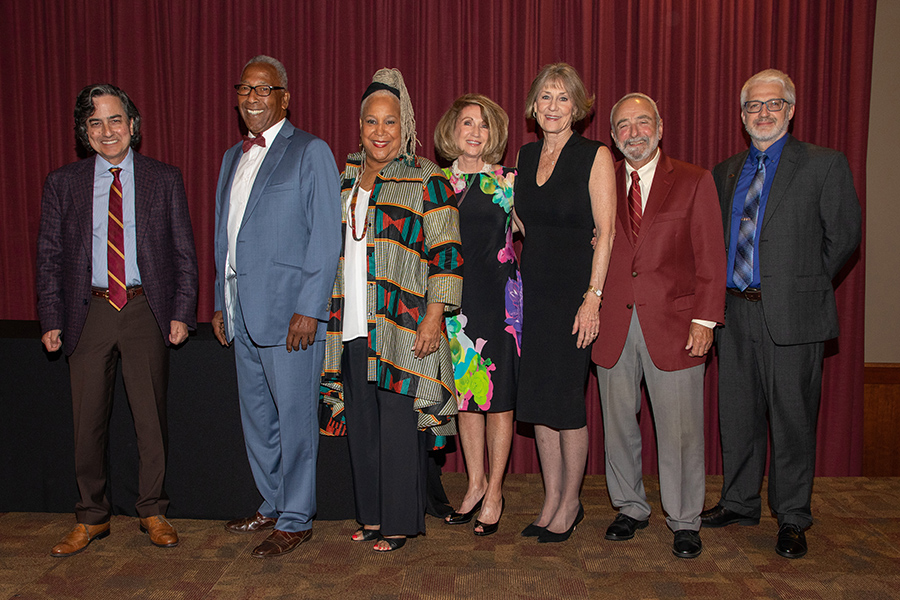 Florida State University's Faculty Senate honored members of the university community with Torch Awards for their commitment to academic excellence during a March 3 ceremony at the Augustus B. Turnbull III Florida State Conference Center.
Both the 2021 and 2020 Torch Award recipients were recognized at the ceremony.
President Richard McCullough expressed his gratitude to the honorees after FSU Trustee and Faculty Senate President Eric Chicken presented the awards. Provost James Clark presided over the ceremony.
Named after the torches depicted in the university's seal, the three categories of Torch Awards are: Vires, embodying moral, physical and intellectual strength; Artes, expressing an appreciation of aesthetics and the beauty of intellectual pursuits; and Mores, exhibiting respect for customs, character and tradition.
---
The 2021 honorees are:
Greg Beaumont (Vires)
For nearly 30 years, Greg Beaumont devoted his career to helping FSU students achieve the highest academic standards and excel in their personal endeavors.
After earning his master's and doctoral degrees in English from FSU, Beaumont touched the lives of many students over the years and graced the university with his commitment to high academic standards and dependable work ethic. A longtime instructor in the English department and Associate Dean for Undergraduate Studies, Beaumont committed his time and efforts to his students and their families.
Following his appointment as Senior Associate Athletic Director in 2013, Beaumont improved the athletic program's quality and standards while also providing academic support to more than 500 athletes. During his tenure, an unprecedented number of student-athletes were named to the ACC academic honor roll, and in 2018, the overall GPA for all student-athletes surpassed 3.0 for the first time. He also supported student-athletes in their athletic pursuits by attending as many sporting events as possible.
Beaumont also contributed his time serving on several committees and advisory boards including the Garnet and Gold Scholars Society, Sigma Phi Epsilon and the Phi Kappa Phi Honor Society.
Virginia Wetherell Scott (Artes)
As the First Lady of FSU from 2003 to 2010, Virginia "Ginger" Wetherell Scott used her unique and aesthetic eye to spearhead the building plans for the university's President's House — affectionately known as "The House that Ginger Built."
When Wetherell Scott undertook the project, she understood the importance of creating a building that encompasses the spirit and tradition of FSU. After raising funds to build the house, she selected the architect and the contractor and worked as the project manager for over two years.
Wetherell Scott enlisted the help of several FSU entities to perfect the interior design, including the Master Craftsman Studio to handcraft moldings and the Museum of Fine Arts and The Ringling for selections from their art collections. She also scoured the basements across campus for antiques, furniture and mementos, which add to the house's aesthetic and help preserve FSU's rich history.
Wetherell Scott's persistence and commitment to the construction of the President's House went far beyond that of a project manager. She not only helped find the right furniture, dinnerware, flatware, and decorative pieces, but she also helped paint the interior to keep the project on track and laid bricks to enhance the house's beauty.
A former member of the Florida House of Representatives and Secretary of the Florida Department of Environmental Protection, Wetherell Scott showed true passion and commitment to building the President's House. Since its completion in 2007, the house has served as a pillar in the FSU community and as a symbol of FSU's historical and physical distinction.
Warrick Dunn (Mores)
Celebrated as one of FSU's most outstanding and honorable football players, Warrick Dunn has represented FSU athletics in the highest light since graduating in 1997.
As an undergraduate student at FSU, Dunn never wavered in his commitment to his coach, Bobby Bowden, or his academic pursuits. Known for always studying in his dorm coined the "library," Dunn personified the dedication and commitment of a responsible college student-athlete. Following his selection by the Tampa Bay Buccaneers in the first round of the 1997 NFL Draft, Dunn created Warrick Dunn Charities, a foundation focused on helping and empowering low-income families.
Inspired by his own upbringing, Dunn founded the Homes for the Holidays program, which provides single-parent families with home furnishings and down payment assistance. More than 180 families have received housing since the program began in 1997.
Dunn's foundation also operates the Hearts for Community Service program, which provides college scholarships for active community volunteers, Count Your Future, a free program that teaches financial literacy, and Sculpt, a program that provides information about healthy lifestyles. Dunn has donated more than a million dollars through these charitable programs.
Dunn has shown true dignity and empathy to those in need, making it his life mission to help others achieve their goals and aspirations. Above all, Dunn has remained a monumental figure at FSU and serves as an inspiration to other student-athletes passionate about their sport and community.
The 2020 Torch Award winners were also recognized: Fred Flowers (Vires), Doby Flowers (Vires), Dorothy Jenkins (Artes) and Paula Peters Smith and William "Bill" Godfrey Smith (Mores).