Florida State University celebrated the inauguration of its 16th president, Richard D. McCullough, with a formal investiture ceremony Friday afternoon.
McCullough delivered his inaugural address inside Ruby Diamond Concert Hall, bedecked with an array of flower arrangements, before a crowd that included family, friends, city and state officials and academic luminaries from universities across the country.
In his remarks, McCullough offered an ambitious vision for the university that included a place inside the top 10 ranking of the nation's public universities and membership in the Association of American Universities.
"Florida State has indeed earned the right to be called a great university," he said. "Now our challenge —and our responsibility— is to become even greater."
McCullough spoke passionately on a number of topics but had to pause and take a breath when thanking his wife, Jai Vartikar, for her support and for being his partner. He also singled out his two sons, Jason and Dylan, and daughter-in-law Sarah Christian, who were in attendance.
The platform party included more than 70 members of the university community, including the Board of Trustees, deans, university administrators, faculty, students and staff. Provost and Executive Vice President for Academic Affairs Jim Clark presided over the ceremony.
Speakers representing the trustees, students, faculty and staff struck a personal tone describing their relationship with McCullough.
FSU Board of Trustees Chair Peter Collins welcomed McCullough to the Seminole family.
"I truly believe our new president embodies the inner spirit of FSU: humble beginnings, grit and determination to rise above those humble beginnings and a deep yearning for excellence that drives each of us every day," Collins said.
In a rousing address, FSU Football coach Mike Norvell pointed to McCullough as an inspiring and encouraging figure for him.
"I am so very impressed with President McCullough, his passion, his commitment, the way he has embraced being a Seminole," he said. "I am so excited about the future of FSU."
STRATEGIC, ETHICAL, HUMBLE
Before arriving at FSU last August, McCullough spent 22 years at Carnegie Mellon University, rising up the ranks from assistant professor to vice president for research, and then nearly a decade at Harvard University, where he served as vice provost for research.
During the ceremony, his former colleagues reflected on McCullough's career achievements and shared personal anecdotes.
In a laugh-filled address, Carnegie Mellon President Emeritus Jared Cohon offered McCullough advice on avoiding the pitfalls that can accompany his new presidential title. Striking a more serious tone, Cohon said McCullough has three traits of a leader that should stand out – strategic, ethical and humble.
"A man who thinks strategically and works with stakeholders to create a shared vision, who does so ethically in its broadest meaning and with humility — that's Rick McCullough," Cohon said. "I could not have predicted 25 years ago that Rick would be president of this great university — on the other hand, I'm not in the least bit surprised."
Offering "Crimson greetings to the Garnet and Gold," Harvard University President Lawrence Bacow shared a special family connection to FSU. His mother-in-law was a 1939 graduate of Florida State College for Women, and he said she went on to lead a life of "meaning, passion and purpose."
"Meaning, passion and purpose: a good education kindles them, and I think a great education actually stokes them," Bacow said. "I know of few people more intimately aware of these truths than your new president. He embodies the hope of American higher education, and I think he instills hope in everyone he meets. Our nation needs more of that type of skill right now."
Alan Garber, provost of Harvard University, recalled McCullough's entrepreneurial streak and his ability to lead disparate groups toward achieving common goals.
"He was effective because he listened genuinely and attentively, learned from what he heard, and spoke plainly and persuasively," Garber said. "These are surprisingly rare skills, and Rick puts them to good use. Now, Florida State University will benefit from Rick's leadership and his decades of experience at Carnegie Mellon and Harvard, as well as his disarming manner and his determination to build and to make things better."
UNBOUNDED EXPECTATIONS
In his address, McCullough praised the power of public universities and shared his vision for FSU at a time when expectations placed on universities are "seemingly boundless."
"We must be engines of economic opportunity and social mobility, drivers of innovation and creators of arts and culture," he said. "It seems nearly impossible to do all these things and yet that is exactly what universities do every day."
Florida State is excelling in its pursuit of those lofty goals, McCullough said.
"We have a unique balance of excellence in the arts, sciences, professions and humanities; we conduct research that is transformed into products and services that fuel our economy and improve our lives," he said. "We educate and engage students to prepare them to enjoy fuller lives and lead us toward a brighter future."
He drew from his past experience as a first-generation college student and portrayed FSU as a place brimming with promise, potential and opportunity that is accessible to all.
To that end, McCullough singled out FSU's CARE program, as a national model for supporting underrepresented students and those who are the first in their families to go to college and the Unconquered Scholars program which aids promising young people who have experienced profound childhood hardships, such as homelessness or foster care.
It was an emotional day for McCullough, who reflected on his childhood in Mesquite, Texas. When he enrolled at Eastfield Community College, it was a modest first step of a journey that's taken him through some most esteemed academic institutions in America, including Columbia, Carnegie Mellon and Harvard universities.
"I grew up poor and I almost dropped out of community college because I needed to make ends meet," he said. "College was my only way out."
McCullough, who earned his doctorate in organic chemistry from Johns Hopkins University, said his story is proof of the power of public higher education.
"Without the affordable education provided to me by the public higher education system of the state of Texas, I would not have been able to attend college and would not be standing in front of you today," he said. "I never dreamed of a life as a scientist, scholar and academic administrator — and certainly not the robes of a university president."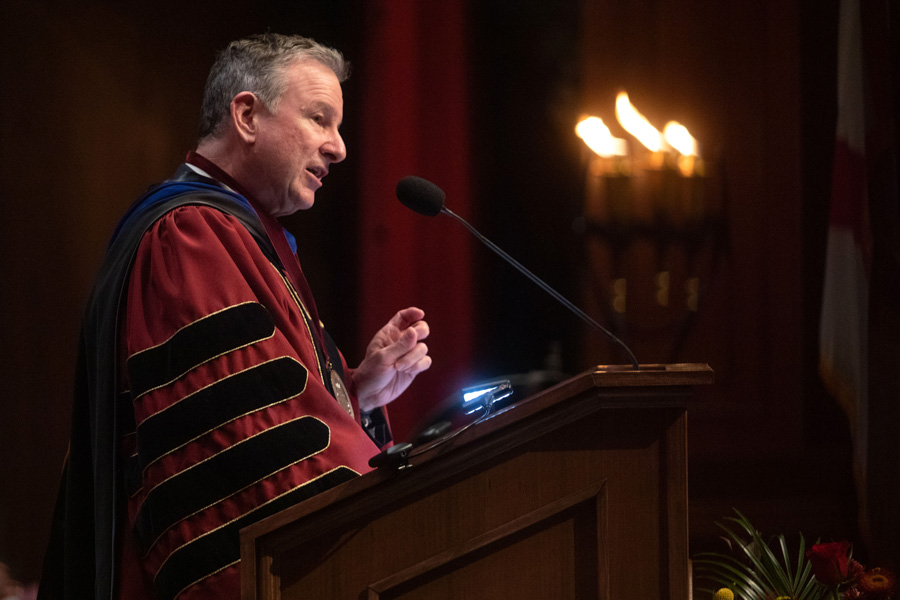 That opportunity is precisely what he said students can find at Florida State.
"Once here, all students are able to achieve at the highest levels, no matter how their academic journey began," he said. "We provide students the mentorship and guidance they need to achieve their dreams of a Florida State degree."
Throughout the speech, McCullough offered expressions of gratitude toward those he credited with inspiring and encouraging him to pursue a career he'd never envisioned.
He closed by pledging to work tirelessly as Florida State's 16th president."From the first time I walked through the gates of Westcott, this university became a part of me, just as it has for all the students, faculty, staff, and alumni, who have walked through those gates before me — and just as I know it will for the generations to come," McCullough said. "I look to the future with excitement and optimism because I know, working together, we will far exceed our unbounded expectations and my heart is in the work."
University traditions also highlighted the ceremony. Dale Lick, the 11th president of FSU, joined McCullough's predecessor John Thrasher in presenting McCullough the Presidential Medallion. Thrasher and McCullough shared an extended hug.
Dean of Undergraduate Studies Joe O'Shea led three students — Beata Olsson, Abril Hunter and Max D'ou Rodriguez — in the lighting of the three torches, which appear in Florida State University's seal and represent the university's motto, "Vires, Artes, Mores" — or strength, skill and character.
Kyle Doney, an FSU alumnus and member of the Seminole Tribe of Florida, congratulated McCullough and presented him with a handmade, patchwork jacket on behalf of the Seminole Tribe of Florida.
Speakers also included State University System of Florida Chancellor Marshall M. Criser III, FSU Student Body President Nastassia Janvier, FSU Professor of English Maxine Montgomery, and FSU Professor of English David Kirby, who read an excerpt from a Walt Whitman poem. The ceremony also included performances by Assistant Professor of Voice Marcy Stonikas, Professor of Cello Gregory Sauer and students from the College of Music.