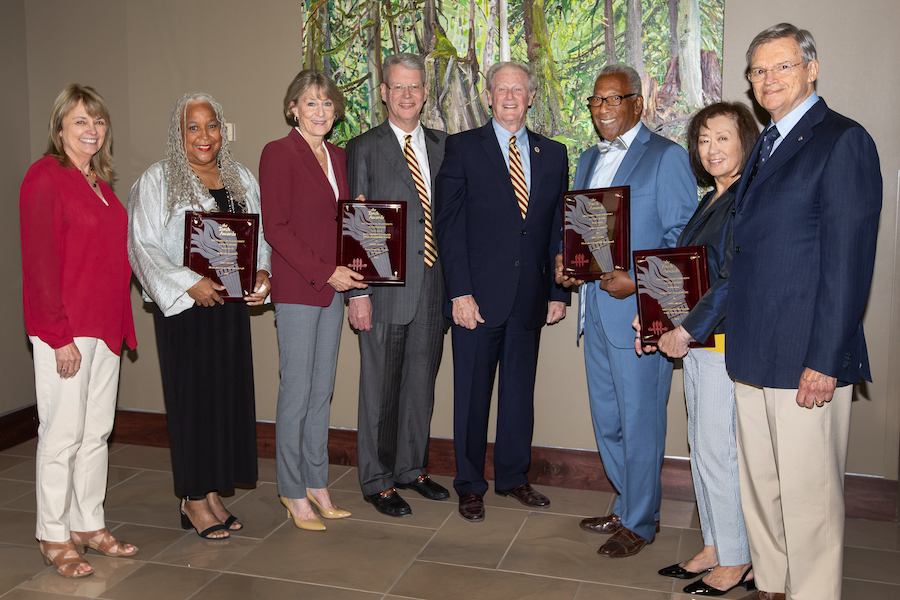 Florida State University's Faculty Senate honored five members of the university community May 24 with the Torch Award for their contributions to furthering academic excellence at FSU.
FSU President John Thrasher commended the winners and their devotion to the university during Monday's event.
"As a past recipient of a Torch Award, I know how special it is to be honored by the faculty in this way, and these individuals could not be more deserving," he said. "They have donated their time, talent and treasure because they believe strongly in our mission and because they care deeply about our faculty, staff and students.
Thrasher added: "They do it, quite simply, because they love Florida State University."
The award is named for the three torches depicted in the university's seal. The three categories of Torch Awards are: Vires, representing moral, physical and intellectual strength; Artes, conveying an appreciation of aesthetics and the beauty of intellectual pursuits; and Mores, symbolizing respect for customs, character and tradition.
This year, the Faculty Senate conferred two Vires, two Mores and one Artes awards.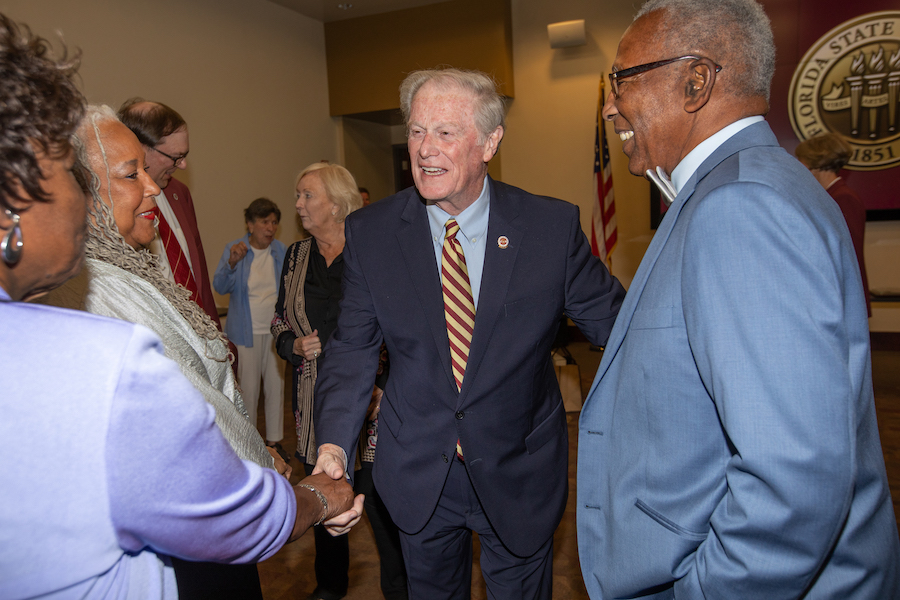 The honorees are:
Paula Peters Smith (Mores)
Smith has a lifelong history of working on behalf of FSU, which she's done for the most part, anonymously.
She is a renowned organizer and chaired the 150th Anniversary celebration of Florida State University in 2001 at the request of then-FSU President Sandy D'Alemberte. Along with her husband Bill Smith, who is also a fellow Torch Award winner this year, she is a proud supporter of FSU athletics, particularly the baseball team, which she and Bill host at their home for dinner at the outset of each season.
Smith graduated in 1976 with her degree in fashion merchandising from the School of Home Economics — now the College of Health and Human Sciences. Since that time, she has mostly resided in Tallahassee where she's dedicated her time, energy, and commitment to the college.
She served on the College of Health and Human Sciences Development Board, helping to raise endowment funds for the college and is currently a member of the Florida State University Foundation Board of Trustees.
Her public service has extended beyond campus, too. Smith spearheaded an eight-year project to fund and build a permanent home for the Leon County Library and she  chaired a committee to renovate and upgrade five downtown public parks. She also led efforts to fund and construct a new youth baseball facility at Myers Park.
In 2001 she chaired the Leon/Tallahassee United Way Fundraising Campaign and successfully solicited a $1 million gift from the Anheuser Busch Foundation to install the iconic dolphin sculpture on the west plaza of the Florida Capitol.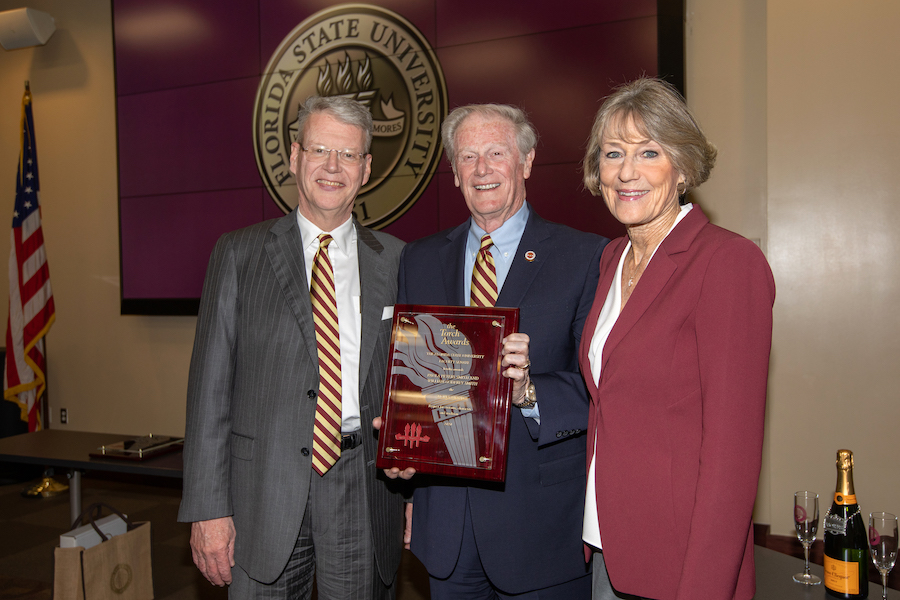 William "Bill" Godfrey Smith (Mores)
Bill Smith is president and chief executive officer of Capital City Bank Group, where he started his career in 1978. Smith received a Bachelor of Science degree from FSU's College of Business in 1976 and almost immediately became an active participant in the FSU community.
A former chairman of the FSU Foundation Board, Smith led a fundraising campaign that generated numerous large donations to FSU in support of its academic mission. 
Sustained financial support for FSU is a Smith family tradition and The Smith Family Trust has donated millions of dollars to FSU. The first major gift from the trust endowed an FSU College of Business Chair in 1988 named for Smith's grandmother: the Fannie Wilson Smith Chair. The donation was one of the earliest endowed chairs under the State of Florida System.
Through the years, Smith has taken on the leadership of numerous groups at FSU including the Research Foundation and the Board of the FSU College of Business Student Investment Fund.

Smith was inducted into the FSU College of Business Hall of Fame in 2009 and has also served as a member of the Florida State University Athletic Board.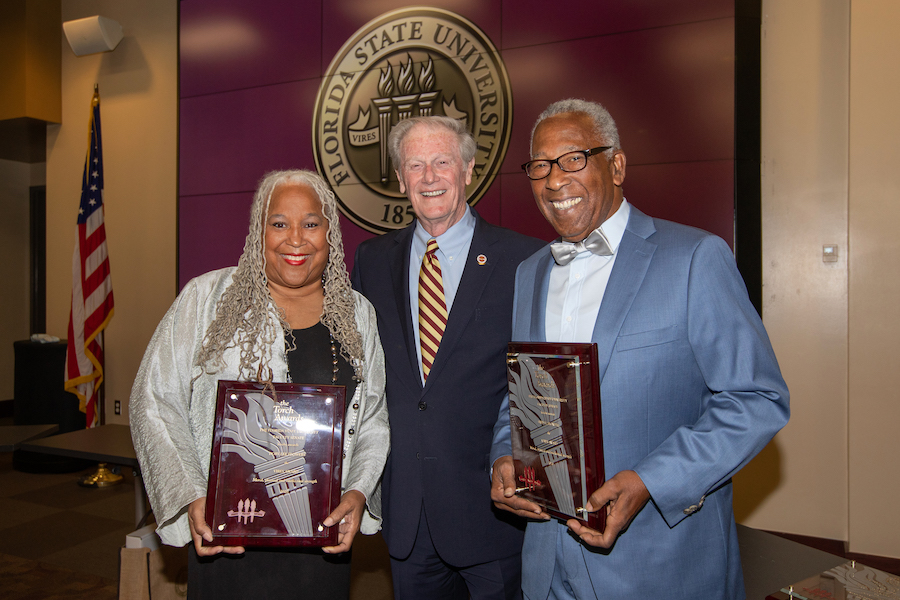 Fred & Doby Flowers (Vires)
The bronze likenesses of siblings Fred and Doby Flowers grace the center of FSU's campus Integration Statue, an enduring testimony to their achievements as civil rights pioneers at Florida State University.
Fred and Doby ensured their places in FSU's history as they broke highly visible color barriers on campus: Fred as the first uniformed African American athlete at FSU and Doby as the first African American FSU Homecoming Queen.
Fred came to FSU in 1965 and, as a pitcher on FSU's baseball team, he endured vicious racial taunts and epithets not only on the road but also from local fans. Fred rose above these with poise and grace and paved the way for generations of African American athletes to follow in his footsteps.
Doby was also a trailblazer at FSU. Enrolling in 1967, she was persuaded by fellow students to run for Homecoming Queen in 1970. This was not a mere beauty pageant or popularity contest. Doby knew her successful campaign was a victory not just for the small cadre of African American students on campus but for the larger student body as well.
While at FSU, Fred earned a bachelor's degree in philosophy and a master's degree in urban and regional planning from the College of Social Sciences and Public Policy. He then earned a law degree from the University of Florida. He started his law practice in Tallahassee, became an expert trial attorney, and litigated hundreds of cases, including a number of landmark civil rights cases where he advocated on behalf of young African American students.
Doby earned her bachelor's degree in social welfare and, like Fred, a master's degree in urban and regional planning at FSU. She then built a successful career at the cross-section of the arts and business fields, a journey that took her to Boston and to New York City. Her career is a testimony to the role of the arts in the service of justice. Both Fred and Doby eventually made their way home to FSU.
Both Fred and Doby have been the inspiration and prime forces in establishing the Civil Rights Institute at FSU. Established in 2018, the institute has earned recognition for its commitment to enhancing FSU's civil rights archives and for promoting civil rights teaching and advocacy on campus.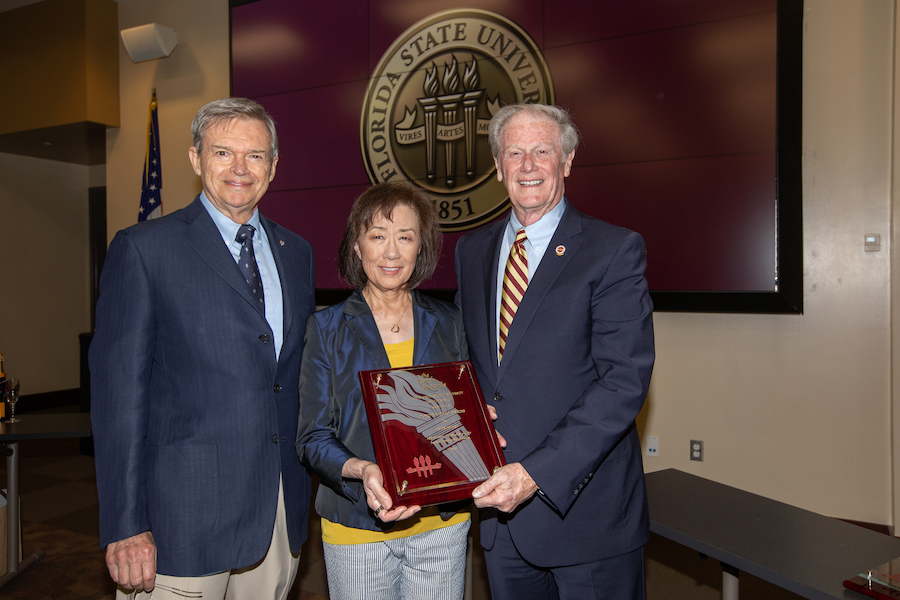 Dorothy Jenkins
(Artes)
Through her leadership and largess, Dorothy Chao Jenkins has been a significant force in helping FSU's fulfill its academic mission.
Her personal commitment to The John and Mable Ringling Museum of Art embodies Vires, Artes and Mores and exemplifies someone who appreciates aesthetics and the beauty of intellectual pursuits.
Jenkins was originally appointed to The John and Mable Ringling Museum of Art Foundation Board in 1997 by former Florida Governor Lawton Chiles. When FSU became the fiduciary organization over The Ringling, she became a member of The Ringling Foundation Board of Directors
where she served as chair from 2004-2005 and continued to serve until 2009. In 2011, Jenkins rejoined The Ringling Board and retired from the board in 2019.
In 2002, Jenkins established the Dorothy Jenkins Endowment Fund at The John and Mable Ringling Museum of Art. She has supported the Howard Tibbals Learning Center and The Art of Performance series as well as the former Ringling International Arts Festival.
She has annually contributed to The Ringling's highest level of annual membership at the Chairman's Circle level. Through her personal giving and through the Chao Foundation, she has generously provided in excess of $6 million to support The Ringling, its facilities and programs. Jenkins was instrumental in The Ringling receiving three gifts totaling over $5 million from the Chao Foundation toward the Center for Asian Art which bears the Chao name.
She is a member of The Ringling Friends of Asian Art, Friends of Art of Our Time, and of The Ringling Legacy Society.
As a member of the Florida State University President's Club, she is recognized in the Doak Campbell, Francis Eppes and Robert Strozier Societies.