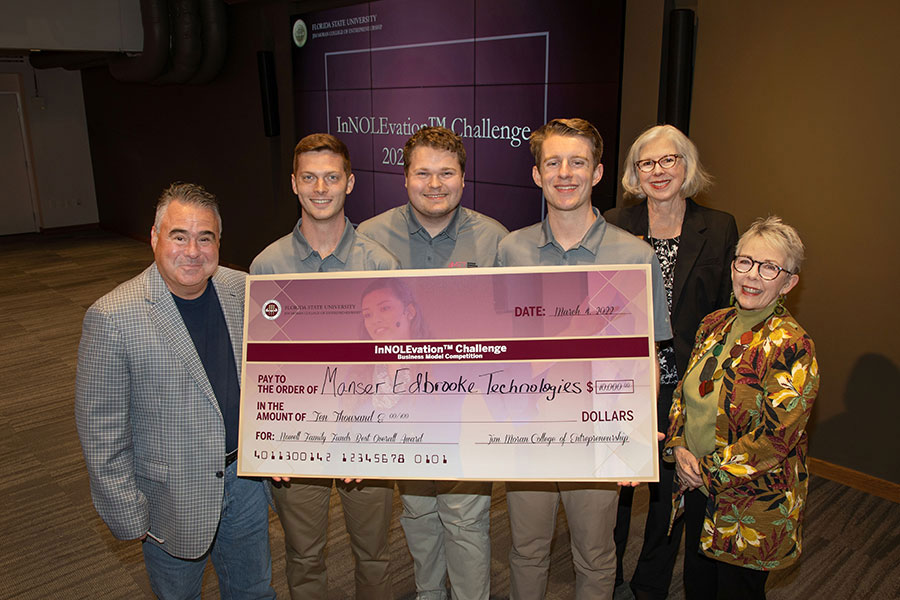 A team of students from the FAMU-FSU College of Engineering took the $10,000 Nowell Family Funds first-place prize at the 2022 InNOLEvation™ Challenge on March 4.
Eight finalist teams pitched before a panel of judges, with Manser Edbrooke Technology (MET) winning the top prize for Firebird, the team's tabletop computer numeric control (CNC) milling machine. The team includes engineering students Cody Cribbs, Patrick Manser and Charlie Edbrooke.
"Firebird is entering the market at the perfect time," the team said in a statement. "Rapid prototyping is seeing high annual growth in the double digits. Metal 3D printing is still very expensive, and the rate of innovation has slowed in CNC machining. The market is ripe for a disruptor like Firebird."
The annual InNOLEvation™ Challenge is a business model competition that provides students from all majors with the opportunity to gain valuable insight and experience in innovation and entrepreneurship.
The entire competition takes place over two semesters with students submitting parts of the business model canvas along the way.
Susan S. Fiorito, founding dean of the Jim Moran College of Entrepreneurship, thanked staff at the college for helping to make the competition a success.
"This is the fifth year that the Jim Moran College of Entrepreneurship has hosted the workshops and the competition for this prestigious award and each year the quality of the products and pitches continues to impress the judges and faculty who have mentored these students," she said. "Wendy Plant, director of student engagement, and Kaitlin Simpson, student engagement coordinator, are to be congratulated for their tireless support of student businesses throughout the FSU campus. All these winning teams are to be congratulated."
Other prize winners in the competition are: 
$4,000 Jim Moran Challenge Social Venture Award — Full Herizon
$4,000 Spirit of Entrepreneurship Award — Sproutful Notes
$4,000 DivvyUp Most Viable Award — Bullseye Bricks
$4,000 Most Scalable Award — VisionX
$4,000 Mark Scott Most Innovative Award — Barbot
$500 Finalists — Svastha and Hygge Rugs