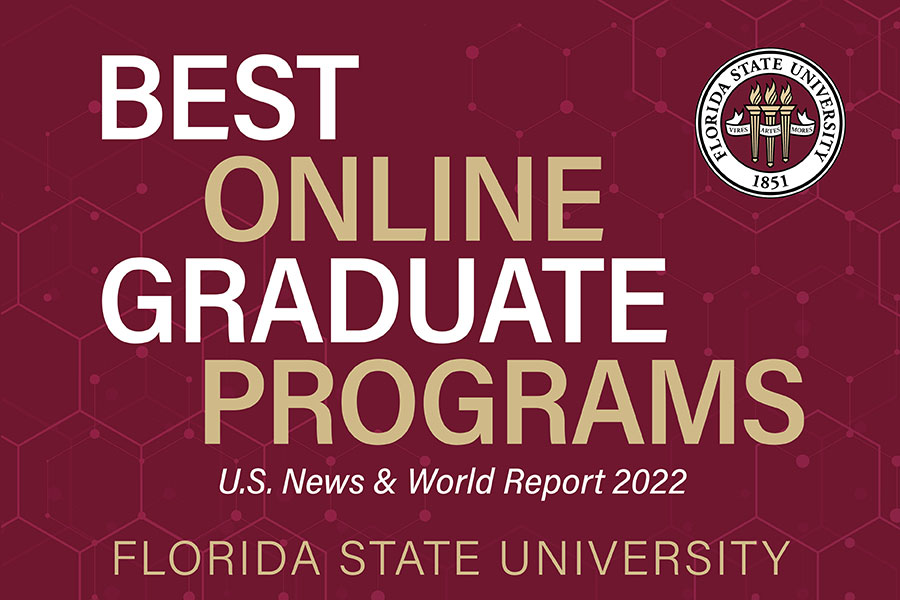 Florida State University online graduate programs in information technology, criminology, education and business are among the nation's best, according to the U.S. News & World Report 2022 rankings.
FSU boasts four Top 25 online graduate programs, including two in the Top 10, as well as several highly ranked specialty programs.
Provost and Executive Vice President for Academic Affairs Jim Clark said he was thrilled by the news and that the entire university community should be proud of the accomplishment.
"Florida State University is one of the top research institutions in the country," Clark said. "Every day our faculty and staff go to extraordinary lengths, pushing us toward that goal. This recognition affirms that effort and our commitment to deliver students a quality education, whether it's on campus or online."
The College of Communication and Information's online graduate program in information technology ranked No. 6 overall, No. 3 among public institutions and No. 4 on the list of best programs for veterans.
Kathy Burnett, director of the School of Information, said the school's online offerings have come a long way and face stiff competition today.
"When our online graduate program first began, there were not many like it," she said. "Today, there are many more options out there, so it is a tribute to our faculty and staff that ours continues to rank in the Top 10 nationally, and the Top 5 among public institutions."
Stephen McDowell, interim dean of the college, said the online graduate program is designed to meet the changing needs of today's students.
"The information technology master's program addresses growing needs for our community and prepares students to be leaders of their teams and organizations," he said. "We are very glad for this national recognition."
The College of Criminology and Criminal Justice's online master's degree in criminal justice jumped two spots to No. 6 nationally and placed No. 5 among public universities and No. 4 for veterans.
Thomas Blomberg, dean of the college and Sheldon L. Messinger Professor of Criminology, credited the faculty for the school's place among the nation's elite.
"The college's continued recognition as one of the premier graduate programs is a credit to our truly outstanding faculty," he said. "They have continued to teach and mentor future leaders in the field while producing high-quality scholarship that meaningfully contributes to our intellectual community and significantly advances the field of criminology."
The College of Education's online graduate program ranked No. 22 overall, No. 21 among public universities and No. 7 for veterans.
The college also ranked No. 4 or higher in four specialties: No. 2 in Educational/Instructional Media Design, No. 3 in Educational Administration and Supervision, No. 3 in Special Education and No. 4 in Curriculum and Instruction.
"We're proud to be among the top online graduate education programs in the country and to have several of our specialty programs highly ranked," said Damon Andrew, dean of the College of Education. "Our continued success is a testament to the hard work of our outstanding faculty, staff and students and demonstrates the college's commitment to be student-focused and innovation-driven."
The College of Business' online MBA program retained its No. 28 ranking among public universities and checked in at No. 37 overall. The college's non-MBA graduate online programs in management information systems and risk management and insurance placed No. 11 among public universities and No. 16 overall. The online MBA specialty in business analytics earned a No. 9 spot among public universities.
Dean Michael Hartline said success in online programs reflects faculty that continually embrace technology to better serve students.
"This recognition showcases the dedication of our faculty and staff, who are committed to providing students the latest knowledge and tools needed to advance in their careers," Hartline said. "Our high rankings are a great indicator of our success, yet we also pay close attention to our alumni's achievements. Their accomplishments continue to make us proud and help guide us.
Robert Fuselier, director of the Office of Distance Learning, said credit for this year's round of rankings goes to a broad group.
"We are delighted to see our online programs ranked so highly each year," he said. "It is a testament to the hard work FSU's faculty, instructional staff, and support teams put into offering a first-class learning experience for our students."
For more information on Florida State's nationally ranked online graduate programs, visit https://distance.fsu.edu/programs.