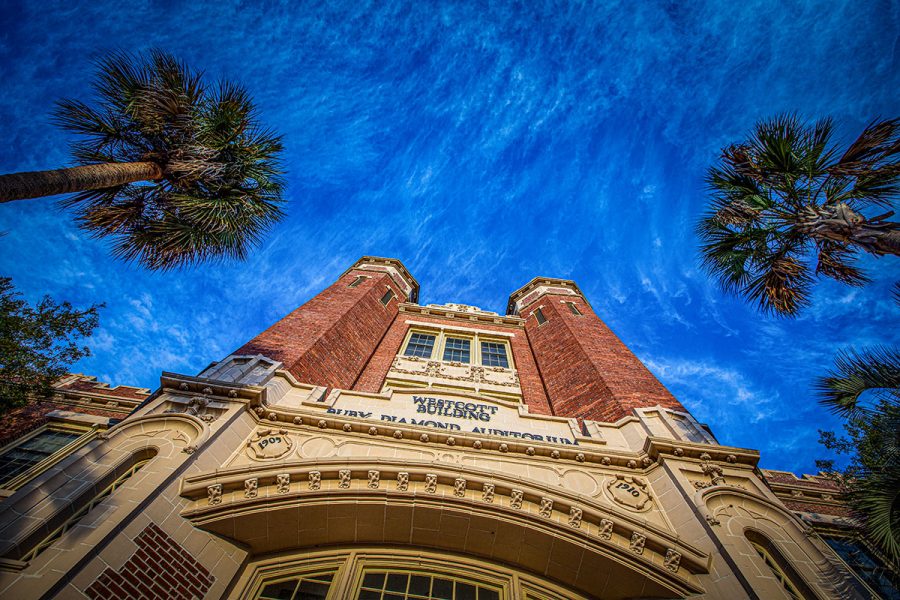 Florida State University showcased its strength and resilience during a global pandemic in 2020 while continuing to achieve new heights in student success and research initiatives.  
FSU ranked among the nation's Top 20 universities for the second consecutive year, posted a record freshman retention rate, brought in an all-time high of $250 million in research funding and enrolled a record number of graduate students.    
FSU navigates a global pandemic
When the threat of COVID-19 forced the entire university to pivot to remote learning, Florida State University continued delivering a world-class education to 43,000 students. Faculty continued to teach remotely throughout the spring and summer semesters before students returned to campus in August with a comprehensive plan in place to keep the university community safe.   
FSU implemented an on-campus testing program with its own lab that allowed for a quick turnaround of results, plus a contact assessment initiative.  Over the past 10 months, staff revised course schedules, cleaned classrooms, provided technical support, launched the Stay Healthy FSU public health campaign and reimagined student services and events.   
As FSU looks toward 2021 and more face-to-face classes, the university continues to follow CDC guidelines for social distancing, wearing face coverings, and cleaning and disinfecting of all buildings.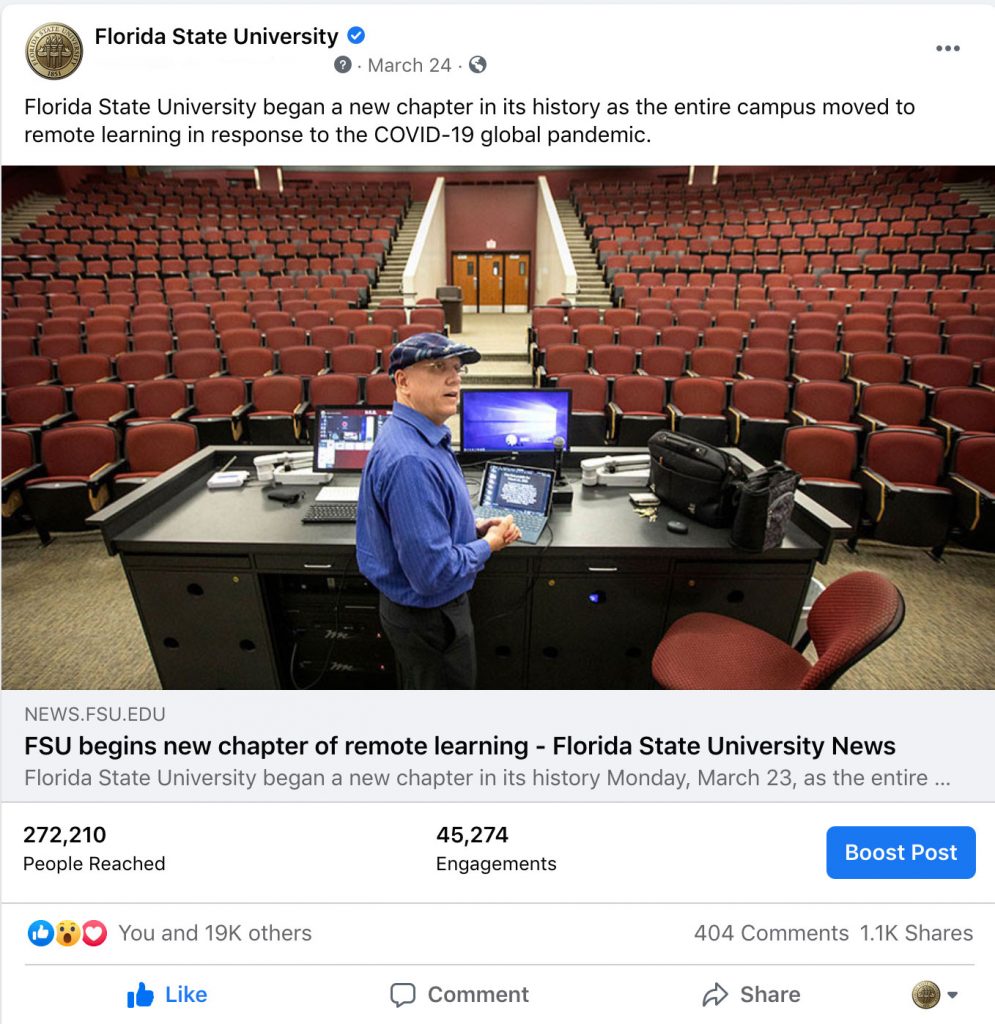 Florida State retains Top 20 status in U.S. News rankings
Florida State University placed among the Top 20 national public universities in the latest U.S. News & World Report  rankings, which appear in the publication's "Best Colleges 2021" guidebook. FSU, a Top 20 university for the second consecutive year, improved in several key measures considered in the publication's methodology.  
FSU's record first-year student retention rate places among Top 15 nationally
Florida State University is retaining first-year students at a record rate, as 95 percent of first-time-in-college students who enrolled in Summer/Fall 2019 stayed for their sophomore year. The 95 percent mark ranks in the Top 15 among national public universities and is well above the most recent national average retention rate of 81 percent for 4-year public institutions, reported by the U.S. Department of Education's National Center for Education Statistics.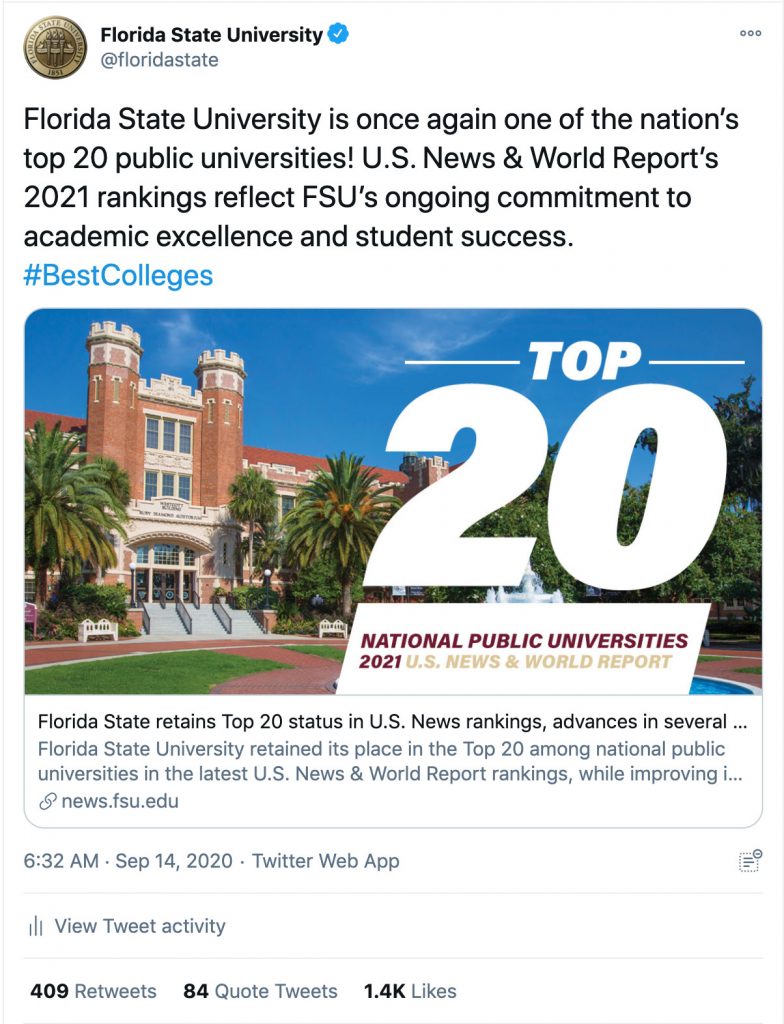 FSU researchers awarded more than $250 million, a new single-year record
FSU researchers received a record level of funding in the 2020 fiscal year, bringing in $250.1 million in grants from federal, state and private sources. The milestone in research funding is more than $16 million higher than the previous record, which FSU posted in fiscal year 2019. The funding supports research in a wide range of disciplines, from health sciences to engineering to answering some of the many research questions posed by the ongoing coronavirus pandemic.  
FSU's graduate programs continue to flourish
FSU saw a 23 percent increase in graduate student enrollment in Fall 2020, far surpassing its goal of 3 percent in annual growth. The Graduate School experienced a rise in enrollment in 56 percent of its academic plans for the semester, including double-digit increases in 41 programs. This fall, 3,442 new graduate students enrolled, boosting FSU's total number of graduate students to more than 9,000.  FSU's graduate programs continue to be among the nation's best as clinical psychology, fine arts, speech-language pathology, real estate and engineering all made significant jumps in the U.S. News & World Report's 2021 edition of "Best Graduate Schools," released March 17.
Florida State cuts ribbon on new Earth, Ocean and Atmospheric Science building
In February, FSU marked the official opening of its state-of-the-art Earth, Ocean, and Atmospheric Science Building where students and faculty in environmental science, geology, meteorology and oceanography study, learn and conduct research. The 130,500-square-foot space includes 23 research labs and eight teaching labs, a broadcast studio for meteorology students, a 280-seat auditorium and a 100-seat active learning classroom. The ribbon-cutting also included a dedication of a statue of former President Eric J. Barron who secured the first round of funding for the building six years ago.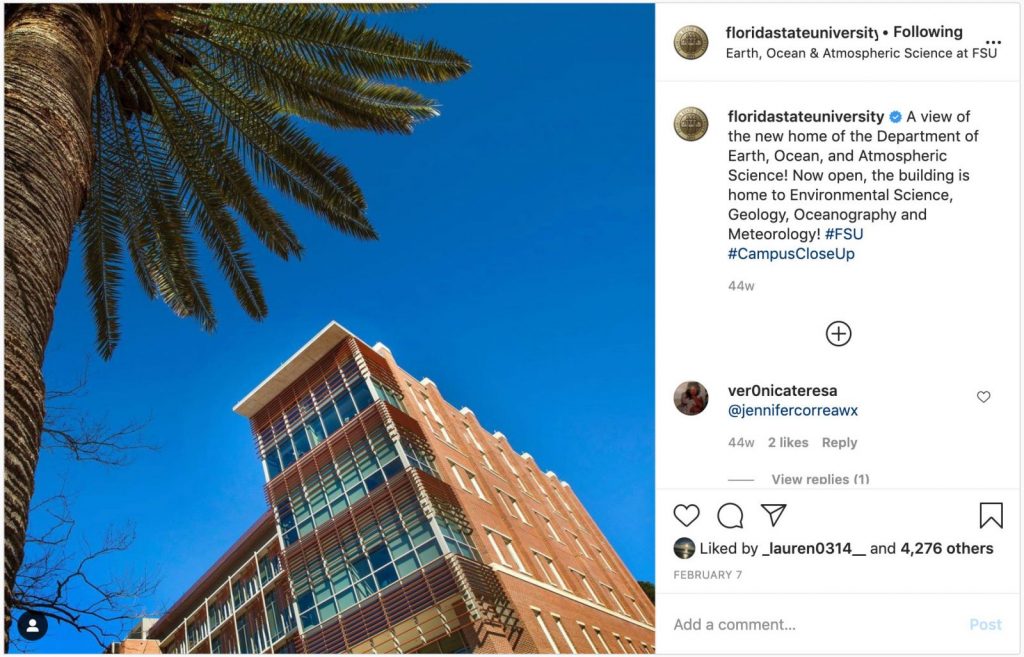 FSU dedicated to advancing diversity, equity and inclusion
For the fifth consecutive year, FSU was recognized as a Diversity Champion by INSIGHT Into Diversity magazine for demonstrating an outstanding commitment to diversity and inclusion. Florida State was one of 15 colleges and universities nationwide to earn Diversity Champion status. President John Thrasher reaffirmed FSU's ongoing work on diversity, equity and inclusion by forming the President's Task Force on Anti-Racism, Equity & Inclusion for the 2020-2021 academic year. The task force continues to help the university address racial and ethnic disparities on campus and accelerate its goal to strengthen FSU's diversity. 
FSU continues to be a leader in international education
Nine Florida State University faculty members have been selected as U.S. Fulbright Scholar Program award recipients, setting a new FSU record for most Fulbright Scholars in one year. These individuals plan to teach and conduct research as part of opportunities funded by the U.S. Fulbright Scholar Program during the 2020-2021 school year, depending on COVID-19 travel guidelines. Nine FSU graduate students and recent alumni were also selected to participate in the Fulbright U.S. Student Program. In addition, the university's study-abroad programs rank No. 9 in the nation, according to an annual report released in November by the U.S. Department of State, Bureau of Educational and Cultural Affairs and the Institute of International Education.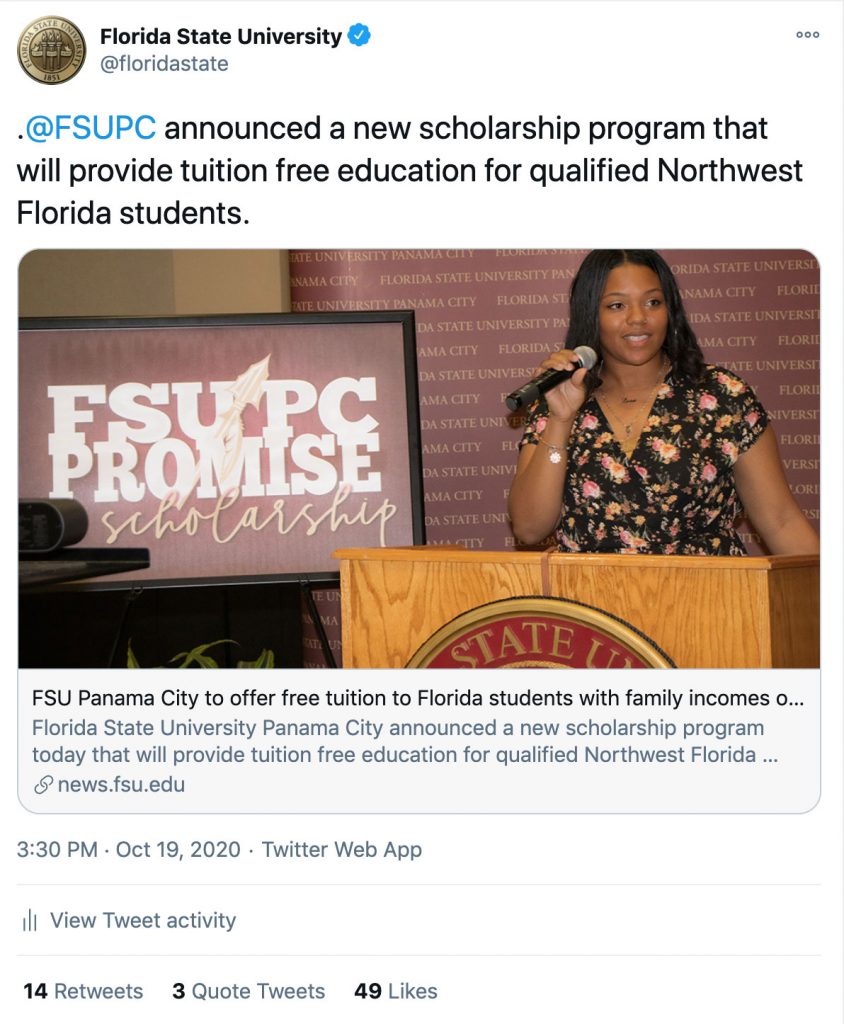 FSU Panama City to offer free tuition to Florida students with family incomes of $50,000 or less
FSU Panama City announced a new scholarship program that will provide tuition free education for qualified Northwest Florida students with combined family and student income of $50,000 or less or are eligible for Pell Grants. The FSU PC Promise Scholarship will take effect spring 2021. 
FSU, Mayo Clinic collaborate on medical innovation, attracting top biomedical talent
In February, FSU President John Thrasher and representatives from Mayo Clinic in Florida signed a multifaceted agreement in Jacksonville to attract and retain top talent in the biomedical field. The collaborative education efforts will focus on medical innovation and promote a market-driven approach to create a highly trained workforce focused on taking medical technology from the research space to clinical practice.
Dedman becomes FSU's 18th college
The Dedman School of Hospitality became FSU's 18th college in November. In addition to increasing its prominence and stature, the milestone positions the Dedman College of Hospitality for growth and gives the college a clear advantage as it looks toward new opportunities in the state of Florida, nationally and around the world. Don Farr, Dedman Professor of Hospitality Management, will serve as the first dean of the new college.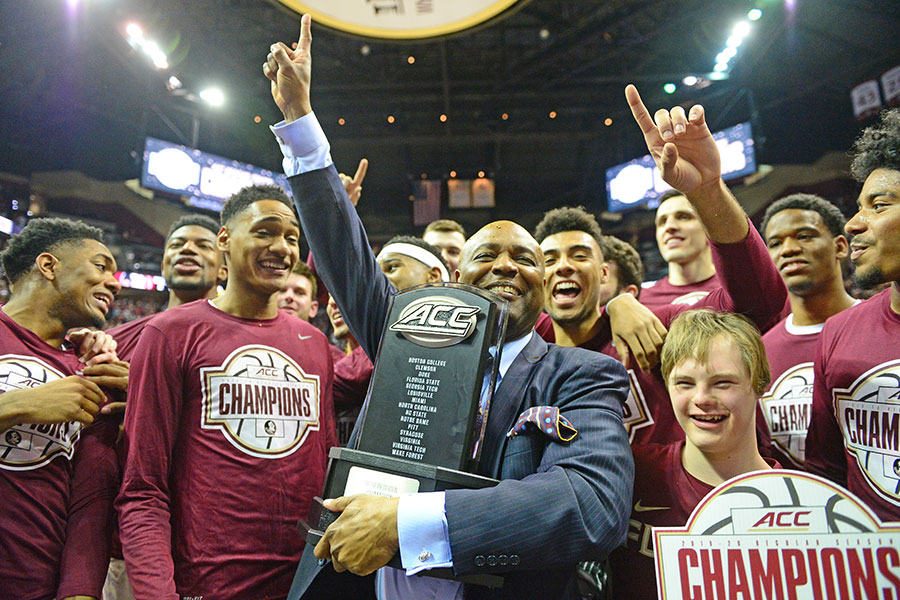 Men's basketball, women's soccer claim ACC titles
In March, the FSU men's basketball team clinched the Seminoles first-ever Atlantic Coast Conference regular season championship and Leonard Hamilton was voted ACC Coach of the Year. A postseason run was not in the cards for the Seminoles, however, as the pandemic canceled the ACC and NCAA Tournaments. In November, the FSU women's soccer team posted an undefeated 11-0 record during a pandemic-shortened season, including three wins in the ACC Tournament as the Seminoles won their seventh league championship in program history.