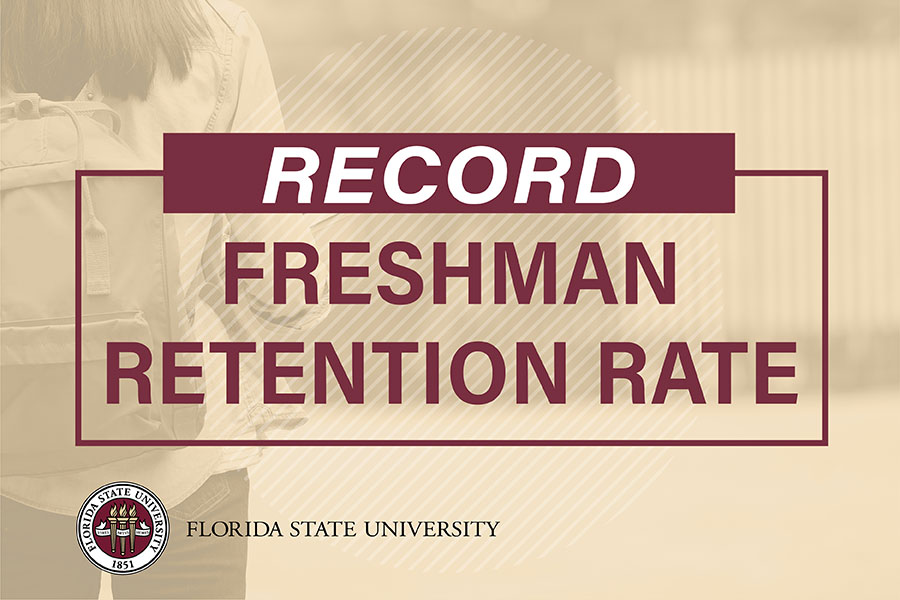 Innovative campus-wide efforts nearly eliminate retention disparities among undergraduates
Florida State University is retaining first-year students at a record rate, according to the most recent data reported to the Florida Board of Governors.
Ninety-five percent of FSU's first-time-in-college students who enrolled in Summer/Fall 2019 stayed for their sophomore year — a record for the university. Notably, last year's freshman class of about 7,100 students was the largest and most diverse in university history.
"This is a testament to the resilience and tenacity of our students, especially during these uncertain times," said Sally McRorie, provost and executive vice president for Academic Affairs. "It's rewarding to see them stay on the path to a college degree, despite the tremendous obstacles we've all faced because of the pandemic."
The 95 percent mark ranks in the Top 15 among national public universities and is well above the most recent national average retention rate of 81 percent for 4-year public institutions, reported by the U.S. Department of Education's National Center for Education Statistics.
"I applaud our faculty and staff for the incredible support and encouragement they've given our students as they continue on their academic journeys," McRorie said. "This record retention rate reflects the university-wide efforts Florida State puts into student success."
One of Florida State's points of pride over the past several years is the virtual elimination of disparities in retention rates among its diverse undergraduate population, which includes nearly a third who are Pell Grant recipients and first-generation college students.
In fact, students enrolled in the Center for Academic Retention and Enhancement (CARE) program, which provides first-generation and underrepresented students the necessary resources and support network they need to flourish in the collegiate environment, outperformed FSU's general student population, posting a 96.2 percent freshman retention rate this year.
"I'm so proud that FSU truly enables all students, regardless of background, to thrive here and achieve their full potential," McRorie said.
The record number is a result of the university's strategic investments, such as academic advising and student engagement programs, that have bolstered student success outcomes. The university's Enrollment Management workgroup has been meeting nearly every two weeks for over 20 years to ensure FSU supports and engages every student to grow to their full potential, in and out of the classroom.
"Enrollment Management is a collaboration of partners across campus — housing, information technology, career center, financial aid, advising and college life coaching, tutoring, the library, the faculty senate, and so many others — they all share in this incredible achievement," said Dean of Undergraduate Studies Joe O'Shea, who co-chairs the workgroup.
There are a number of ways the university works to motivate students and keep their studies on track, especially during their first year.
Florida State's Engage 100 initiative offers a range of programs designed to connect, engage and challenge students during their first semester, as well as pave the way to future success in college.
These are small, mentor-guided group experiences centered on a particular topic or curriculum, such as Freshman Interest Groups (FIGs), Living Learning Communities (LLCs) and the Undergraduate Research Opportunity Program (UROP). This fall, the Division of Undergraduate Studies also introduced Florida State Anywhere, a program for students who are unable to come to campus during the pandemic yet want to engage with fellow students and support services.
"Engage 100 programs all deploy peer mentors to help guide our new students as they transition to the university," O'Shea said. "I am so grateful for the hundreds of students who each year give back to help the next generation of students flourish at FSU."