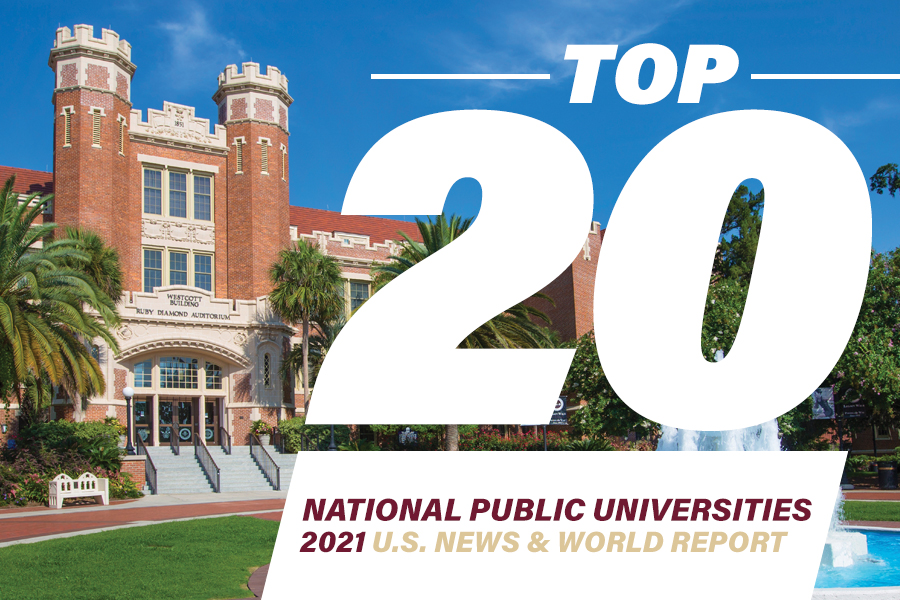 Florida State University retained its place in the Top 20 among national public universities in the latest U.S. News & World Report rankings, while improving in several key measures considered in the publication's methodology. 
FSU is No. 19 on the list, marking the second consecutive year that the university placed in the Top 20. The rankings appear in U.S. News & World Report's "Best Colleges 2021" guidebook. 
"Our continued recognition as one of the nation's Top 20 public universities is a reflection of Florida State's commitment to academic excellence and student success," said President John Thrasher. "This is the result of hard work by our students, faculty and staff and support from the Florida Legislature and the Florida Board of Governors, who have been staunch champions of our goals and aspirations."  
The university improved on 11 of 15 key factors used to compile the ranking score. Once again, the metrics shined a spotlight on Florida State's continued emphasis on student success. 
"We're thrilled that we reaffirmed our status as a Top 20 university and improved in the measures that Florida State holds dear, such as graduation rates, the graduation rate of our Pell Grant students and class size," said Provost and Executive Vice President for Academic Affairs Sally McRorie. 
Florida State matched last year's 6-year graduation rate of 83 percent, outperforming its predicted 6-year graduation rate by 13 percentage points. The university ranked No. 12 among public universities when comparing the actual graduation rate against the predicted rate, which U.S. News calculates based on the university's resources and student profile. 
In addition, Florida State moved up to No. 15 among public universities for the graduation rate of students who receive a Pell Grant, a measure that drives the methodology's social mobility factor. The university improved by two points in the metric, posting an 81 percent graduation rate among Pell Grant recipients. 
"Student success is at the heart of FSU's mission," McRorie said. "Every day, our university community works to ensure that all of our students, regardless of their family background or income, can succeed and graduate at these very high rates."  
"Student success is at the heart of FSU's mission. Every day, our university community works to ensure that all of our students, regardless of their family background or income, can succeed and graduate at these very high rates." 
— Provost Sally McRorie 
FSU rose nine spots up to No. 13 in the class size metric. More than 60 percent of FSU's classes have fewer than 20 students, an improvement of more than 4 percent over last year.  
"We continue to make investments to ensure our students have a world-class learning experience, and reducing class sizes helps our students have engaging, active  classroom experiences," McRorie said. "It also makes it more likely that a faculty member may recognize a student's special talent and encourage that student. Long–term research shows that mentoring is the single–most important university factor that alumni attribute to their overall well–being, even 20 years after graduation." 
FSU also improved 2.3 points in the percentage of faculty with a terminal degree in their field. The university now ranks No. 18 among public universities in this category at 94.9 percent. 
"We are incredibly grateful for our outstanding faculty, whose commitment to excellence has helped to propel the university to these historic highs," McRorie said.   
This year, U.S. News changed its methodology, adding the new category of graduate indebtedness. While FSU performed well in this measure, the new calculation devalued another metric that the university excels in — undergraduate alumni giving. FSU increased two places to No. 5 in the nation in undergraduate alumni giving. 
FSU now shares the No. 19 spot with three other public universities — the University of Maryland at College Park, the University of Pittsburgh and the University of Washington.  
Also included in this year's U.S. News report were undergraduate business and engineering program rankings, which were based solely on peer assessments.  
Florida State's undergraduate business program moved up three places to No. 28 among public universities and six spots to No. 44 among all national universities.  
"We are extremely proud to be among the best business schools in the nation," said Michael Hartline, dean of the College of Business. "We are determined to continue our journey of preeminence by focusing on our highly recognizable points of distinction: outstanding faculty, rigorous programs and unparalleled student success." 
The FAMU-FSU College of Engineering vaulted 37 spots to No. 40 among public universities and 51 places to No. 69 among all national universities. 
"We are delighted that the quality and impact of our engineering education is increasingly recognized in these rankings," said J. Murray Gibson, dean of the FAMU-FSU College of Engineering. "I'm also proud that our student body, combined from two major universities, is uniquely diverse and is changing the face of engineering for future generations." 
Among all national universities, including private universities, FSU ranked 58th in the overall rankings. Syracuse University, a private institution, joined FSU, Maryland, Pitt and Washington at No. 58. The national universities category comprises 385 institutions (208 public, 175 private and 2 proprietary) that offer a wide range of undergraduate majors as well as master's and doctoral degrees. 
U.S. News & World Report determines its national university rankings based on these factors: graduation and retention rates (22 percent); undergraduate academic reputation, i.e. peer assessment (20 percent); faculty resources (20 percent); financial resources (10 percent); graduation rate performance (8 percent); student selectivity (7 percent); social mobility (5 percent); graduate indebtedness (5 percent); and alumni giving (3 percent).