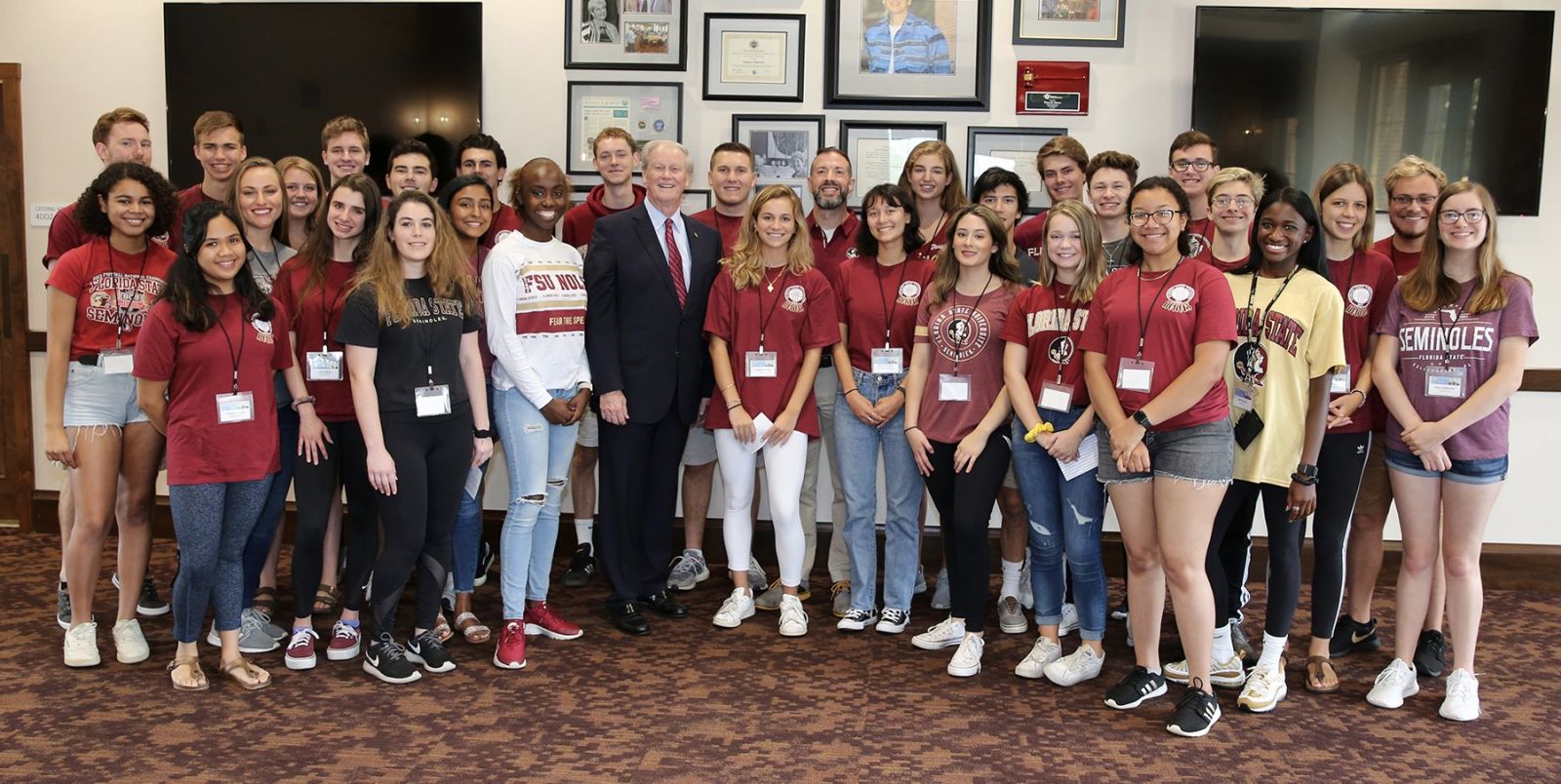 Welcome to Fall Semester!
Whether you are a freshman getting ready for your first college class or a longtime faculty member preparing to share your knowledge with students, there's never been a better time to be a part of the Florida State family!
Across the board, Florida State is enjoying unprecedented success. Our four-year graduation rate places FSU among the Top 10 public universities in the country and No. 1 in the state of Florida, FSU researchers received a record $233.6 million in funding in the 2019 fiscal year, and we're ranked No. 9 in the nation among public universities on Kiplinger's annual list of Best Values in Public Colleges.
As we start a new academic year, we're poised to build on this incredible momentum.
I'm thrilled to welcome the largest freshman class in university history, which also is one of the brightest and most diverse.
Our new students will get a taste of all FSU has to offer during Welcome FSU, a week of events that provides opportunities for them to connect to campus. We're excited to introduce some new events that reinforce FSU's traditions and resources, including the New Nole Pep Rally at Doak, the Transfer Leadership Institute and a Traditions Fest on Landis Green.
Already a national leader in student success, FSU is also expanding and adding programs that will enrich the student experience.
Our new freshmen will be the first class required to participate in experiential learning before graduation. Experiences such as internships, service learning, undergraduate research or international study can be transformational and improve academic performance and post-graduation outcomes. FSU is now the largest and most diverse university in the country to have such a requirement.
We're also launching the "More in Four" program for students who enter FSU with 20 hours of college credit. Advisers will encourage these students to consider completing their bachelor's degree in three years and using their fourth year to attain a master's degree or begin their careers. We want our students to get the most from their four-year experience at FSU!
Graduate students are an essential part of a top research university — they teach our students and assist our faculty with groundbreaking research, all while pursuing an advanced degree. I'm happy to report that this year's graduate student cohort will be our largest ever with more than 2,150 new students — a 6 percent increase over last year. With the help of our new grad students and postdocs, we can achieve even greater preeminence!
It's also my pleasure to extend a warm welcome to 125 new faculty members this fall! It was great to see a full house at New Faculty Orientation earlier this week, and I'm pleased to have this talented group join our accomplished educators and researchers, whose contributions keep Florida State on an upward trajectory.
As you look around this fall, you may notice some construction cranes on our beautiful campus. Our new Earth, Ocean, and Atmospheric Science (EOAS) building is wrapping up and set to open later this year. It will be great to bring the EOAS department together at one high-quality research facility. You'll also notice we're making good progress on the new Oglesby Union, which will be a state-of-the-art hub of campus activity when it opens in 2020.
Over the past few years, we've set a goal to be recognized among the Top 25 public universities in the country. We've made incredible progress by placing student success at the heart of our mission. I'm optimistic that we'll meet — and possibly exceed — our goal of the Top 25 in the near future.
With all of us working together, I know it will be another outstanding year at Florida State University, and I love to share all the amazing moments that I enjoy as FSU's president. I hope you'll follow me on Twitter @FSUPresThrasher or email me a note with your ideas and feedback.
Sincerely,
John Thrasher
President