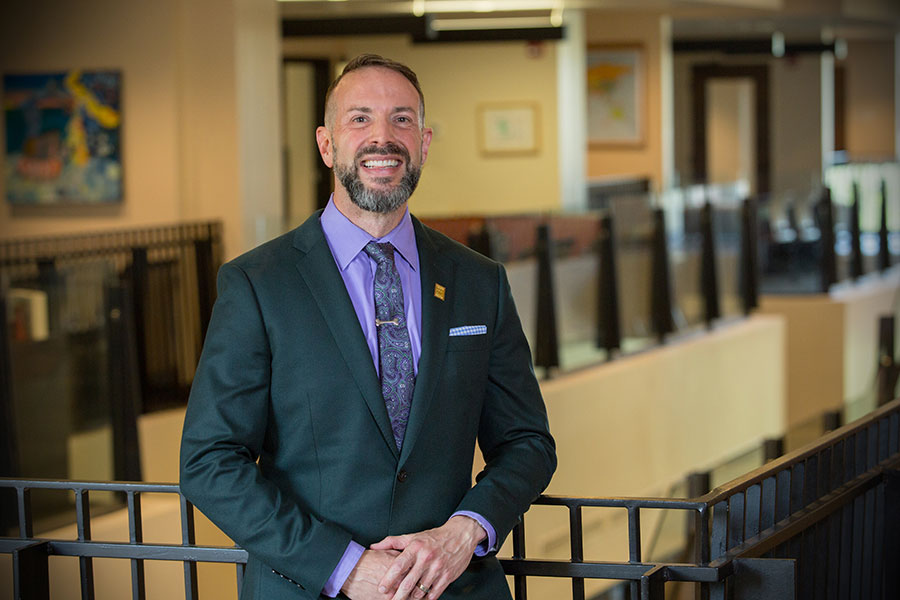 When Craig Filar first started as the director of Florida State University's Office of National Fellowships, he knew how competitive it is to win some of the nation's most prestigious awards. But that didn't stop him from encouraging FSU's high-achieving students from dreaming bigger.
Instead, he started likening his position at ONF to that of an athletics coach on campus.
"National championships are elusive, but you keep fighting for them," Filar said. "It doesn't mean you don't train hard for them."
Filar has guided thousands of students through the application process for more than 60 nationally competitive fellowships, but he still remembers his first day on the job more than a decade ago. The first student Filar worked with that day went on to win a Fulbright to study in Greece. They still stay in touch.
With the help of Filar and ONF, hundreds of Florida State students have won nationally competitive awards. Since 2005, FSU students have claimed three Rhodes scholarships, four Truman scholarships, five Pickering fellowships, three Payne fellowships, nine Goldwater scholarships, 20 Hollings scholarships and 104 Fulbright student scholarships.
But, for Filar, the wins have become almost secondary.
"The process that students go through of self-discovery, self-articulation and self-advocacy is so valuable that they can apply it in other ways," Filar said. "Every student can have a success story with an application whether they receive the award or not. That's what keeps us doing what we're doing, and we know there are more students on our campus we could serve."
Filar uses his own experience as an undergraduate to relate to students who are still finding their passion. A native of Tallahassee, Filar studied voice at Belmont University in Nashville — one of the most renowned music colleges in the nation. He immersed himself in campus life, becoming an orientation leader and participating in student government.
While he found there were better vocalists out there, he discovered a love for music theory and its great balance of left-brain, right-brain thinking and graduated with a dual degree in the two fields.
Eventually, Filar returned home to Tallahassee, where he earned master's and doctoral degrees from Florida State in music theory, but he didn't feel the pull to be a professor or researcher.
"I really wanted to teach but not necessarily just in the classroom and not necessarily just music students," Filar said. "Plus, I have an organizational brain, so the idea of administration — even though I wasn't sure what it meant yet — was very appealing to me."
After graduate school, he got a job working with biology students at FSU's Advising First and really enjoyed interacting with students along their academic journey. Filar then took a position as an associate director of the predecessor to the Center for Undergraduate Research and Academic Engagement. He wasn't there long before the opportunity to lead the Office of National Fellowships came along.
Through one-on-one mentoring and direct application assistance, the ONF helps students to identify and achieve their academic, public service, creative and leadership goals.
"From the beginning, I've taken the approach that this office can serve more students," Filar said. "This office should never seem inaccessible or out of reach for students. Rather, the world of fellowships is meant to challenge and inspire students and make more out of their time at the university, in the community and out in the world."
Under Filar's leadership, the office has grown exponentially, adding staff and promoting the office's services to a variety of populations and disciplines on campus.
"What we've done as an office over the past 10 years is really open the avenues to fellowship opportunities up to the students on our campus," said Filar, who also serves as associate dean of Undergraduate Studies. "There's more work to do, certainly, because there are students who walk by the Honors, Scholars and Fellows House and think this isn't the place for them. Our hope is that more students will stop by and explore our programs."
Now, Filar is taking that same approach as the new president of the professional organization, National Association of Fellowships Advisors (NAFA). As president, he is looking to expand the organization in terms of the types of institutions it serves to include more HBCUs and Hispanic-serving schools, as well as engineering-focused institutions, conservatories and art schools.
"It's still a relatively young organization, so now we're looking to build on our foundation," Filar said. "We want to expand into different areas and provide more professional development for our members. We're also looking into conducting peer-reviewed research about what our students are learning from engaging in the fellowship application process."
"Craig's distinctive combination of vision and enthusiasm to all of his work enables him to bring out the best in students," said Karen Laughlin, dean of Undergraduate Studies. "He inspires them to push themselves beyond their original expectations and fosters a creative community that deepens the experience of our top scholars. His embrace of the fellowship application process as a tool in student development has led to significant increases in fellowship awards and achievements for students of all backgrounds. Craig is already an invaluable asset to the National Association of Fellowships Advisors, and will contribute even more in this leadership role."
In addition to his work with fellowship applicants, Filar directs the Presidential Scholars, FSU's premier undergraduate merit scholarship program. In its sixth year, the program invests in undergraduate students who have the potential to be the transformational leaders of their generation.
The first five cohorts of Presidential Scholars have made an indelible mark on campus and in the community, whether it's been through developing new organizations such as the Academic Recruitment Organization (ARO) or working on social issues like human rights and food insecurity. This fall, 30 new scholars will join the program.
"They really want to make us proud that we picked them," Filar said. "They all come here with so much energy and want to do their best work, not only for the Presidential Scholars program but for the campus community. They want to show that our faith in their potential was well placed."
Filar relishes his work with some of Florida State's most high-achieving students, whether it is guiding them through a fellowship application process or mentoring emerging leaders.
"One of the real boons of this work — if I'm doing my job correctly — is a student's dream when they first arrive here is way too small for them when they're ready to graduate," Filar said.