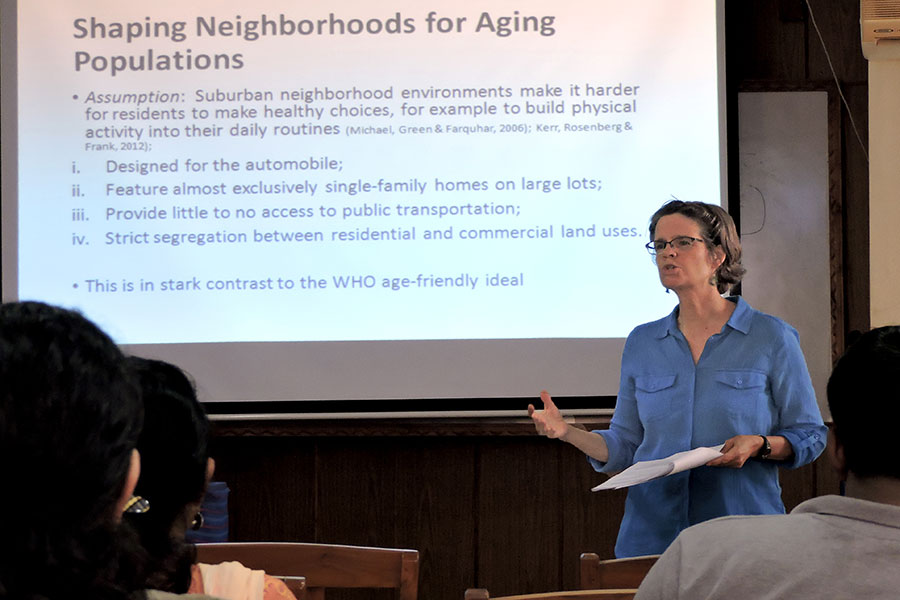 Policy Pub, the popular free public forum series presented by the Florida State University College of Social Sciences and Public Policy, returns for three new sessions this fall.
Faculty from the college will present brief talks on aging, government consolidation and the November midterm elections, followed by questions and discussion from the public.
The fall series kicks off with a talk by Professor Emerita Rebecca Miles, who retired this summer from FSU's Department of Urban and Regional Planning. Miles, who also has been an affiliate of the Pepper Institute on Aging and Public Policy, will present "Local Organizations Supporting Aging in Place: What Can We Learn?"
The event, which is free and open to the public, will take place at 5:30 p.m. Tuesday, Sept. 11, at Backwoods Bistro, 401 E. Tennessee St.
In 2016, Miles received a Fulbright-Nehru Academic and Professional Excellence Research Award to support her work in India, where she spent seven months examining innovative approaches developed to support the rapidly growing population of people 65 and over in the state of Kerala.
Miles' Policy Pub talk will look at aspects of the political, historical, socioeconomic and cultural contexts that help make the Elderly Inclusion Program work well in Kerala. She will explore how these positive approaches might be adapted in other places and what we can learn locally from the experience.
Policy Pubs take place in the relaxed atmosphere of Backwoods Bistro at the corner of Tennessee and Gadsden streets. Guests can enjoy food and drink from the menu while listening to and talking about the evening's topic. Those interested are advised to come early for the best parking and seats in the room.
The series continues Oct. 9 with a presentation by Sam Staley, director of the DeVoe Moore Center at the college. Staley's talk, "Is Bigger Better? Benefits and Pitfalls of Regionalizing Public Services," will give his perspective on how consolidating municipal and county government services, often seen as a positive step for cutting costs and increasing efficiency, works in practice. He will look at local government and explore when consolidation makes sense, when it doesn't and what path local communities can take to improve services and avoid busting local budgets.
The final session for fall Nov. 13 features a talk by Douglas Ahler, assistant professor of Political Science. He will present, "Unpacking the 2018 Midterm Elections: What Happened and What's Next?"
For more information about the Policy Pub series, call (850) 644-6284 or visit coss.fsu.edu.