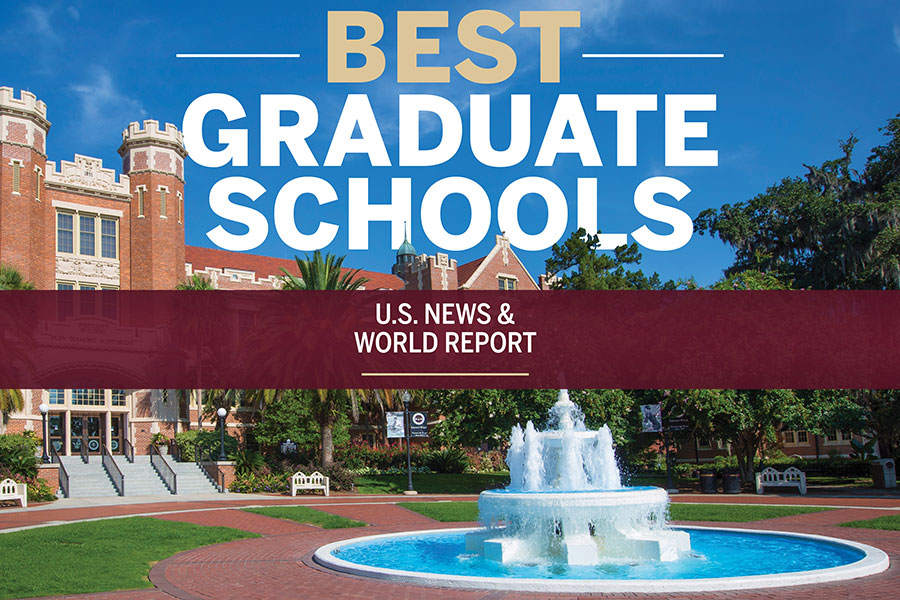 Florida State University's graduate and professional programs are on the rise, according to U.S. News & World Report's 2019 edition of "Best Graduate Schools."
FSU's graduate programs in criminology, business, law, education, nursing and engineering all made significant jumps in the publication's annual rankings, released March 20.
"These new rankings reflect Florida State University's ascent in national prominence as one of the top research institutions in the nation," said Sally McRorie, provost and executive vice president for Academic Affairs. "This is evidence of the excellence of our faculty and students across a breadth of disciplines."
Florida State's College of Criminology and Criminal Justice cracked the top 5 in the latest rankings, moving up two spots to No. 5 in the nation.
"We are pleased that our college continues to be recognized as a national and world leader in academic excellence with renowned faculty and highly gifted students," said Thomas G. Blomberg, dean of the College of Criminology and Criminal Justice and Sheldon L. Messinger Professor of Criminology.
The College of Law inched up one spot to No. 47 in the nation and held steady at No. 24 among public universities. Its environmental law specialty climbed four places to No. 10 on the list.
"We are thrilled that U.S. News continues to rank FSU among the nation's top law schools and that we continue to improve in these rankings," said Erin O'Connor, dean of the College of Law. "We also are delighted that the strength and robustness of our environmental program is reflected in the No. 10 ranking."
Florida State's part-time MBA program at the College of Business secured a spot among the Top 25 public universities nationwide. FSU's program ranks No. 44 overall, vaulting 27 places from last year's No. 71 position. Among public universities, FSU soared 19 spots to No. 25, up from No. 44 last year.
"This new ranking is a high mark for us and reflects progress on our path to preeminence," said Michael Hartline, dean of the College of Business. "We are incredibly fortunate to be able to recruit highly qualified candidates from the Tallahassee area for our evening, part-time MBA offering. We find part-time students enter our MBA program with substantial and varied work experiences that enrich classroom discussions and add to our faculty's rigorous instruction."
The College of Social Work's graduate programs remained at No. 38 in the latest national rankings and checked in at No. 25 among public universities.
"We are very pleased to maintain our ranking gains and remain first in Florida among social work graduate programs," said Jim Clark, dean of the College of Social Work. "The College of Social Work's faculty and staff are doing important work that is garnering national attention in education, research and service."
The College of Education's graduate programs jumped six spots to No. 46 nationally and rose to No. 35 among public universities.
"The College of Education is committed to providing our students with an outstanding educational experience that will prepare them to make a difference in tomorrow's generations," said Marcy Driscoll, dean of the College of Education. "We are thrilled to see evidence of this in our upward movement in the national rankings and aim to keep that momentum going."
The College of Nursing's master's and doctor of nursing practice programs continued on their upward trends in the rankings, leaping 37 spots and 15 places, respectively, to No. 66 on both lists. Among public institutions, FSU's master's program ranked No. 44, while the doctor of nursing practice program ascended to No. 45.
"I am delighted with the recent news that our graduate programs have moved up the 2019 U.S. News & World Report rankings," said Judith McFetridge-Durdle, dean of the College of Nursing. "Our MSN program ranking improved 35.9 percent, and our DNP program ranking improved 18.5 percent. Faculty can be credited with this recognition as they work very hard to bring innovation and relevance to our programs. Most importantly, we continue to be very proud of our 'Nole Nurses who strive to make a difference every day in the lives of others."
Other programs at Florida State also made significant improvements in this year's U.S. News graduate rankings. The FAMU-FSU College of Engineering climbed seven places, and the public finance and budgeting specialty in the public affairs category moved up eight spots to No. 15.
Each year, U.S. News ranks professional school programs in business, education, engineering, law, medicine and nursing, including specialties in each area. The Best Graduate Schools rankings in these areas are based on two types of data: expert opinions about program excellence and statistical indicators that measure the quality of a school's faculty, research and students. Beyond the six major disciplines ranked annually, U.S. News also periodically ranks programs in science, social sciences and humanities, health and many other areas based solely on academic experts' ratings.