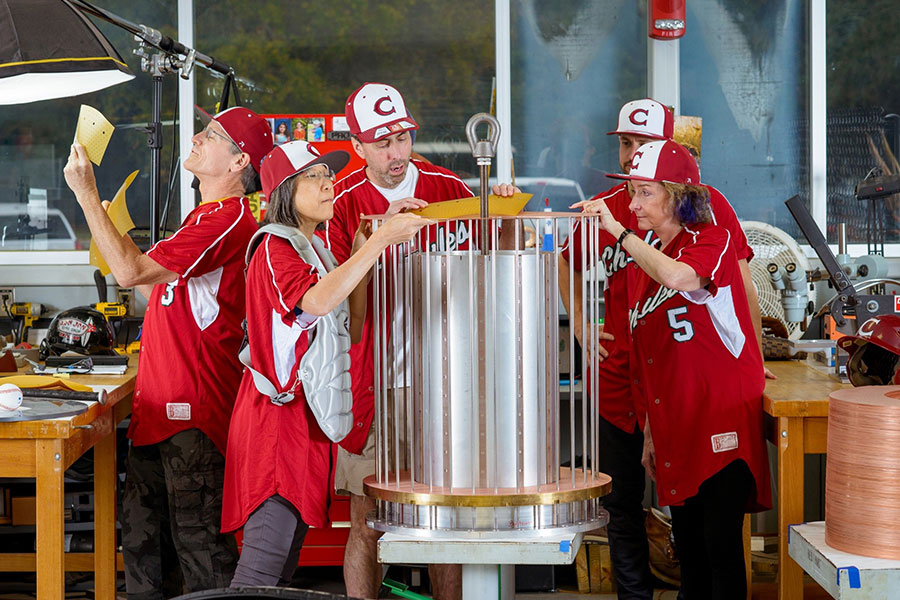 Some may see science and sports as unrelated, showcasing different people, skills and strengths. But they actually have a lot in common, as visitors to the Florida State University-headquartered National High Magnetic Field Laboratory's Open House will discover.
The "science of sports" is the theme of this year's event, and many of the hands-on demonstrations will play off that theme. The physics of leverage will be taught via rowing machines, inline skaters will demonstrate Newton's laws of motion and, by lifting weights, attendees can learn about mechanical advantage.
"You don't just find science in the laboratory," said MagLab Public Affairs Director Kristin Roberts, who organizes the free, yearly event. "Science is on the golf course, the football field, the basketball court and the slopes. Athletics involves tons of physics, sports medicine and even chemistry. That makes it a great gateway to science, technology, engineering and math."
The open house will take place from 10 a.m. to 3 p.m. Saturday, Feb. 24, at the National High Magnetic Field Laboratory, 1800 E. Paul Dirac Drive. 
Florida State University's Institute of Sports Sciences and Medicine will join the fun at the open house for the first time, showcasing tools that top athletes and trainers use to reach peak performance.
This year's visitors are encouraged to arrive in uniform, donning jerseys of teams they play on or root for. They can even challenge rival squads at the Open House Olympics, a special series of competitive demonstrations that measure who rows the fastest, who jumps the highest or who has the strongest grip.
Those who like a little drama with their sports won't want to miss the "Subatomic Smackdown." Performed in the shadow of the world's strongest magnet, the short play features four subatomic particles in a boxing ring, arguing over which is the most awesome of them all.  
Several of the MagLab's science neighbors will also open their doors to the public that day, including the FAMU-FSU College of Engineering, the High Performance Materials Institute, the Center for Advanced Power Systems, the Center for Ocean-Atmospheric Prediction Studies and the Florida Center for Advanced Aero-Propulsion. 
The event is free, but visitors are encouraged to bring a canned good to donate to Second Harvest of the Big Bend.
For more information, visit nationalmaglab.org/openhouse or follow the event on Facebook through @NationalMagLab.