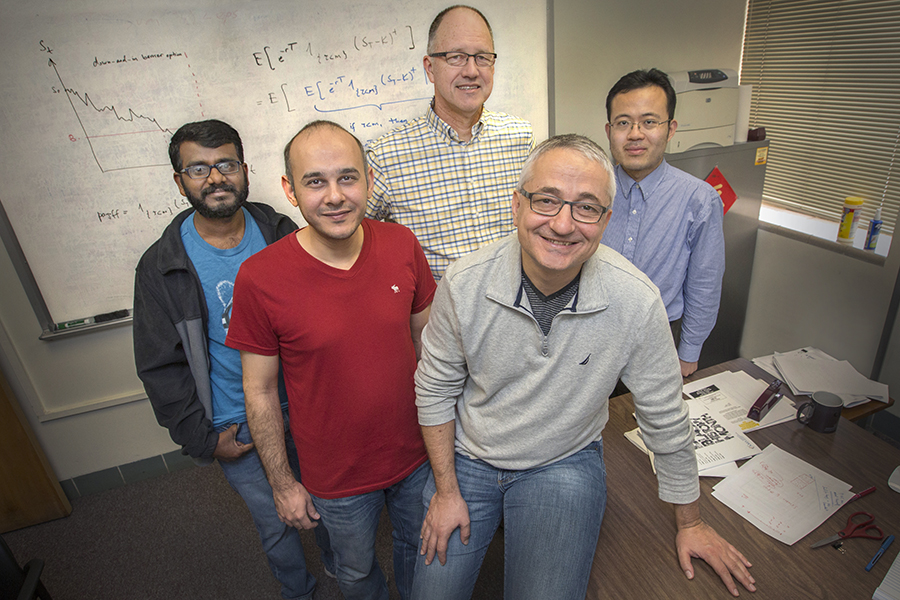 For the past two decades, Florida State University has been developing some of the nation's top financial leaders through its graduate program in financial mathematics.
FSU's Financial Mathematics Program is an integrative curriculum that offers coursework leading to master's and doctoral degrees. The program prepares students for careers in the financial services industry by equipping them with the knowledge to solve critical economic issues.
"Financial math students are trained for a professional career in the financial industry," said Sam Huckaba, dean of the College of Arts and Sciences and professor of mathematics. "The program merges mathematics and finance through coursework and seminars, leading to a degree that is both practical and theoretically sound."
The Master of Science program — one of the oldest in the nation — will celebrate its 20th year at its annual Quant Symposium, which will be held Feb. 16-17 at the Love Building. To commemorate the anniversary, this year's symposium will feature research presentations, a job panel and testimonials by alumni of FSU's Financial Mathematics Program.
"There are a lot of important alumni speaking at the symposium," said Giray Ökten, professor of mathematics. "This provides our graduate students with networking opportunities and gives them direct insight from distinguished professionals."
FSU financial math alumni will tackle some hot-button topics. Keynote speakers include Tim Lewkow, a 2013 master's graduate and co-founder and portfolio manager of Fractal, who will discuss Bitcoin, blockchain and the now widely engrossing field of cryptocurrency.
Florida State's program is well-respected in the eyes of leading financial companies. It's one of a handful of academic institutions that offers a doctoral degree devoted entirely to financial mathematics.
"Our graduates have established a strong presence at places like Wall Street," Ökten said. "We have at least one student working at every major bank in New York's financial district."
In addition, students have earned internships all over the globe at companies like Bloomberg, Southern Company, Barclays and Goldman Sachs.
The department features faculty from an array of disciplines, including mathematics, statistics, economics, computer science and risk management and insurance. This interdisciplinary approach gives students the rigorous mathematical training necessary to excel in their demanding new roles at major financial companies.
"We keep the coursework broad — this way students can choose to complete studies from a variety of areas while pursuing their graduate degrees," said Alec Kercheval, professor of mathematics and director of the Financial Math Program.
Graduates land jobs as quantitative analysts — or "quants" — in industry, as actuaries for the federal government and in faculty positions at universities.
"Our graduates have done very well, whether they joined private industry or have gone on to pursue Ph.D. work," Huckaba said.
For more information on the Financial Math Program, visit https://www.math.fsu.edu/finmath/.