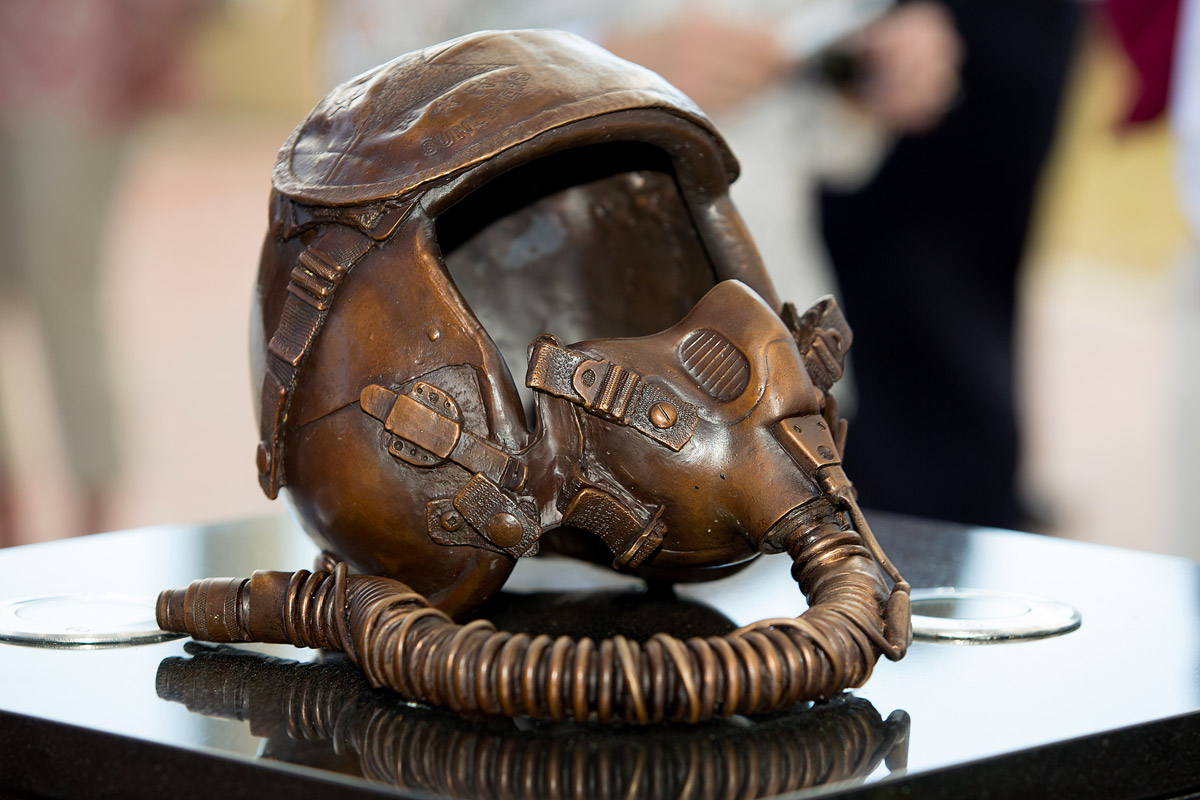 TALLAHASSEE, Fla. — The spirit of Scott Speicher, an FSU alumnus celebrated as a true American hero, is alive and well on the campus of Florida State University.
FSU President John Thrasher joined members of Speicher's family Friday to unveil a new memorial honoring the U.S. Navy pilot whose fighter jet was shot down on the first night of the Iraq War in 1991.
The memorial, located at the entrance of the tennis facility named after him in 1993, features a bronze pilot's helmet and eventually will include a bronze flight jacket and hat similar to what Speicher would have worn.
"It's important that future generations understand who he was and what he did for his country," Thrasher said. "Twenty-five years ago, we named this tennis center in his honor. Today, we continue to tell the story of Scott Speicher with the dedication of this beautiful memorial and plaza."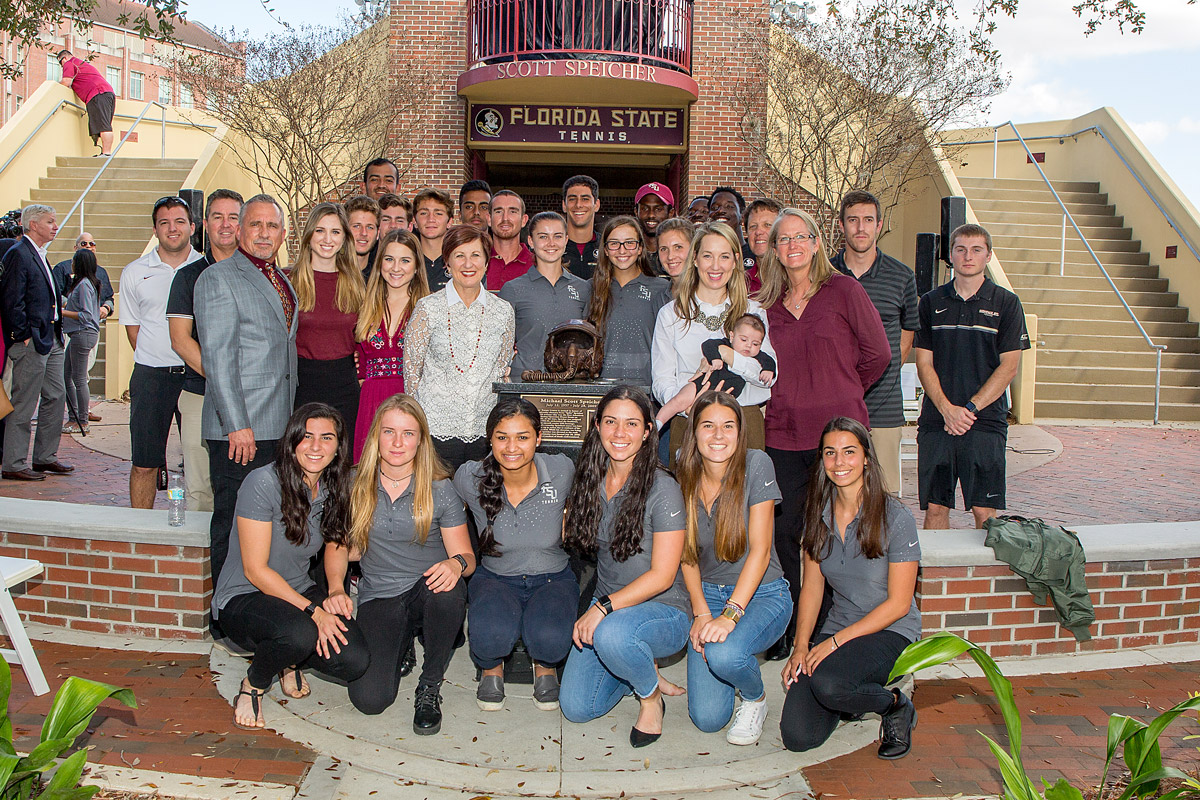 The story of Scott Speicher became an agonizing journey of twists and turns that continued for nearly 20 years because it was unclear if he was dead or alive.
On Jan. 17, 1991, as the United States launched Operation Desert Storm, Lt. Cmdr. Speicher was piloting his F/A-18 Hornet toward Baghdad in the pitch black of night around 3 a.m. as his aircraft carrier battle group, led by the USS Saratoga, fired tomahawk missiles into Iraq. His mission was to destroy a battery of surface-to-air missiles.

Speicher was within 45 seconds of his target when an enemy MiG-25 appeared and fired a missile that ripped off one of the wings on his jet. Witnesses saw a fireball in the sky and then about 20 seconds later, a huge explosion on the ground. It looked like Speicher was killed in the crash, and the U.S. military classified him as killed in action.
Years later, new evidence indicated Speicher had actually ejected from his jet around 13,000 feet. Satellite photos spotted the wreckage; the plane's canopy was located 1,400 yards away, indicating an ejection; and Speicher's status was changed to missing in action in 2001. It marked the first time in the history of the U.S. military that a soldier was reclassified from KIA to MIA. In 2002, he was promoted to the rank of captain.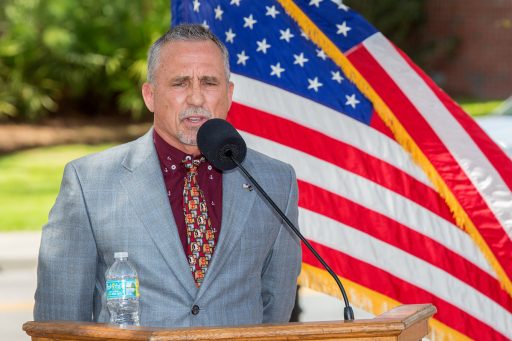 Speicher's remains were discovered in the Iraq desert west of Baghdad in 2009 — 18 years after his plane was shot down — and his case resulted in fundamental changes in the way the military handled cases of missing soldiers. Now, there must be proof of death before a search is called off; previously, that action would happen when there was no proof of life after 12 months.
Speicher's friend and fellow Navy pilot Buddy Harris, one of the speakers at the memorial unveiling, said the new military protocol is saving lives.
"That will continue to save lives, as long as we have conflicts, and he's brought back hundreds of veterans who've been repatriated," said Harris, who worked for years to change the military protocol. "That's his legacy along with his family, he'd be so proud of them. We all have the Speicher spirit, and we will continue that Speicher spirit forever."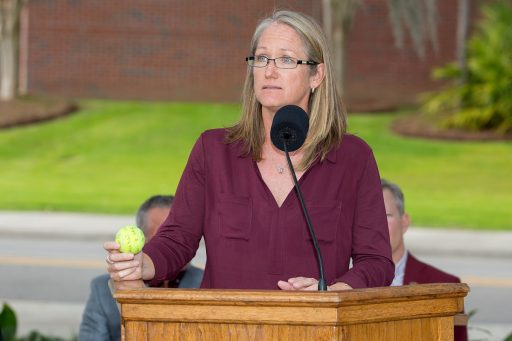 Jennifer Hyde, head women's tennis coach, appreciates that Speicher spirit. She first felt it 25 years ago when FSU dedicated its new tennis facility and named it the Scott Speicher Tennis Center. Hyde, a student-athlete in 1993, attended the ribbon cutting for the tennis center, and she was one of the tennis players to hit the first ball on the new courts.
On Friday, Hyde pulled out that same tennis ball at the ceremony, held it up to the crowd gathered there and said she developed over the years a new understanding and gratitude for Speicher's legacy.
"We are so honored and humbled that our facility, our home for student-athletes and student-veterans, is built upon the bravery and uncompromising spirit of Scott Speicher and his legacy," Hyde said. "Our tennis programs will continue to do our very best to honor Scott, his service, his sacrifice, and most importantly, his family to the absolute best of our ability."
The memorial project was a collaboration between FSU's Grounds and Landscape Operations, Master Craftsman Studio, Mad Dog Construction and Student Veterans Center.
Billy Francis, director of FSU's Student Veterans Center, said just as members of the military come from all backgrounds and unite in a common purpose to safeguard freedom, he believes the Speicher Memorial will spur the same kind of response.
"It is my hope that this memorial will inspire all of us to come together to care for each other to the point of sacrifice — one for the other — together," Francis said.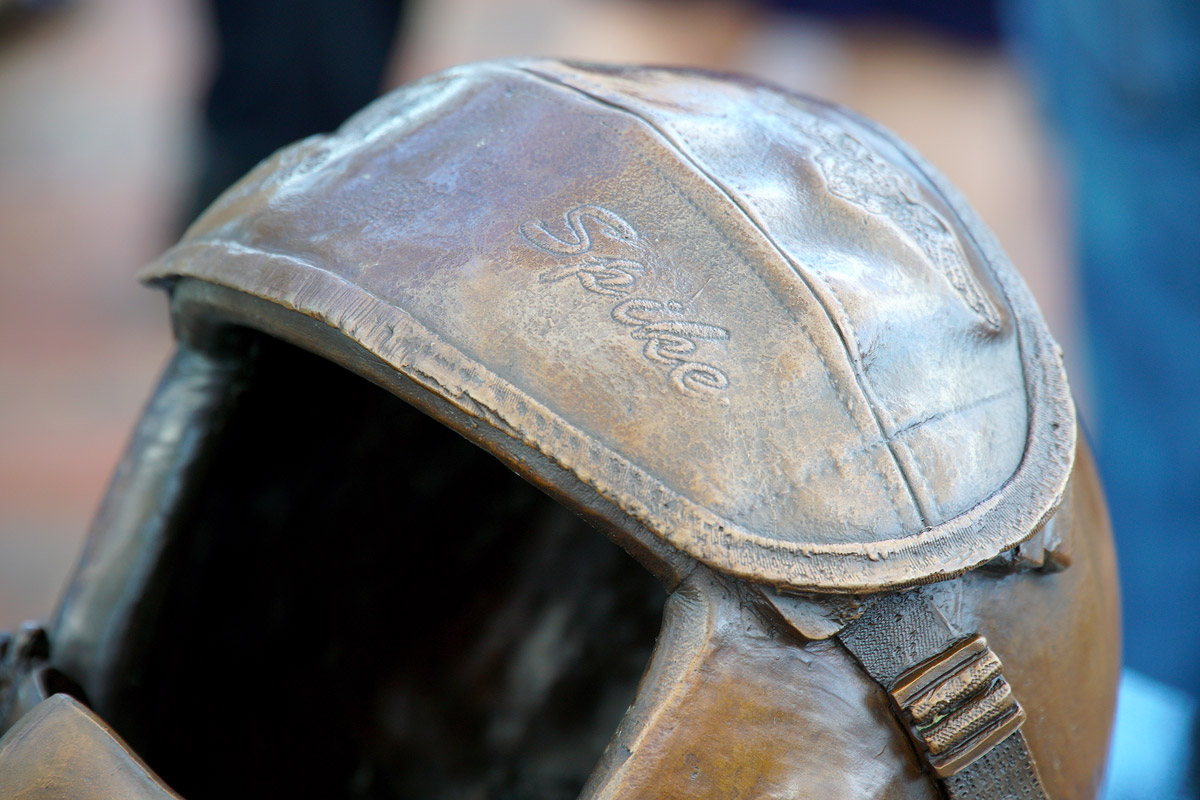 The memorial unveiling was held as part of Military Appreciation Weekend hosted by FSU Women's Tennis. The women's team plays Air Force at noon Saturday, and in a show of support for Speicher's memory and his family, members of the Air Force tennis team turned out to participate in Friday's ceremony.