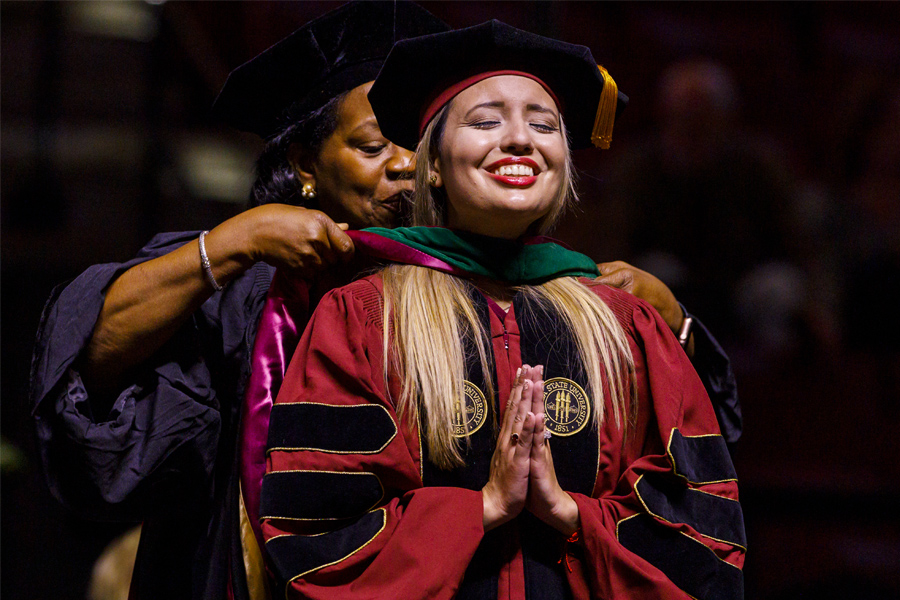 Gathered again for the first time since they began clinical rotations two years ago, the M.D. Class of 2021 on Sunday afternoon embraced the achievement of becoming a physician while navigating an extraordinary time in world history.
As class president Brian Day noted: "Graduating from medical school under any circumstances is nothing short of a monumental accomplishment."
Doing so during a pandemic that knocked students from the clinical setting for an extended period, from doing elective rotations at hospitals with residency programs of interest, from in-person residency interviews, and with an often surreal sense of uncertainty in everyday encounters made the accomplishment all the more remarkable.
Day said it made the class stronger.
"I encourage all my classmates to continue to be exceptional," he said. "Continue to be leaders in your field and to set new precedents in health care. Continue to advocate for your patients as you have during the past four years. The passion you have demonstrated for your fellow man cannot be taught. Nourish this passion, and it will guide you to be the outstanding physicians that your patients deserve."
That the class was together again was in itself remarkable. Less than three months ago, Florida State University was planning for all spring commencement ceremonies to be done virtually — just as they were in 2020.
But as vaccines for the COVID-19 virus were becoming more readily available and infection rates were leveling off, the potential for doing a socially distanced in-person graduation ceremony gained traction.
The ceremony was moved from its traditional and intimate setting at Ruby Diamond Concert Hall (capacity: 1,200) to the Donald L. Tucker Center (capacity: 12,100). Fourteen members of the 119-person graduating class did not attend, many of them having made plans before word got out that an in-person event would be possible.
Jason Rivera, for example, completed a 27-hour drive to Denver to settle in before starting a family medicine residency program. He arrived in time to watch his classmates on the live webcast.
Inside the ceremony, the sights and sounds were a little different from usual. With about 1,000 spectators spread throughout the arena, the shouts of encouragement and joy sometimes had trouble reaching their intended target. The joy, however, was unmistakable.
And the commencement speech from 2017 graduate Dr. Myron Rolle had no trouble reaching its audience.
Rolle, a fourth-year resident in neurosurgery at Harvard Medical School — and former star football player at Florida State — described how he was able to transition to caring for COVID patients at the height of the pandemic. He said he did what he was taught as an FSU medical student.
Elective surgery cases at Massachusetts General were postponed or canceled and there was no neurosurgery to be involved in for Rolle and his fellow residents. So, he volunteered to work in a surge clinic within the hospital to handle a flood of infected patients coming in from Boston, Vermont, Maine, New Hampshire, Rhode Island and Connecticut.
"They needed manpower; they needed foot soldiers," Rolle said. "And I said, 'Man, I haven't learned about coronavirus; I don't know infectious disease; I don't know how this works. I know meningiomas, I know spinal deformities.
"But I did know about this — because, like you, I was holistically taught right here at this school — to be a medical doctor first. How do you take care of a patient? How do you learn on the fly? How do you listen to your attendings? How do you listen to your lectures? How do you read journal articles? You can be expedited in your learning curve and you can be a valuable contributor to the fight. I just wanted to be a member of the fight.
"And in a situation where you have to be a medical doctor first, lean into that. You've been taught that. You've been trained. That's been hard-wired into your mind. It's part of this curriculum. It's a valuable thing, and I'm a testament that it is true."
Like College of Medicine Dean John P. Fogarty, Rolle thanked FSU President John Thrasher for his leadership. Sunday's commencement was the last medical school graduation for the retiring president, who helped make the college possible when the legislation creating the college passed in 2000 while Thrasher was Speaker of the House. His name is on the administration building at the central campus.
"His support has made the College of Medicine what it is today," Fogarty said, also noting that Thrasher was responsible for making the decision to allow a return to in-person graduation ceremonies at Florida State.
Also graduating on Sunday were 13 students with the master's degree Bridge to Clinical Medicine. They each will become part of the M.D. Class of 2025, which begins on June 1. Among the 119 graduating doctors were 12 students who came through the Bridge Program, designed to increase the number of medical students and physicians from underserved and rural communities. Research has shown such students are more likely to choose to practice in medically underserved areas where more doctors are needed.
Fogarty boasted about the Class of 2021's performance, including a 100% pass rate on the United States Medical Licensing Exam Step 2 Clinical Knowledge. He noted that the class had a remarkable 245 average on the exam, with 70% of the class scoring 240 or above out of a total possible score of 300.
"While those scores may not mean much to the majority of the audience, you know what they mean," he said. "It's clearly no surprise that you matched at outstanding residency programs."
The College of Medicine, which graduated its first class of 27 students in 2005, now has 1,601 M.D. alumni.
"Our prior graduates established a fine legacy and reputation for FSU," Fogarty said. "People will know where you are from and expect great things from you. You are patient-centered, exemplary graduates who are caring, and responsible new physicians. What I like most is that you are also genuinely nice people.
"From this point forward, you take on a new identity as physicians, but you carry with you the mission, vision, values and culture of service of your medical school. You are now what we hoped you would be.
"We expect you to stay involved in your communities and care for the special populations embedded in our mission. Your lives will be enriched as you improve the lives of others. We expect great things from you and look forward to following you on your journey. I am very proud of each and every one of you. Congratulations Class of 2021!"
Watch the replay — Class of 2021 commencement ceremony
Class of 2021 graduates recognized for outstanding achievements