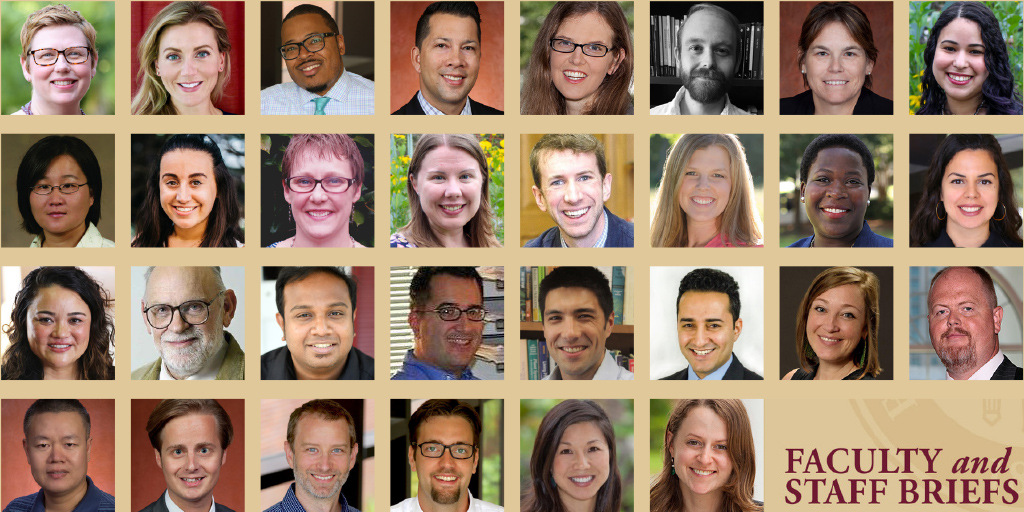 HONORS AND AWARDS
Hans Hassell, Ph.D. (Political Science) and a co-author won the Beryl A. Radin Best Article Award for their paper "When Your Group Fails: The Effect of Race-Based Performance Signals on Citizen Voice and Exit." The award was presented by the Public Management Research Association for the best work published in the Journal of Public Administration Research and Theory in 2019.
Christopher Reenock, Ph.D. (Political Science) won the annual Herbert Kaufman Best Paper Award from the American Political Science Association Section on Public Administration. The paper, "Chain of Command vs. Who's in Command: Structure, Politics and Regulatory Outputs," was co-authored by Matt Uttermark, a recent FSU political science Ph.D. graduate now with the State University of New York at Binghamton.
Lisa Schelbe, Ph.D. (Social Work) and co-authors received an award from The National Foundation to End Child Abuse and Neglect for their paper "Bridging the Gaps between Research, Policy and Practice in the Field of Child Maltreatment through Cross-Sector Training and Innovation." The award recognized their paper as a "disruption paper," which presents an innovative strategy for child maltreatment prevention in the area of training. The paper will be published in an upcoming issue of the International Journal on Child Maltreatment: Research, Policy and Practice.
Carla Laroche, J.D. (Law) is the director of the FSU Public Interest Law Center Gender and Family Justice Clinic, which recently received an Honorable Mention for Excellence in a Public Interest Case or Project from the Clinical Legal Education Association for its advocacy on voting rights restoration of returning citizens convicted of felony offenses.
Gang Wang, Ph.D. (Business) accepted an invitation to join the editorial board for Group & Organization Management.
Lara Perez-Felkner, Ph.D. (Education) received a certificate of achievement from New Directions for Institutional Research for her article, "Conceptualizing the Field: Higher Education Research on STEM Gender Gap," being among the top 10 percent downloaded papers.
Toby Park-Gaghan, Ph.D. (Education) received the Outstanding Reviewer for Educational Researcher award for 2019 from the American Educational Research Association (AERA). AERA is a nonprofit organization serving the field of educational research and promotes best practices on the use of research in practice.
---
GRANTS
Weikuan Yu, Ph.D. (Computer Science) has been awarded a grant of $300,000 from the National Science Foundation for the project "IRES Track-1: I/O Research for Data-Intensive Analytics and Deep Learning," which sponsors an international collaboration between Florida State University and the RIKEN Center for Computational Science of Japan. Yu also received two grants in the amounts of $72,000 and $74,000 from Lawrence Livermore National Laboratory.
Shayok Chakraborty, Ph.D. (Computer Science) received an Amazon Research Award grant for his project "Deep Active Learning with Relative Label Feedback." He also received the prestigious AWS Machine Learning Research Award grant for his project "Active Learning with Imperfect Oracles.". Both projects involve active learning algorithms to automatically identify the salient and exemplar instances from large amounts of unlabeled data, tremendously reducing human effort.
---
BYLINES
Krystal Thomas, M.S.I. and Keila Zayas Ruiz, M.L.I.S. (University Libraries) co-authored the article, "Local to Global: Community Digitization Partnerships at FSU Libraries," which was published in the latest issue of the Florida Libraries Journal.
Thomas Smith, Ph.D. (Social Work) is publishing two books titled "Developing a Private Practice" and "Money and Marriage."
Stephanie Pau, Ph.D. (Geography), doctoral student Nicole Zampieri (Geography) and Daniel Okamoto, Ph.D. (Biological Science) published a study in Scientific Reports on the impact of Hurricane Michael on longleaf pine habitats in Florida. The research found that at least 28 percent of the global total remaining extent of the longleaf pine ecosystem was affected in Florida alone.
Hannah Wiseman, J.D. (Law) authored a piece for Bloomberg Law titled, "Insight: Deregulating and Regulating to Address the Climate Crisis."
Mary Ziegler, J.D. (Law) co-authored an op-ed for Newsweek titled, "COVID-19 Abortion Bans Could Have Alarming Effects Far Beyond Crisis." Her book, "Abortion and the Law in America: Roe v. Wade to the Present," was reviewed by The Washington Post in a piece titled, "The Long Fight for Reproductive Rights is Only Getting Harder."
Pamela Perrewe, Ph.D., Darren Brooks, Ph.D., Gang Wang, Ph.D. (Business) and FSU alumni Charn McAllister, Ph.D. and D.J. Steffensen, Ph.D. had their article "How to Cope with That 'Always-On' Feeling" published in Harvard Business Review.
Elizabeth A. Cecil, Ph.D. (Religion) published her latest book "Mapping the Pāśupata Landscape. Narrative, Place, and the Śaiva Imaginary in Early Medieval North India," which explores ties between early communities and the locales in which they were embedded and reflects critically upon community building and place-making in Early Medieval India.
Lyndsay Jenkins, Ph.D. (Education) published the article "Bystander Intervention in Bullying: Differences Across Latent Profiles" in the International Journal of Bullying Prevention. The article examines latent profiles of bullying and participating in bullying in the context of the five-step bystander intervention model.
Alysia Roehrig, Ph.D. (Education), along with doctoral student Makana Craig, published the article "Motivating Diverse Learners Using Culturally Relevant & Responsive Education," in the American Psychological Association Division 15, Educational Psychology as a practice brief.
Kathleen Clark, Ph.D. (Education) co-authored the article "Developing Mathematical Knowledge for Teaching Teachers: Potentials of History of Mathematics in Teacher Educator Training," which appears in the Journal of Mathematics Teacher Education.
Nancy Gerber, Ph.D. (Art Therapy) was part of a team that co-authored the article "Arts-Based Research in the Social and Health Sciences: Pushing for Change with an Interdisciplinary Global Arts-based Research Initiative," published in the journal Forum: Qualitative Social Research, Vol 21, No. 2.
Kelley G. Robinson (Interior Design) authored "How Will Our Spaces Change as We Continue to Practice Social Distancing?" published in the May 2020 issue of the magazine Interiors + Sources.
Mostafa Papi, Ph.D. and Phil Hiver, Ph.D. (Education) published an article titled "Language Learning Motivation as a Complex Dynamic System: A Global Perspective of Truth, Control, and Value" in the Modern Language Journal, the top journal in the field of second language acquisition.
Tim Baghurst, Ph.D. (Education) published his article "Integrating the Functional Movement Screen ® into Strength and Conditioning Programs," in the journal Scholarship in Kinesiology. He also published an article in the Journal of Sports Medicine and Physical Fitness, titled "Muscular Morphological Adaptations of Two Whole-Body High Intensity Interval Training (HIIT) Configurations."
Veronica Fleury, Ph.D. (Education) had her research featured by the Institute of Education Sciences (IES). Fleury is a National Center for Special Education Research (NCSER) grant recipient. The IES shared her research on "Engaging Children with Autism in Shared Book Reading: Strategies for Parents."
Graig Chow, Ph.D. and Yanyun Yang, Ph.D. (Education) published an article titled "College Students' Attitudes, Stigma, and Intentions Toward Seeking Online and Face-To-Face Counseling," in the Journal of Clinical Psychology. FSU alumnus Matthew D. Bird (Sport Psychology Ph.D. '18) was also an author on the article.
Amy Ai, Ph.D. (Social Work) co-authored the study "Assessing Spirituality in a Diversified World," published in the book series "Religion, Spirituality and Health: A Social Scientific Approach" by Springer International Publishing AG.
Eileen Cormier, Ph.D., RN (Nursing) had the article "eMental Health Literacy and Knowledge of Common Child Mental Health Disorders Among Parents of Preschoolers" recently accepted for publication in the journal Issues in Mental Health Nursing.
---
PRESENTATIONS, CONFERENCES AND EXHIBITS
Jake Linford, J.D. (Law) the lead author on an amicus brief before the U.S. Supreme Court in the dispute between the U.S. Patent and Trademark Office and Booking.com over the protectability of the latter as a trademark, participated in a virtual panel of trademark experts hosted by American University Washington College of Law. The panelists recapped the Supreme Court's oral arguments, which were held via teleconference earlier that day.
Laura McTighe, Ph.D. (Religion) was a panelist for "Past as Prologue: Storytelling about Resistance to the Brutality of Incarceration," a national webinar on conditions of confinement during COVID, co-sponsored by Survived and Punished NY and the Barnard Center for Research on Women.
Sabrina L. Dickey, Ph.D., MSN, RN (Nursing) presented in the FSU Diversity and Inclusion in Research and Teaching Organization (DIRECTO) Conversation #3: Identifying Diversity, Practicing Inclusion held on May 20 via Zoom. The title of her presentation was "Now that We Have Diversity, Where is the Inclusion?"
Frankie Wong, Ph.D. (Nursing) presented in University of Florida's virtual Our Community, Our Health (OCOH) town hall panel discussion, hosted by UF Health Street, entitled "The Future of HIV Treatments & Care."
Erik Hines, Ph.D. (Education) appeared on episode seven of the podcast "Thoughts From A Counselor." In the episode, Hines discusses his thoughts about mentorship.
---
SERVICE
Thomas Smith, Ph.D. (Social Work) was named interim clinical director for the Honey Lake Clinic in Greenville, Florida.
---
NOTABLE
Thomas A. Lipo, Ph.D. (Engineering) passed away Friday, May 8, 2020, at his home in Middleton, Wisconsin. He was a pioneer in the field of electrical machines, power electronics and machine drives and his prolific 50-year career spanned nearly the complete history of modern solid-state adjustable-speed motor drives to date. Lipo worked at the Center for Advanced Power Systems (CAPS) at the university for several years before becoming a full-time research faculty member in 2015. He was a renowned academic in the technical field of solid-state AC motor drives and holds over 65 domestic and foreign patents. He was inducted in the Florida Inventors Hall of Fame in 2019.
John Nance, a postdoctoral research fellow in the English department, is the subject of a new article in The Guardian (London) on "The Taming of the Shrew." Nance's work confirms that Shakespeare did not write the whole play, which has been suspected for centuries, but impossible to test until recently. The article also calls attention to Nance's chapter in "Early Shakespeare, 1588-1594" a collection of essays published this month by Cambridge University Press.