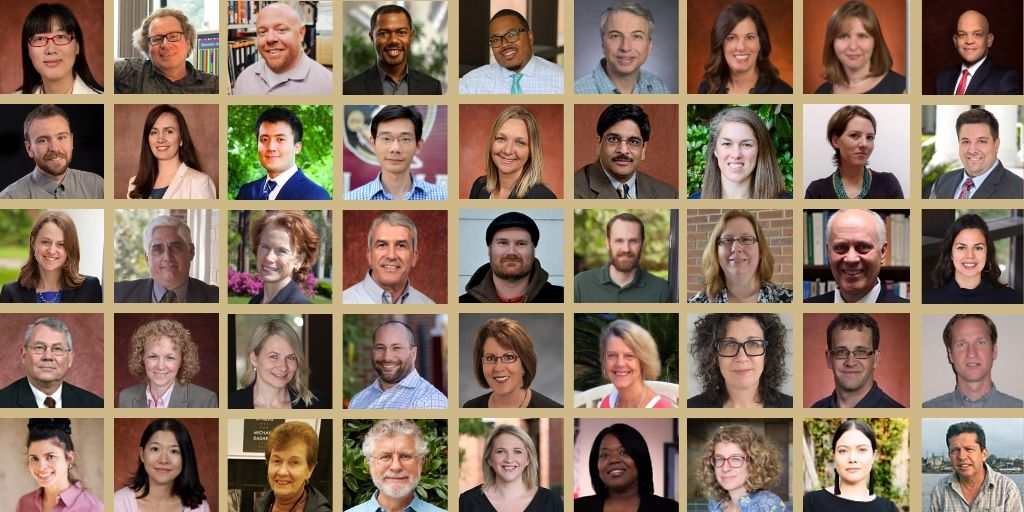 HONORS AND AWARDS
Kerry Fang, Ph.D. (Social Sciences and Public Policy) received the Lincoln Institute China Program International Fellowship. She and a colleague will use the fellowship to conduct research on "Land Tenure" and "Health of Children: Evidence from Rural China."
Peter Beerli, Ph.D. (Scientific Computing) was named a fellow of the American Association for the Advancement of Science, a lifetime distinction that honors contributions to science and technology.
Renaine Julian, M.L.I.S. (FSU Libraries) was awarded third place in the Hypothesis Research Training Quality Awards from the Medical Library Association, along with a team of five scholars from other institutions. The project, "Creating a Campus-Wide Research Data Services Committee," covers how academic libraries are taking the lead in developing cross-campus collaborations in establishing research data committees to spearhead institutional efforts related to data stewardship and digital projects.
Geneva Scott-King, DNP-FNP-C (Nursing) was recently named Woman of the Year by Lambda Xi Omega Chapter of Alpha Kappa Alpha Sorority Inc in Thomasville, Georgia. She also received the Alpha Kappa Alpha Angie Onianwa Community Advocate Award.
Thomas Smith, Ph.D. and Pamela Valentine, Ph.D. (Social Work) recently received a "Best of Tallahassee" 2019 award from Tallahassee Magazine in the category of Counseling/Therapy for the work they are doing at Crossroads Counseling and Wellness.
Cameron Beatty, Ph.D. (Education) was inducted into the Martin Luther King, Jr. Collegium of Scholars at Morehouse College, King's alma mater. The Collegium of Scholars consists of academics, scholars and professors whose research, writing, teaching and mentoring across a variety of disciplines promote and support advancement toward peace through moral responsibility. Beatty will be inducted into the Collegium in March.
Russell Clayton, Ph.D. (Communication) has been named an Emerging Scholar by the Association for Education in Journalism and Mass Communication (AEJMC). As one of four Emerging Scholars selected, he will be recognized and presented the award at the AEJMC annual conference in San Francisco in August 2020.
Chad Marzen, J.D. (Business) received the Professional Scholarship Award from the American Agricultural Law Association (AALA) at the association's annual meeting in November 2019. He was recognized for excellence in scholarly writing for his "Statutes of Limitations and Crop Insurance," which was published in the Syracuse Law Review in 2019.
Erik Hines, Ph.D. (Education) was chosen as a recipient of a 2020 American Counseling Association (ACA) Fellows Award. The award is the highest honor given by the ACA and recognizes significant contributions to the profession of counseling. Hines will be recognized at an award ceremony that takes place at the ACA 2020 Conference & Expo in San Diego in April.
Bayard Stern (University Communications) won bronze in the Council for Advancement and Support of Education (CASE) District III Awards' category of Social Media Strategy and Execution for the project "Fill in the Blanks" Interactive Instagram stories. Intern Alejandra Betanco assisted in producing the content.
Jill Elish (University Communications) won bronze in the Council for Advancement and Support of Education (CASE) District III Awards' category of Speech Writing for "The Fierce Urgency of Now," a speech delivered by President John Thrasher at the 2019 Tallahassee NAACP Martin Luther King Jr. Commemorative Breakfast.
Kathleen Haughney (University Communications) won bronze in the Council for Advancement and Support of Education (CASE) District III Awards' category of Writing for the Media for her article "Late night snacker? Make it cottage cheese."
Florida State University won gold in the Council for Advancement and Support of Education (CASE) District III Awards' category of Fundraising Video for "The History of Care," co-produced by the FSU Foundation and Mark Vaughn (University Communications). Ryan Ruditz (University Communications) shot and edited the video.
---
BYLINES
Rachel Fendler, Ph.D. (Art Education), published an article in a recent issue of Studies in Art Education. Her article, "Desire Paths: A Written Reflection with Preservice Students in the Eventful Space of Learning" discusses a project she conducted with FSU students that problematized expectations about teaching and learning in the art room.
Michael Morley, J.D. (Law) re-published "Money, Politics and Justice Anthony Kennedy: Revisiting Citizens United," by Salon. The piece was originally published by The Conversation.
Paul Renfro, (History) published an article in Jacobin titled "Pete Buttigieg's Elite-Friendly Politics Won't Help the Marginalized." The article was also translated into German and published as "Pete Buttigieg: Progressiv und neoliberal," in Blätter für deutsche und international.
Mary Ziegler, J.D. (Law) was quoted in the Daily News article, "Abortion Battle Enters Into Some New Territory," the NPR piece, "Roe v. Wade: Settled Law Or Bad Precedent? States Prep For an Overturn," the Newsweek piece, "Today America Marks the 47th Anniversary of Roe v. Wade, but Experts Warn the Supreme Court Ruling might not Make it to 50," the Washington Post article, "Trump Headlines March for Life Rally in Washington, Bringing Crowds and Extra Security to the Mall." She also authored the Washington Post piece, "Both sides in the abortion fight now claim to be for women's equality," published Jan. 24, 2020.
Katie Berry, M.S.W., Stephanie Kennedy, Ph.D. and Stephen Tripodi, Ph.D. (Social Work), along with colleagues from the University of Connecticut and the University of Iowa, co-authored the paper "The Intersectional Effects of Race and Gender on Time to Reincarceration," which was published in Justice Quarterly.
Matthew Goff, Ph.D. (Religion) co-edited a book released this month called the "Wiley Blackwell Companion to Wisdom Literature."
Jeffrey Ayala Milligan, Ph.D. (Learning Systems Institute) published the second edition of his book, "Islamic Identity, Postcoloniality and Educational Policy: Schooling and Ethno-Religious Conflict in the Southern Philippines."
Irene Padavic, Ph.D. (Sociology) published her research "Explaining the Persistence of Gender Inequality: The Work-family Narrative as a Social Defense against the 24/7 Work Culture" in the journal Administrative Science Quarterly. Padavic and a co-author wrote a popular press article about the research for the March-April 2020 issue of the Harvard Business Review.
Ithel Jones, Ed.D. (Education) published two new books, "Critical Issues in Early Childhood Teacher Education: Volume 1 U.S. Perspectives" and "Critical Issues in Early Childhood Teacher Education: Volume 2 International Perspectives."
Tyler McCreary, Ph.D. (Geography) along with former FSU Geography faculty member Mary Lawhon, Ph.D., co-authored "Beyond Jobs vs Environment: On the Potential of Universal Basic Income to Reconfigure Environmental Politics," published in the journal Antipode. In light of the central tension between creating jobs and protecting the environment, the authors argue that a Universal Basic Income — the public provision of every individual with enough money to meet their basic needs — can transform contemporary environmental politics.
Mike Duncan, Ph.D. (Urban and Regional Planning) co-authored a paper on "Associations Among Distance, Quality, and Safety When Walking from a Park-and-Ride Facility to the Transit Station in the Twin Cities" for the Journal of Planning Education and Research. The study examines the tolerance of users walking from park-and-ride facilities to transit stations, in light of the interest among municipalities to move the facilities and leave space for development.
Kathleen Krach, Ph.D. (Education) published the article "Can Video Games be Used as a Stealth Assessment of Aggression? A Criterion-Related Validity Study" in the International Journal of Gaming and Computer-Mediated Simulations. Krach also published the article, "Can Computers Teach Social Skills to Children? Examining the Efficacy of 'The Social Express' with an African American Sample" in the Journal of Contemporary School Psychology.
Elwood Carlson, Ph.D. (Sociology) co-edited the book, "Comparative Demography of the Syrian Diaspora" (Springer Publishers, European Studies of Population Series, Volume 20). He and co-author Nathalie Williams also contributed two chapters: "Conceptualizing the Syrian Refugee Crisis and Migration during Armed Conflict" and "Demographic Comparisons of Syrian Populations."
Lara Perez-Felkner, Ph.D. (Education) guest-edited the first of two special issues published in the International Journal for Gender, Science and Technology, on the topic "Reimagining Who Does STEM" in January 2020. Perez-Felkner also published an editorial, "Surpassing STEM's Gender Limitations: Structures, Interventions and Systems Change."
Sue Titus Reid, Ph.D. (Askew School) published her 39th undergraduate text, "A Basic Introduction to Criminal Justice," published by Wolters Klewer.
Bruce Thyer, Ph.D. (Social Work) co-authored "Combat Veterans with Polytrauma and Traumatic Brain Injury: Exploring Variables Affecting Access to Social Work Outpatient Services," which has been accepted for publication in the journal Traumatology.
Sandra Lewis, Ph.D. (Education) wrote the chapter "Students with visual impairments," which appears in the book "Exceptional Lives; Practice, Progress & Dignity in Today's Schools."
Wayne Hochwarter, Ph.D. and doctoral student John Arnold (Business) published an article in the Harvard Business Review. The article summarizes a forthcoming study in the Journal of Applied Psychology discussing the best practices of optimism between co-workers and the benefits that come with it.
Shannon Hall-Mills, Ph.D. (Communication Science & Disorders) published the article "A Comparison of the Prevalence Rates of Language Impairment Before and After Response-to-Intervention Implementation" in the journal Language Speech and Hearing Services in Schools.
Gerald Ferris, Ph.D., Pamela Perrewé, Ph.D. and Darren Brooks, Ph.D. (Business) co-authored "Extending the metatheoretical framework of social/political influence to leadership: Political skill effects on situational appraisals, responses, and evaluations by others," which was published in Personnel Psychology.
Chad Van Iddekinge, Ph.D. (Business) co-authored "A meta‐analysis of the criterion‐related validity of prehire work experience," which was published in Personnel Psychology.
Vanessa Dennen, Ph.D. (Education) published her article "Is Online Education Right for You? 5 Questions Answered" in The Conversation. The article explores common misconceptions and issues surrounding online education, as well as its possible future.
---
PRESENTATIONS, CONFERENCES AND EXHIBITS
Sean McGinley, Ph.D. (Hospitality) presented "Studying Idiosyncratic Traits and Turnover when Threatened" at the Council of Australasian Tourism and Hospitality Educators annual conference in Auckland, New Zealand.
Alicia Craig-Rodriguez, DNP, MBA, APRN, FNP-BC (Nursing) spoke at The Ringling College's Listening to Women session on the topic of "Women Leaders in Health & Medicine: Improving the Prognosis" on Feb. 20.
Carol Weissert, Ph.D. (Political Science) and Deana Rohlinger, Ph.D. (Sociology) presented at a lunch-and-learn panel celebrating 100 years of women's voting rights at the Westminster Oaks retirement community in Tallahassee, Feb. 11. The event was organized by OLLI at FSU and the League of Women Voters.
Judith Pascoe, Ph.D. (English) gave a talk "Wuthering Heights, World Literature, and Japanese Child Readers" at Meiji University Dec. 10 and at the University of Tokyo Feb. 6. She was also one of four speakers at Tokyo Humanities Cafe Jan. 9, which aims to bring together humanities researchers in Tokyo and make their research visible to an international, non-specialist audience.
Bryan Quaife, Ph.D. (Scientific Computing) will present a workshop at the Society for Industrial and Applied Mathematics Conference on June 16-19 in Garden Grove, Calif. on the topic of Viscous Transport in Eroding Porous Media.
Alan Rowan, Dr.PH. (Public Health) gave a presentation on the coronavirus as a public health issue to nursing students and members of the FSU chapter of Health Occupations Students of America at the FSU College of Nursing, Feb. 4.
Lilian Garcia-Roig, M.F.A (Art) has an exhibit at Baker Art Museum in Naples, Fla. with several large-scale on-site paintings, as well as some works from the "Hecho con Cuba" series. The show opened Dec. 18, 2019, and runs through April 18, 2020. She will also exhibit a solo show at Valley House Gallery in Dallas, Texas, "Cumulative Nature: Water COLORS" which runs from Feb. 1-March 7, 2020.
Caitlyn Kio, J.D., (Law) presented to a nationwide meeting of the International Rescue Committee (IRC) to educate IRC employees on the process used to accomplish adoptions for refugee families who have resettled in the United States.
Bruce Thyer, Ph.D. (Social Work) presented his co-authored papers, "Invited Journal Editors' Workshop: Publishing Research in Peer-Reviewed Journals" and "Predatory Conferences: Are the Flight and Hotel Costs Worth the Effort?" at the annual conference of the Society for Social Work and Research, Washington, D.C.
Motoko Akiba, Ph.D. (Education) presented at Penn State's International Conference on Teacher Leadership and Socio-Emotional Development. The presentation was titled "Teacher Leadership and Educational Systems: a Comparative Perspective."
Nancy Everhart, Ph.D. (School of Information) discussed the challenges of the 21st century information landscape and taught strategies to distinguish between real and fake news in the digital age during a presentation at the American Embassy in Beijing, China. The Embassy Press Office also invited participants in the Student Press Program to interview Everhart.
Carla Laroche, J.D. (Law) was a panelist for the "School to Prison Pipeline: From Report to Action," panel during the American Bar Association Midyear Meeting in Austin, Texas. The panel was covered by the ABA News and Law360.
---
GRANTS
Patricia Homan, Ph.D. (Sociology) was awarded a pilot grant from the Network on Life Course Health Dynamics and Disparities in 21st Century America for her project "Exploring the Role of Structural Sexism in Health and Mortality Across U.S. States."
Juyeong Choi, Ph.D. (Engineering) is the principal investigator for a $300,000 National Science Foundation (NSF) EAGER grant aimed at creating a framework for streamlining cleanup and removal of disaster debris, as well as cataloguing it so usable components can be recycled or reused.
Jie Yang, Ph.D. (Computer Science) was awarded a three-year, $459,000 National Science Foundation grant for his project "Towards Ubiquitous Sensing with Commodity Wi-Fi."
Shamra Boel-Studt, Ph.D. (Social Work) received a grant renewal from the Florida Institute for Child Welfare and the Florida Department of Children and Families to conduct a statewide validation of the Group Care Quality Standards Assessment. The assessment is being used by Florida's Department of Children and Families to evaluate the quality of care in youth residential programs and support continuous quality improvement.
Sudhir Aggarwal, Ph.D. (Computer Science) and Carrie Pettus-Davis, Ph.D. (Social Work) received a $2 million National Institute of Justice award as co-principal investigators for a project entitled "AI Enabled Community Supervision for Criminal Justice Services."
Tanya Renn, Ph.D. (Social Work) and a colleague from the University of Michigan received $275,000 from the National Institute on Drug Abuse to examine the complex intersection of substance abuse, trauma and criminal justice involvement among Alaska Native and American Indian women. The project also will identify cultural protective factors to be leveraged for future intervention development.
---
SERVICE
Bruce Thyer, Ph.D. (Social Work) accepted an appointment to the Board of Governors of the University of Michigan School of Social Work Alumni Association.
Nancy de Grummond, Ph.D. (Classics) has been elected to the Society of Antiquaries of London, one of the oldest learned societies in Europe founded 1707. Members of the Society are Her Majesty the Queen and numerous distinguished British archaeologists, museum curators and art historians.
Geneva Scott-King, DNP-FNP-C (Nursing) served as the Visionary for the 11th year for Thomasville Martin Luther King Walk and Festival. This multifaceted event featured a two-mile health walk through historic downtown Thomasville, an essay contest, featured arts and entertainment and philanthropic efforts to nonprofit organizations.
Neil Abell (Social Work) visited London Jan. 31-Feb. 3 and met with agency partner, Action West London. This agency hosts interns, many of whom are immigrants to the U.K., to help build confidence and skills necessary for successful job interviewing and employment.
Amy L. Ai, Ph.D. (Social Work) was inducted into the Sigma Xi, Scientific Honor Society.
Jenny Root, Ph.D. (Education) presented at the 21st International Conference on Autism, Intellectual Disability and Developmental Disabilities along with postdoctoral fellow Sarah Cox, Ph.D., and doctoral student Addie McConomy. Their presentation was titled "Augmented Reality to Teach Mathematical Problem Solving to Students with Autism and Intellectual Disability."
Lauren Kendall, DNP, RN (Nursing) regularly oversees College of Nursing students as they engage with community members at the Chapman Community Health Program (CCHP). The program is a partnership between the FSU College of Medicine and Maryland Oaks Crossing, a low-income housing community. Nursing students assist students from the College of Medicine plan and execute health screenings, promote preventative health education initiatives and foster community development.
Adrienne P. Stephenson, Ph.D. (The Graduate School) organized the Women and Girls in Science Day event held on the campus of Florida A&M University on Feb. 11. She along with 24 other women in science from FAMU, FSU, TCC, Leon County Schools and the Tallahassee STEM workforce served as mentors for over 120 girls in grades 5-11 from Title I Leon County Schools.
Shannon Hall-Mills, Ph.D. (Communication Science & Disorders) was recently elected as President of the Florida Association of Speech-Language Pathologists and Audiologists (FLASHA).
---
NOTABLE
Stephanie Leitch, Ph.D. (Art History) will convene an international group of scholars in Wolfenbüttel, Germany, this summer (Aug. 3-14) for a graduate course on the history of the printed book, sponsored by the Herzog August Bibliothek. The course, "Early Modern Visual Data: Organizing Knowledge in Printed Books," will consider the critical role of early printed book illustrations in the democratization of knowledge.
Tenley Bick, Ph.D. (Art History) organized a lecture series,"'Una visione globale': Arte Povera's Worlds," as part of her research residency at Magazzino Italian Art Foundation, to run March 21-May 2. In the four-part series, leading scholars in the field will explore the "global vision" of Arte Povera, the Italian avant-garde of the late 1960s and early 70s.
Darby Kerrigan Scott, J.D. and Paolo Annino, Ph.D., J.D., (Law) trained attorneys in Jacksonville who are pursuing Special Immigrant Juvenile Status cases to walk them through the process at the state court level, addressing potential pitfalls and providing overall guidance on pursuing these types of cases.
Juan Carlos Galeano, Ph.D. (Modern Languages) had several verses from his poems cited by Pope Francis in the Pope's post-synodal apostolic exhortation titled "Querida Amazonia" (Beloved Amazon) on Feb. 2. "Querida Amazonia" strives to address the critical issues faced by the lands and people of the Amazonia.
The Institute for Justice Research and Development hosted its first all-team meeting in Atlanta on Feb. 5 and 6. The meeting brought more than 65 FSU field staff members living and working in 10 states across the nation together for team building activities, a reentry simulation, and shared vision setting for the institute.
To submit a Faculty & Staff Brief, email Anna Prentiss at aprentiss@fsu.edu.