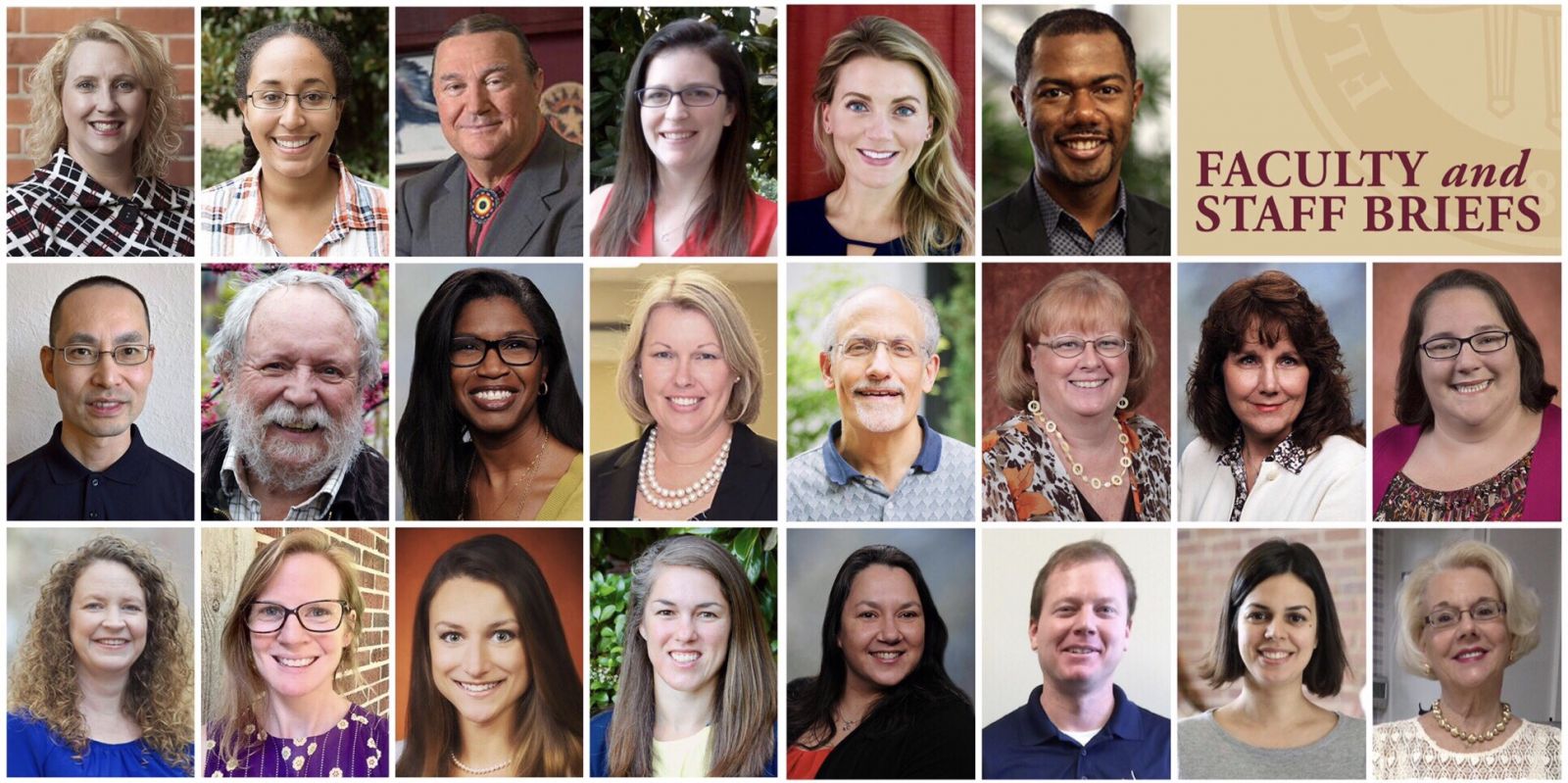 HONORS AND AWARDS
William Berry, Ph.D. (Political Science) was selected as the 2019 recipient of the Career Achievement Award from the State Politics and Policy Section of American Political Science Association in recognition of his important contributions to the study of state politics.
Jessica Bahorski, Ph.D. (Nursing) was awarded the Research Poster Award at the National Association of Pediatric Nurse Practitioners.
Elizabeth Ann Cecil, Ph.D. (Religion) has been awarded a 2019 Getty/American Council of Learned Societies Postdoctoral Fellowship in the History of Art. Her work is titled "Architectures of Intimidation: Political Ecology and Landscape Manipulation in Early Southeast Asia." This 12-month, non-residential fellowship includes a $60,000 stipend and an additional $5,000 for travel and research. The 10 awardees will convene at the Getty for a week-long residency upon completion of their fellowships.
Elizabeth Jakubowski, Ph.D. (Education) was honored by Tallahassee Community College as one of its Visionary Women. This year's theme is "Visionary Women: Champions of Peace and Nonviolence." Honorees were spotlighted on March 13 at the Ghazvini Center for Healthcare Education.
BYLINES
Lucinda J. Graven, Ph.D. (Nursing) was lead author of "Gender and Racial Differences in Heart Failure Self-Care," recently accepted in the journal Chronic Illness.  The paper was co-authored by colleagues Laurie Abbott, Ph.D. (Nursing), Sabrina Dickey, Ph.D. (Nursing) and Glenna Schluck, Ph.D. (Nursing).
Melessa Kelley, Ph.D. (Nursing) and John Lowe, Ph.D. (Nursing) co-authored "The Impact of an Obesity Risk Prevention Study Among Native American Youth" recently published in the Association of Black Nursing Faculty Journal.  
Carrie Pettus-Davis, Ph.D. and Tanya Renn, Ph.D. (Social Work) published an article in the Journal of Offender Rehabilitation, "Intervention Development Study of the 5-Key Model for Reentry: An Evidence Driven Prisoner Reentry Intervention."
Colleen M. Ganley, Ph.D. (Psychology/FCR-STEM), Robert C. Schoen, Ph.D. (FCR-STEM) and Amanda M. Tazaz, Ph.D. (FCR-STEM) co-authored "Construct Validation of the Math Anxiety Scale for Teachers," recently published in the journal AERA Open.
Michael Ruse, Ph.D. (Philosophy) is set to publish "A Meaning to Life" in April. The book will be available in hardcover and eBook from Oxford University Press.
Cameron Beatty, Ph.D. (Education) recently published a volume that he co-edited. The volume, titled "Critical Considerations of Race, Ethnicity, and Culture in Fraternity & Sorority Life," is part of the New Directions for Student Services series. Beatty also contributed to and was co-author on three chapters in the volume.
Nicole Gabana, Ph.D. (Sport Psychology) published a new article that appears in MDPI. The article is titled "A Qualitative Investigation of Music Use among Amateur and Semi-Professional Golfers" and explores the effect of music during the game of golf.
Lara Perez-Felkner, Ph.D. (Education) was featured in an article on Diverse Issues in Higher Education. The article, titled "New Volume Adds Nuance to Research on Undergraduate Women in STEM," and explores the topics of a volume Perez-Felkner co-edited and contributed to. The volume is found in New Directions for Institutional Research and is titled "Advancing Higher Education Research on Undergraduate Women in STEM."
NOTABLE
Carrie Pettus-Davis, Ph.D. and Stephanie Kennedy, Ph.D. (Social Work) released the report "The Psychological Toll of Reentry: Early Findings from a Multistate Trial." Pettus-Davis held a press conference on the report with Kentucky Gov. Matt Bevin and Kentucky Public Safety Cabinet Secretary John Tilley to discuss the multistate reentry program randomized controlled trial and other criminal justice reform efforts in the Bluegrass State. 
PRESENTATIONS  
Sally Karioth, Ph.D. (Nursing) has been invited to present "Finding your exquisite moments while grieving" during the Presidents Club Celebration & College event April 12 in Tallahassee. Karioth also has been invited to speak at Relay for Life of FSU's Luminaria event on April 5 in Tallahassee.  
Jessica Bahorski, Ph.D. (Nursing) presented "Parental Self-Efficacy and Infant Feeding Practices African-American Mother-Infant Dyads" during the National Association of Pediatric Nurse Practitioners 40th National Conference on Pediatric Health Care, March 7 in New Orleans.  
Carrie Pettus-Davis, Ph.D. (Social Work) delivered a talk, "Achieving Economic Quality in Criminal Justice," at the Poverty in America: Critical Perspectives on Causes, Effects, and Possible Solutions conference hosted by Tomi Gomory, Ph.D., (Social Work), Jeff Lacasse, Ph.D. (Social Work) and Daniel Dunleavy, MSW (Social Work). 
Tanya Renn, Ph.D. (Social Work) presented a joint lecture with Michele Staton, Ph.D. of the University of Kentucky, "Inside Out: Approaches to Combat Substance Use Disorder in the Criminal Justice System from Incarceration to Community Reentry." This lecture was a part of the 2018-2019 Inaugural Research Lecture Series "Engage, Invest, Respond," presented by the FSU Center for the Study and Promotion of Communities, Families and Children.
GRANTS
Koji Ueno, Ph.D. (Sociology) received the Social Science Research Council's Abe Fellowship designed to encourage international multidisciplinary research on topics of pressing global concern and promote intellectual cooperation between the Japanese and American academic and professional communities. The fellowship will support his research project "Sexual Minority Young Adults' Career Planning Process" in the United States and Japan.