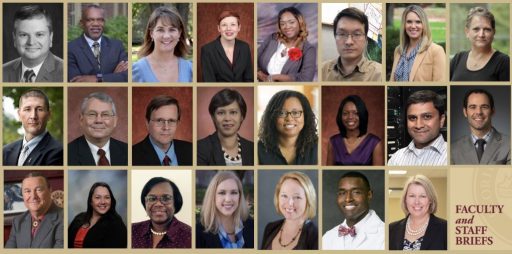 HONORS AND AWARDS
Damon Andrew, Ph.D. (Education) was named a National Association of Kinesiology in Higher Education (NAKHE) fellow. NAKHE is a leading professional organization for administrators, faculty and students in the field of kinesiology.
BYLINES
Gregory J. Harris, Ph.D. (Human Sciences) and Kristen Greene, Ph.D. (Human Sciences), along with recent doctoral graduate Fiorella Carlos Chavez, published a new textbook with Kendal Hunt Publishing Co., titled "Family Stress, Coping, and Resilience: Challenges and Experiences of Modern Families." Several others within the department contributed to the book, including Joseph Grzywacz, Ming Cui and current doctoral student Peipei Hong.   
Alysia Roehrig, Ph.D. (Education) and Nicole Patton-Terry, Ph.D. (Education) published the article "Does homework over the holidays help or harm?" in the Tallahassee Democrat discussing the efficacy of homework over holiday breaks.  
Bruce Thyer, Ph.D. (Social Work) co-authored "Utilization and Costs of Outpatient Social Work Services Among Veterans with Combat-related Polytrauma: A Review and Case Analysis," published in the journal of Military Behavior Health.
Jeff Brown, Ph.D. (Urban and Regional Planning) published the article "A Marvelous Machine: Creative Approaches to Securing Funding and Building Public Support for Streetcar Projects in Four U.S. Cities" in the Journal of the Transportation Research Board.
Paromita Sanyal, Ph.D. (Sociology) co-authored the book "Oral Democracy," published by the Cambridge University Press.
Deana Rohlinger, Ph.D. (Sociology) recently authored the book "New Media and Society," a sociological approach to understanding new media's impact on society, published by the NYU Press.
John Lowe, Ph.D. (Nursing) and Melessa Kelley, Ph.D. (Nursing) co-authored the in-press publication "Native American Adolescent Narrative Stories of Stress" in the Journal of Child and Adolescent Psychiatric Nursing. 
NOTABLE  
Tanya Hayes-Perry (Social Sciences and Public Policy) has been named assistant dean for Academic Affairs at the College of Social Sciences and Public Policy. She will lead the college's undergraduate advising, new student on-boarding and graduate student enrollment, management and recruiting. Perry has more than 10 years of experience in Academic Affairs, the past five of which have been in the college.
Cynthia B. Wilson, Ph.D., CFLE (Family and Child Sciences) has accepted the position of executive director for the Florida Center for Prevention Research, a research center affiliated with FSU. She will start the position at the beginning of February, while continuing her role as teaching faculty in the Department of Family & Child Sciences.
PRESENTATIONS
John Lowe, Ph.D. (Nursing) served as the guest lecturer at Penn Nursing's Annual Commemoration of Martin Luther King Jr. on Jan. 24. He presented "Understanding Health Equity Among Native Americans in a Colonization Context" at the event. 
GRANTS
Sachin Shanbhag, Ph.D. (Scientific Computing) was awarded a three-year $250,000 grant from the National Science Foundation to study condensed matter and materials theory to test models on the problem of inferring the composition of a polymer mixture. If this project is successful, Shanbhag's work can be a template for other problems in materials science.
Xiaoqiang Wang, Ph.D. (Scientific Computing) earned a $100,000 grant from the National Science Foundation to begin a new research project in the Department of Scientific Computing. The project will study a model that describes microstructure evolution and are making progress by applying the method to the study and analysis of cells and cell structures.
Meredith McQuerry, Ph.D. (Retail Entrepreneurship), Sherry Schofield, Ph.D. (Retail Entrepreneurship) and Michael Ormsbee, Ph.D. (Human Sciences) received a $145,723 grant from Fire-Dex, LLC to develop a new structural firefighter turnout suit design for reduced heat stress and physiological strain.
SERVICE 
Jessica Bahorski, Ph.D. (Nursing) recently began her term as the president for the Tallahassee Area Council of Advance Practice Nurses.
Geneva Scott-King, DNP (Nursing), Daryl Crenshaw, M.D., MBA (Medicine), and Brittany Crenshaw (Medicine) were the visionaries/organizers for the 9th Year of the Thomasville Martin Luther King Humanitarian Walk and Festival.