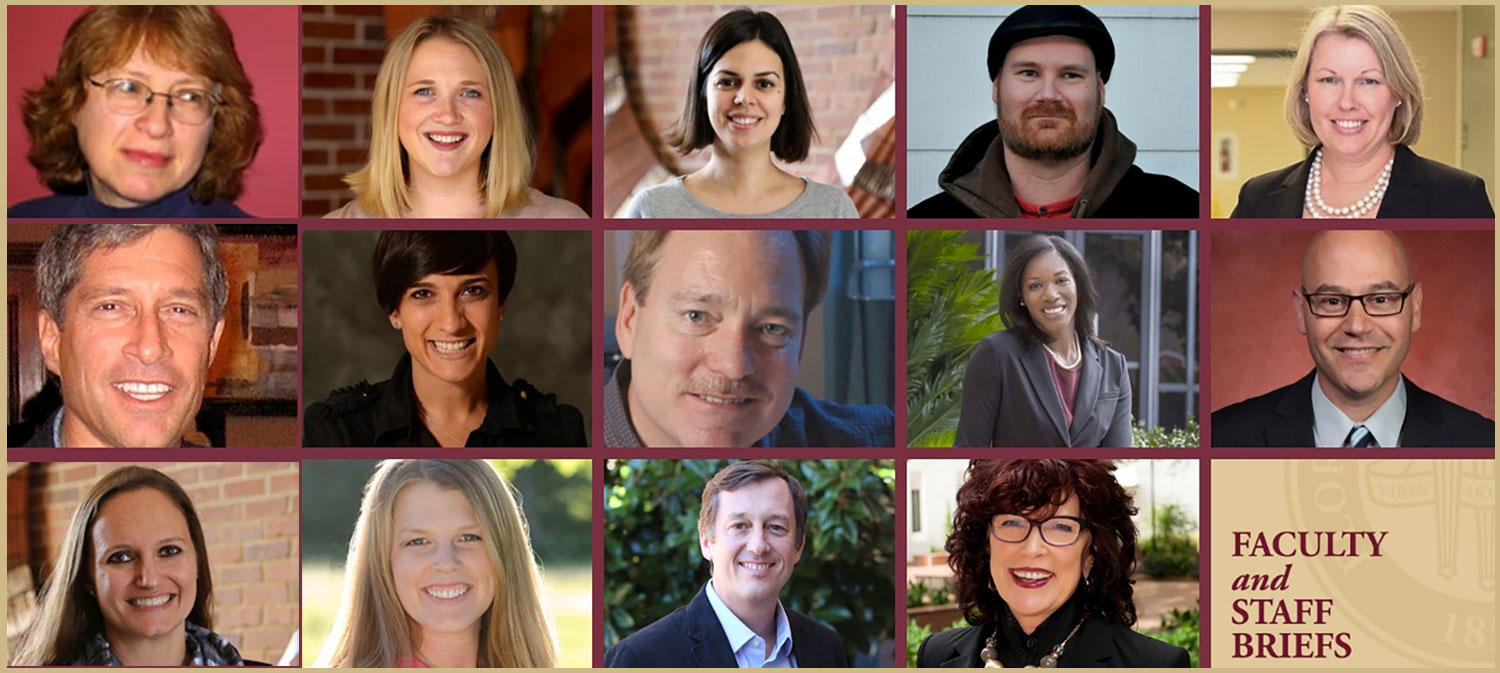 HONORS
Joann Gardner, Ph.D. (English) won the 2018 Chapbook Fellowship from the Poetry Society of America, selected by the poet D. Nurske. Gardner won the award for her chapbook, "The Deaf Island."
SERVICE
Steven Pfeiffer, Ph.D. (Education) was elected as president of the American Academy of School Psychology, a key organization in the development and maintenance of the practice of school psychology.
Kathy Guthrie, Ph.D. (Education) was recently named an affiliated researcher with the Center for Arts, Business, and Culture at the Stockholm School of Economics. The center focuses on aesthetic and cultural analyses of economic activities, such as how experiences, emotions, stories and symbols are used to create economic value.
BYLINES  
Jenny Root, Ph.D. (Education) co-authored the article "Teaching Students with Autism and Intellectual Disability to Solve Algebraic Word Problems," published in the journal Education and Training in Autism and Developmental Disabilities. Co-authors Bonnie Henning and Erica Boccumini are former graduate students of the special education program at FSU.  
Lara Perez-Felkner, Ph.D. (Education) co-authored "Sociological Perspectives on Socialization," published in the Oxford Bibliographies in Sociology. The article explores the process of socialization through the lens of a sociologist.   
Tyler McCreary, Ph.D. (Geography) authored the book, "Sacred Histories," which explores the relationship between indigenous peoples and settlers in the town of Smithers, British Columbia. The book investigates the history of the town and its implications on race relations and community.
 
PRESENTATIONS
Jessica Bahorski, Ph.D. (Nursing) presented "Associations between parental self-efficacy and weight-for-length z-score trajectories in a group of African-American mother-infant dyads," at the Council for the Advancement of Nursing Science in Washington, D.C., this September.
Geraldine Martorella, Ph.D. (Nursing) gave a poster presentation regarding a pilot randomized controlled trial of a hybrid web-based and in-person self-management intervention aimed at preventing acute to chronic pain transition after major lower extremity trauma (iPACT-E-Trauma). Martorella gave the presentation at the 17th World Congress on Pain at the International Association for the Study of Pain in Boston.
Graham Joseph McDougall, Ph.D. (Nursing) gave a podium presentation, "Memory Self-Efficacy and Cognitive Interventions," at the State of the Science Congress on Nursing Research: Precision Health, Council for the Advancement of Nursing Science, in Washington D.C.  
Jessica Pryce, Ph.D. (Social Work) presented a TED Talk focusing on how to improve child protective services. Pryce cited research showing race often is a crucial factor when child welfare workers decide whether to remove children from their families.
Martin Swanbrow Becker, Ph.D. (Education) will be the keynote speaker for "Society, Seniors & Suicide," a special event in Tallahassee. The event takes place Tuesday, Oct. 2, at the Tallahassee Senior Center. 
Lyndsay Jenkins, Ph.D. (Education) will be a guest speaker at the 2018-2019 Colloquium Series at the University at Buffalo on Oct. 4. Jenkins' talk is titled "Understanding Bystander Behavior in Bullying and Peer Victimization: A Case for Encouraging Multiple Forms of Bystander Actions."
GRANTS AND FUNDING
Arthur Raney, Ph.D. (Communication) received a Collaborative Collision Seed Fund grant through the FSU Office of the Vice President for Research. The grant will allow Raney to pursue his research project, "Traumatization Following Major Disasters among Hurricane Maria Evacuees in Florida: Positive Media and Post-traumatic Growth."
NOTABLE
Joanna Southerland-Mele (Entrepreneurship), an academic technologist at the Jim Moran School of Entrepreneurship, recently completed her sixth 100-mile bike ride to raise funding for Type 1 Diabetes research and the Juvenile Diabetes Research Foundation. She was the only FSU graduate, FSU employee, grandmother and oldest woman to ride in Saratoga, N.Y. where she rode 99.3 miles and raised $4,000.