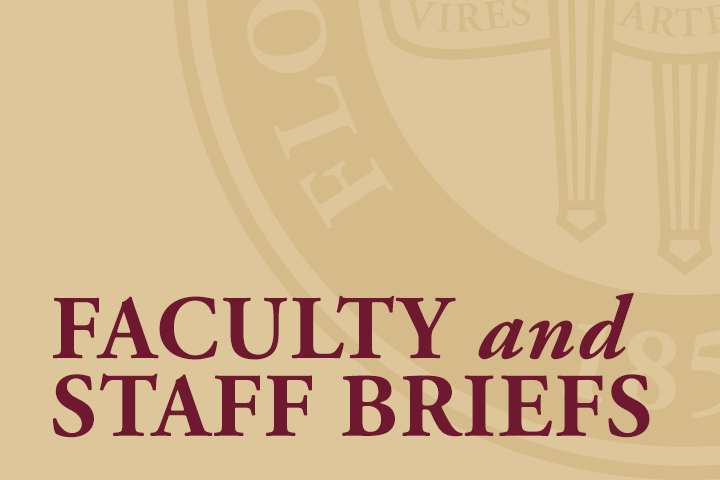 HONORS & AWARDS
Jeffrey D. James, Ph.D. (Sport Management), has been selected as the 2017 recipient of the Earle F. Zeigler Lecture Award. This distinction is the most prestigious North American Society for Sport Management award and recognizes significant contributions to NASSM and the field of sport management in terms of scholarship, research, leadership and peer recognition of the recipient's contributions.
Richard Bertram, Ph.D. (Mathematics) with co-authors Theodore Vo and Martin Wechselberger, were awarded a Society for Industrial and Applied Mathematics 2017 Outstanding Paper Prize for "Multiple Geometric Viewpoints of Mixed Mode Dynamics Associated with Pseudo-Plateau Bursting," published in the SIAM Journal on Applied Dynamical Systems, Vol. 12, Issue 2 (2013). The prize committee awards papers that exhibit originality — for example, papers that bring a fresh look at an existing field or that open up new areas of applied mathematics.
NOTABLE
Dean Marcy P. Driscoll, Ph.D. (Education), was selected to deliver the opening keynote address for the Association for Educational Communications and Technology (AECT) 2017 International Convention, "Leading Learning for Change," Nov. 7 in Jacksonville, Fla. Driscoll is the past president of AECT and is currently a member of the Design and Development and Research and Theory divisions of the organization.
BYLINES
Michael Giardina, Ph.D. (Sport Management), published the book "Qualitative Inquiry in Neoliberal Times" with University of Illinois Emeritus of Sociology Professor Norman Denzin, Ph.D. The book examines the constantly changing, and increasingly market-orientated lives of scholarly academics and will be released April 16.
Lucinda Graven, Ph.D. (Nursing) and J.S. Grant. (2016). "Progressing from metformin to sulfonylureas or meglitinides." Workplace Health and Safety, 64(9), 433-439.
Lucinda Graven, Ph.D. (Nursing) and J.G. Keltner (in press). Intranasal Glucagon for Severe Hypoglycemia. Home Healthcare Now.
Roxanne Hauber, Ph.D. (Nursing) and Ian McDonald (2016). "Educating parents on sports-related concussions." Journal of Neuroscience Nursing, 48 (6) 297-302.
John R. Reynolds, Ph.D. (Sociology) and Stacy Salerno (2016). "Latina/o Students in Majority White Schools: How School Ethnic Enclaves Link Ethnicity with Success." Sociology of Race and Ethnicity, 1-13.
PRESENTATIONS
John Lowe, Ph.D., Penny Ralston, Ph.D., Laurie Abbott, Ph.D., Sabrina Dickey, Ph.D., Lucinda Graven, Ph.D., Melessa Kelley, Ph.D. and Iris Young-Clark, Ph.D. (Nursing) will present "Health Disparities Research: An Interdisciplinary Approach," a pre-conference workshop at the 2017 Southern Nursing Research Society's 31st Annual Conference, Feb. 22, 2017. The purpose of the workshop is to discuss fundamental principles related to health disparity research, including associated populations, barriers and facilitators related to access, potential methodological designs, funding opportunities and challenges associated with sustainability of multidisciplinary and interprofessional interventions delivered by university programs.
GRANTS
Yan Li, Ph.D. (Engineering) has received a NSF CAREER award, "CAREER: Engineering Brain-region-specific Organoids Derived from Human Stem Cells." The five-year NSF grant provides a total of $501,345 toward Li's proposed work in the tissue engineering and stem cells field and seeks to generate mini-brains (also called brain organoids) derived from human stem cells with defined structure and function that would mimic human brains.
Lori Gooding, Ph.D. (Music) is the recipient of the $1,000 "Awesome Award" from the Tallahassee chapter of the Awesome Foundation for her anti-bullying project. The Awesome Foundation, established in 2009, is "a global community advancing the interest of awesome in the universe, $1,000 at a time." The grant will support a trial run of Gooding's music-therapy-based prevention program at The Magnolia School, a K-8 private school located in Tallahassee.