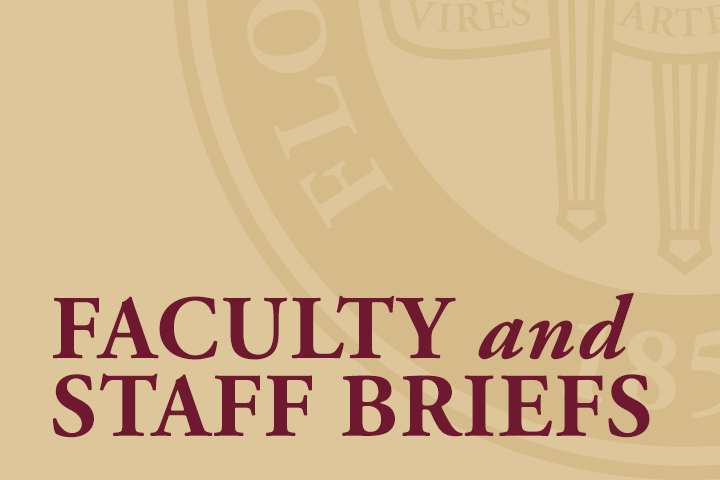 HONORS AND AWARDS 
Lisa Schelbe, Ph.D. (Social Work), has been selected as a member of the 2017 class of fellows of the Society for Social Work and Research. This distinction recognizes members of the society who have furthered its mission to advance, disseminate and translate research that addresses issues of social work practice and policy and promotes a diverse, equitable and just society.
Tom Welsh, Ph.D. (Dance), has been presented with the 2016 International Association of Dance Medicine & Science (IADMS) Education Committee Dance Educator Award. He has written several papers for the Journal of Dance Medicine and Science, Journal of Dance Education and his book, "Conditioning for Dancers," is a foundational text in many dance programs and studios around the country. A founding member of the Dance Kinesiology Teacher's group, now the Dance Science and Somatic Educators Group, Welsh also served on the IADMS board of directors and was the president of IADMS from 2009-2011.
PRESENTATIONS
Marcia Mardis, Ph.D. (Information), recently served as the keynote speaker at the Michigan Association for Media in Education conference, where she discussed "STEM, STEAM, Common Standards and Entrepreneurship: School Librarians Tugging on the Common Thread." Mardis' research explores digital learning resource collection, description and use.
Ken Brummel-Smith, M.D. (Medicine-Geriatrics), will be the keynote speaker at the 32nd Annual Alzheimer's Disease Education and Training Conference, set for Feb. 18 at the medical school. His topic will be person-centered care.
BYLINES
Harold Bland, M.D., and Michael Muszynski, M.D. (Medicine-Sarasota and Orlando regional campuses), published "The Florida State University College of Medicine Education Model in Pediatrics: 15 Years of Success," in the winter 2017 issue of Florida Pediatrician (page 27).
Marshall Kapp , J.D., MPH (Center for Innovative Collaboration in Medicine and Law), published the chapter "Legal Issues" in the 7th edition of Hazard's Geriatric Medicine and Gerontology.
Ken Brummel-Smith, M.D. (Medicine-Geriatrics), contributed to a report produced by the National Academies of Sciences, Engineering and Medicine, Forum on Aging, Disability and Independence. The report is "Strengthening the Workforce to Support Community Living and Participation for Older Adults and Individuals with Disabilities: Proceedings of a Workshop."
Nancy Everhart, Ph.D. (Information), published a chapter titled "Professional Growth Through International Associations," in the upcoming book School Librarianship: Past, Present and Future, which will be available in February 2017.
Melissa Gross, Ph.D. (Information), contributed to the article, "The ISSAS Model: Understanding the information needs of sexual assault survivors on college campuses," which was recently accepted for publication by the journal College & Research Libraries. The article addresses serving sexual assault survivors within the academic library while being mindful of one's appropriate professional role.
Melissa Gross, Ph.D., and Don Latham, Ph.D. (Information), published "The Peritext Book Club: Reading to Foster Critical Thinking about STEAM texts," in the journal School Library Research in December 2016.
Shuyuan Ho, Ph.D. (Information), published "Gender Deception in Asynchronous Online Communication: A Path Analysis," in the journal Information Processing & Management. The study adopts a path analysis to examine interconnected cognitive factors that impact online users' ability to deceive—and detect deception—regarding gender.
GRANTS
Pradeep Bhide, Ph.D. (Medicine-Biomedical Sciences), has received a one-year grant of nearly $64,000 from the Spaulding Rehabilitation Hospital Research Institute. His project title: "Consequences of Traumatic Brain Injury in a Prenatal Nicotine Exposure Mouse Model of ADHD."
Branko Stefanovic, Ph.D. (Medicine-Biomedical Sciences), received $50,000 from the FSU Council on Research and Creativity to fund his "High Content Imaging Multi-mode Reader" project for one year.
Ming Cui, Ph.D., and Mallory Lucier-Greer, Ph.D. (Human Sciences), received a 2016 Innovation Grant from the National Council on Family Relations board of directors for their research regarding "Helicopter Parenting of College Students: Strengthening Family Well-Being with an Interdisciplinary Approach."
NOTABLE
Jill Pable, Ph.D. (Design), is breaking new ground through her research in trauma-informed design, most recently with the launch of her website, Design Resources for Homelessness. The site allows designers to collectively leverage the power of place, assisting disadvantaged persons to a brighter future.
Michael Blaber, Ph.D. (Medicine-Biomedical Sciences), co-founder of Trefoil Therapeutics, will collaborate with the National Institutes of Health's National Center for Advancing Translational Sciences to continue developing a treatment for Fuchs endothelial corneal dystrophy. FECD can lead to severe vision loss, and there is currently no FDA-approved therapy. Trefoil Therapeutics will participate in the NCATS Therapeutics for Rare and Neglected Diseases program to significantly accelerate development of the drug.
SERVICE
Nancy Marcus, Ph.D., dean of the Graduate School, will serve as chair of the Council of Graduate Schools (CGS) Board of Directors for 2017. CGS is an organization of approximately 500 institutions of higher education in the United States and Canada engaged in graduate education, research and the preparation of candidates for advanced degrees.
Michelle Kazmer, Ph.D. (Information), has been named editor of Library Hi Tech Journal by Emerald Publishing. The journal covers a range of information-based areas. Past issues have covered topics ranging from alternate reality games, to children's information seeking behaviors, to the impact of smartphones on academic performance.