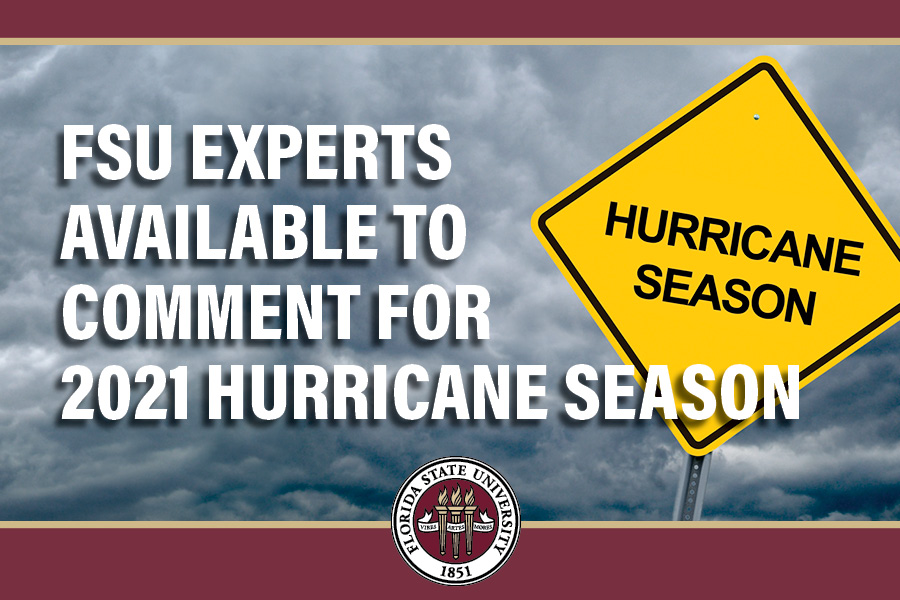 Florida State University faculty are among the world leaders in the study of hurricanes.
From forecasting to insurance to ecological aftermath, FSU experts are available to discuss the many ways these storms impact people, property and the environment.
These faculty members are available to answer media questions and provide perspective for news stories throughout the 2021 hurricane season, which runs from June 1 through Nov. 30.
Five faculty members also recently participated in a virtual news briefing about the hurricane season. The video can be accessed here.
FORECASTING, FORMATION AND TRACKING
Mark Bourassa, professor of meteorology and associate director of the Center for Ocean-Atmospheric Prediction Studies
bourassa@coaps.fsu.edu
Bourassa's main research interests include using on-site and remote observations, combined with meteorological models, to better understand air-sea interactions and how satellites respond to what is happening on the Earth's surface. He is also an expert in surface water waves and the identification of tropical disturbances — possible precursors to tropical cyclones. Bourassa is a team leader for the NASA Ocean Vector Wind Science Team.
Bradford Johnson, assistant professor of geography
bdjohnson@fsu.edu
Johnson's research and teaching interests focus on urban climate, land-atmosphere interactions, climate change, the intersection of weather and climate, Geospatial Information Systems, task automation using Python and remote sensing applications.
Allison Wing, assistant professor of Earth, Ocean and Atmospheric Science
awing@fsu.edu, (850) 644-2245
Wing is an expert on climate and hurricanes. Her research group studies atmospheric dynamics and climate, with a special interest in tropical cyclones and tropical convection. A recent paper published in the Proceedings of the National Academy of Sciences examined the origin of tropical cyclones.
EMERGENCY MANAGEMENT
David Merrick, director of the Emergency Management and Homeland Security Program
dmerrick@fsu.edu, (850) 980-7098
Merrick has more than 16 years of experience in emergency management. His research interests include emergency management planning and policy, remote sensing and unmanned aircraft systems, disaster logistics, crisis mapping and information technology in emergency management.
Audrey Heffron-Casserleigh, teaching faculty in Emergency Management and Homeland Security
aheffron@fsu.edu, (850) 443-7142
Heffron-Casserleigh is an expert on the intersection between disasters, public health and the media. She has worked with and advised in both the private and public sectors, including all levels of government, at home and abroad. She has decades of experience in government response to disasters.
 EVACUATION
Eren Ozguven, associate professor in the FAMU-FSU College of Engineering
eozguven@eng.famu.fsu.edu, (850) 410-6146
Ozguven is the director of the Resilient Infrastructure and Disaster Response Center. His research focus is on the relationships among different infrastructure networks in Florida and how that contributes to an area's ability to be prepared for disasters, such as hurricanes. In collaboration with researchers from a variety of different disciplines, he has examined evacuation routes, special-need and pet-friendly shelters and the role libraries play in communities following a hurricane.
COASTAL EROSION 
Jaap Nienhuis, assistant professor of Earth, Ocean and Atmospheric Science
jnienhuis@fsu.edu, (774) 521-8097
Nienhuis investigates coastal hazards such as sea-level rise, subsidence and hurricanes, including the effects of these hazards on the coastal environment.
RISK AND INSURANCE
Patricia Born, Payne H. & Charlotte Hodges Midyette Eminent Scholar in Risk Management & Insurance
pborn@business.fsu.edu
Born's research interests include insurance market structure and performance, professional liability, health insurance and the management of catastrophic risks. She is a member of the board of the American Risk and Insurance Association and serves on the editorial board of the Risk Management and Insurance Review and Journal of Insurance Issues.
Charles Nyce, Robert L. Atkins Associate Professor of Risk Management & Insurance and associate director of the Center for Risk Management Education & Research
cnyce@business.fsu.edu, (850) 645-8392
Nyce's main research area is catastrophic risk financing, and he has authored numerous articles on a variety of risk management and insurance topics, including title insurance, IPOs, enterprise risk management, predictive analytics and natural hazards.
PUBLIC HEALTH 
Chris Uejio, associate professor of geography
cuejio@fsu.edu
Uejio studies how the physical environment influences human health and well-being. He co-authored the Centers for Disease Control and Prevention's Building Resilience Against Climate Effects (BRACE) Framework. His work has been funded by the Centers for Disease Control and Prevention, Environmental Protection Agency, Robert Wood Johnson Foundation, National Aeronautics and Space Administration, and National Oceanic and Atmospheric Administration. He has been quoted in the Orlando Sentinel, Tampa Bay Times and other news outlets about public health issues, including hurricanes. One of his most recent projects examined how Hurricane Michael affected perinatal outcomes.
URBAN PLANNING
Tim Chapin, professor of urban and regional planning and dean of the College of Social Sciences and Public Policy
tchapin@fsu.edu, (850) 644-5488
Chapin studies urban planning and post-disaster redevelopment. He has researched the effectiveness of Florida's growth management system and is an expert on land use and comprehensive planning, growth management and urban redevelopment.
COASTAL WILDLIFE EFFECTS
Thomas Miller, professor of biological science
miller@bio.fsu.edu, (850) 644-9823
Miller researches coastal dune vegetation and the forces that structure plant communities on barrier islands, especially in the northern Gulf of Mexico. He has been conducting a long-term study of the vegetation at several locations to isolate the effects of hurricanes, drought, geomorphology and succession on both the vegetation on dunes and the structure of the dunes themselves.